Hall of Fame: Ann Barber Smith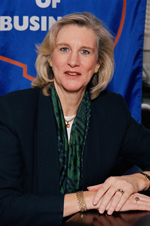 Dean's Award of Excellence
Ann Barber Smith
Consultant
Ann Barber Consulting
and Sunbelt Business Brokers of the Hudson Valley, Inc.
Ms. Ann Barber Smith is principal of Ann Barber Consulting, a marketing, management, public relations and economic and community development consulting firm she started in June 2001, when she retired as President and Chief Executive Officer of the Orange County Partnership. She has also recently joined Sunbelt Business Brokers of the Hudson Valley, Inc. as its franchise sales specialist.
Prior to starting her own firm, Ms. Barber Smith was President and CEO of the Orange County Partnership, an economic development and marketing agency, for 5 years. Before joining the Partnership in October 1996, she spent 15 years in the banking industry, with Chase Manhattan Bank and Bank of Montreal in New York City, and with Fleet Bank in Newburgh and Greenwich, CT. She provided financing to large, multinational corporations, mid-sized and small businesses as well as high net worth individuals.
Prior to banking, Ms. Barber Smith was in the non-profit field, consulting for agencies and schools for the blind in the US through the National Accreditation Council headquartered in NYC.
Ms. Barber Smith holds a Bachelor of Arts degree from Connecticut College in New London, CT, a Masters in community development from Hunter College School of Social Work, and an MBA from Fordham University.
Ms. Barber Smith has participated on various committees of the Orange County Citizens Foundation, and served as a member of the Board of Directors of the Orange County Workforce Investment Board, Healthy Orange and the Town of New Paltz Planning Board. She currently serves on the Business Advisory Council of the SUNY-New Paltz School of Business and is on the Board of the Community Foundation of Orange County and the Huguenot Historical Society in New Paltz. She was selected as a Woman of Achievement of Orange County for 2001 by the Sarah Wells Girl Scout Council and the YWCA of Orange County.