Dr. Gweneth Lloyd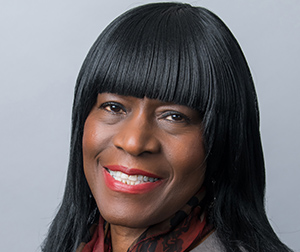 Gweneth Lloyd, D.S.W., LCSW-R has been the Director of The Psychological Counseling Center (PCC) since 2008 and was previously an Adjunct Instructor in the Black Studies Department at SUNY New Paltz for over 35 years. Dr. Lloyd holds a doctorate in Social Work (D.S.W.) from the City University Center, Graduate University Center, Hunter College School of Social Work; a Master of Social Work (MSW) from Columbia University, and a B.A. in Social Work and Elementary Education from Skidmore College.
Dr. Lloyd noted the underutilization of the PCC by students of color and worked to increase access and visibility of the PCC. She designed and implemented the first Peer Mentoring Program on campus for students of color. Shortly thereafter in collaboration with the Black Studies Department she further expanded the reach of the program by merging with the department's Faculty-Student Mentoring program that was being developed by the department to reach the same student population.
Today, this program better known as the Scholar's Mentorship Program (SMP) is considered amongst the University's first Peer Mentoring Program and the first student-centered collaborative program between the two divisions of Student Affairs (PCC) and Academic Affairs (Black Studies). To date, this program remains an invaluable asset of the University in the retention and graduation of self-identified general admitted students of color. Of equal importance, the PCC's utilization rate by students of color nearly equates that of the University.
Dr. Lloyd's commitment to students and marginalized student groups extends far beyond the reach of the campus. She is known by many to be highly involved, dedicated, and giving of her time to social causes, particularly in youth education and development advocacy. She was one of the founding members of Parent of Color Advisory Group, a group dedicated to advocacy for children and increasing parent involvement in the Newburgh Enlarged School District.
Dr. Lloyd has been steadfast in her commitment to serving students compassionately and innovatively. She has the unique ability to communicate with First Year Students and their parents and family during Summer Orientation activities. The execution of Dr. Lloyd's daily role and function is fueled by her motto: "It takes a village to graduate a student, and employees of the University from the President's Cabinet to the custodial staff has a responsibility to advance that student to their ultimate goal of graduation."