Scudder Hall
---
Learn the history of the building's name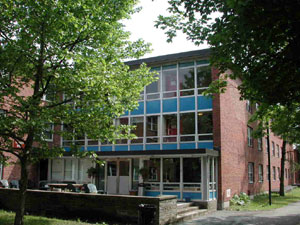 Scudder Hall is a residence hall within the Parker complex. Parker complex buildings are composed of traditional corridor style hallways with a single-sex bathroom shared by all residents of the floor, which is maintained daily by the Custodial Staff. Students who live in the corridor style buildings enjoy a lot of activity and interaction with the members of their section.
Lounges can be found on each of the floors, each with a microwave oven. Located in the basement of Scudder Hall are two laundry rooms with washers and dryers and a garbage/recycling room. Vending machines are located in the main lounge, located on the first floor. The first, second and third floor lounges have televisions. A kitchen is located on the third floor, and There is a computer lab with five computers in the basement. Scudder Hall is in close proximity of the Health Center, the Athletic and Wellness Center, and outdoor tennis courts.
History: Scudder Hall is named for Myron Tracy Scudder, the third principal of New Paltz Normal from 1899-1908. Scudder began the New Paltz tradition of hosting international students and also began the New Paltz intercollegiate athletic program.
Complex Director: Angela Van Pelt
Office Phone Number: (845) 257-4601
Email Address: vanpelta2@newpaltz.edu
Office Hours: Hi Everyone! My office hours are:

Mondays: 10am-12pm & 2-3:30pm
Tuesdays: 10am-11:30am & 2-4pm
Wednesdays: 2-4pm
Thursdays: 3pm-4:30pm
Fridays: 10am- 11:30pm

Requests to meet virtually outside of the office hours listed above can be arranged by appointment. Have a great semester!
RA Office: (845) 257-4600