LeFevre Hall
---
Learn the history of the building's name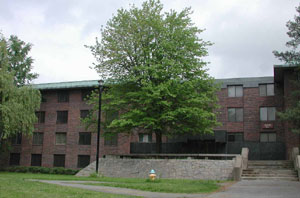 LeFevre Hall is a residence hall within the Hasbrouck complex. The Hasbrouck complex is made up of suites, each having two to four student rooms, a common bath and a small lounge area. Students who live in the suites enjoy the privacy of their own "living room" and often personalize it (along with their individual rooms) with posters, plants, rugs and furniture. The residents are responsible for maintaining and cleaning their own bathroom.
Located in the basement of LeFevre Hall are a laundry room with washers and dryers, a computer lab, a T.V. lounge with a ping pong table, a bike rack, a recycling room, and cooking facilities. Located on the first floor of LeFevre Hall are vending machines, a microwave oven, public restrooms and a study lounge.
LeFevre Hall is in close proximity to the tennis courts, Hasbrouck Dining Hall and computer lab, and parking facilities . LeFevre Hall is the residence hall that houses students with diverse backgrounds, high energy and enthusiasm. This positive interaction has traditionally created innovative program offerings within the hall.
History: Lefevre Hall is named after the Lefevre Family, one of the original Huguenot families who settled in New Paltz. In politics, Peter Lefevre was a Federalist and was twice elected to represent Ulster County in the New York State General Assembly in 1798-1799 and 1808-1809. LeFevre was also elected Town Supervisor of New Paltz from 1797-1798, Town Assessor several times in the early 1800's, and appointed to Associate Judge. He also served as Elder of the Dutch Reformed Church of New Paltz, entered into a partnership with his brother-in-law Ezekiel Elting to build a mill at Dashville Falls (Esopus) in 1810. Before his death in 1830, LeFevre committed to writing a brief history of the Town of New Paltz explaining the nature of some of the legal contracts executed by the early New Paltz settlers.
Complex Director: Christine Stuart
Office Phone Number: (845) 257-5401
Email Address: stuartc@newpaltz.edu
Office Hours: Monday: 9:00 am-12:00 pm
Tuesday: 10:00 am-1:00 pm
Wednesday: 2:00 pm-4:00 pm
Thursday: 2:30 pm-4:30 pm
Friday: 10:00 am-12:00 pm

Additionally, you can make an appointment for any time outside of those hours by emailing stuartc@newpaltz.edu
RA Office: (845) 257-5400