DuBois Hall
---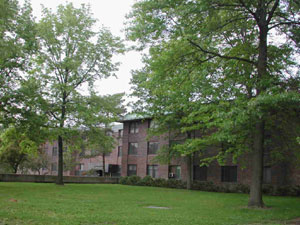 Learn the history of the building's name
DuBois Hall is a residence hall within the Hasbrouck complex. The Hasbrouck complex is made up of suites, each having two to four student rooms, a common bath and a lounge area. Students who live in the suites enjoy the privacy of their own "living room" and often personalize it (along with their individual rooms) with posters, plants, rugs and furniture. The residents are responsible for maintaining and cleaning their own bathroom.
Located in the basement of DuBois Hall is a laundry room with washers and dryers, as well as a T.V. lounge, a bike rack, a recycling room, and cooking facilities. Located on the first floor of DuBois Hall are vending machines, a microwave oven, public restrooms and a study lounge with two computers. DuBois Hall is in close proximity to the tennis courts, the Health Center, Hasbrouck Dining Hall and computer lab, the Student Union Building, Elting Gymnasium, and the Parker Complex. DuBois Hall offers its diverse residents a dynamic and high-energy environment. DuBois residents are active within their community and have established a friendly atmosphere throughout the building.
DuBois is also a 10 month hall and open during all scheduled vacations (unless otherwise indicated by the Director of Residence Life) to permit those students needing housing an opportunity to remain on campus when other halls are closed. You must live in 10 month housing to stay over breaks.
History: DuBois Hall is named after the DuBois Family, one of the original Huguenot families who settled in New Paltz. Hendricus DuBois married Jannetje Hooghteeling, by whom he had nine children. They resided in the hamlet of Libertyville, just west of the village of New Paltz. Hendricus served as an ensign and Captain of the 4th Ulster County Militia at Newburgh, NY during the American Revolution. Hendricus sided with Conferentia party during the Coetus-Conferentie controversy in the Dutch Reformed Church during the 1750's and 1760's. In 1766, Hendricus, along with members of the Elting, Low, Van Wagnenen, Van Vliet, Ean and Auchmody families, left the Dutch reformed Church at New Paltz and organized the Conferentia Church, or "Owl Church," on Libertyville Road in New Paltz. The church disbanded and rejoined the Reformed Church in 1774. At New Paltz Hendricus served as Overseer of the Poor (1751-1752), Constable (1754), and Assessor (1760).
Complex Director: Molly Poniatowski
Office Phone Number: (845) 257-5101
Email Address: poniatom1@hawkmail.newpaltz.edu
Office Hours: Monday: 9:00 am – 12:30 pm
Tuesday: 10:00 am – 1:30 pm
Wednesday: 11:00 am – 1:00 pm
Thursday: 1:00 pm - 2:00 pm
Friday: 11:00 am – 1:00 pm
*Also by appointment*
RA Office: (845) 257-5100