Deyo Hall
---
Learn the history of the building's name
Deyo Hall is a residence hall within the Hasbrouck complex. The Hasbrouck complex is designed into suite-style living. Each suite has two to four student rooms, a bathroom, and a common lounge area. Living in a suite offers students the enjoyment and privacy of their own "living room" to personalize, as they do with their bedrooms, adding posters, plants, rugs and personal furniture. Here, the residents are responsible for maintaining and cleaning their living room and bathroom. Located in the basement of Deyo Hall are a computer lab, laundry room with washers and dryers free of charge, a T.V. lounge with cooking facilities, and a recycling/trash room. Also located in the basement is OASIS, a student run crisis center, and HAVEN, a rape crisis center which are affiliated with the campus Psychological Counseling Center. Vending machines, a microwave oven, public restrooms and a large study lounge are on the first floor of Deyo Hall.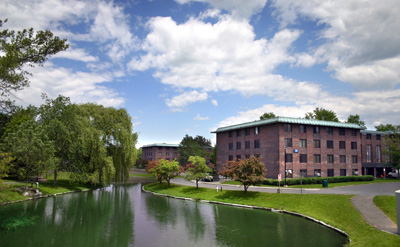 Deyo Hall is in close proximity to the outdoor basketball court, Health Center, Hasbrouck Dining Hall and Computer Lab. Deyo Hall residents are active within their diverse community and have established a friendly atmosphere throughout the building. As a ten month hall, Deyo is open during scheduled Winter and Spring breaks to permit students needing housing an opportunity to remain on campus when other halls are closed. You must live in a 10 month hall to stay over these breaks.
History: Deyo Hall is named after the Deyo Family, one of the original Huguenot families who settled in New Paltz. French Huguenot Christian Deyo was born in the province of Artois, France (c.1610), and married Jeanne Wibau (c. 1642), by whom he had five children. Christian and his family relocated to Mannheim, Germany in 1660, probably to avoid religious persecution. The family then traveled to America on the same ship as Abraham Hasbrouck in 1675. After spending a year at Kingston (then called it Wiltwyck), the Deyo family settled at New Paltz in 1677, where Christian Deyo and his son Pierre both signed a patent and became two of the twelve original trustees of New Paltz.
Complex Director: Kyleen Martin
Office Phone Number: (845) 257-5001
Email Address: martink@newpaltz.edu
Office Hours:
Monday
10:00am – 12:00pm
2:15pm - 3:15pm

Tuesday
9:00am - 10:00am
2:30pm – 5:00pm

Wednesday
2:00pm – 4:00pm

Thursday
3:00pm – 5:00pm

Friday
11:00am – 12:00pm
2:30pm - 4:00pm

Contact Kyleen via email at martink@newpaltz.edu if these hours are not convenient for your schedule.

For changes to office hours due to emergencies and unforeseen circumstances, follow Kyleen on Instagram at @rdkyleennp!

RA Office: (845) 257-5000