Crispell Hall
---
Learn the history of the building's name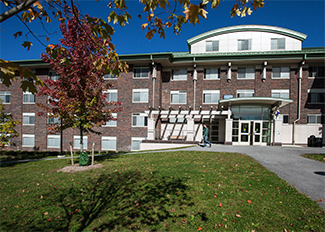 Crispell Hall is a newly renovated residence hall within the Hasbrouck complex. Common area spaces include modern furnishings and decor that provide students with a comfortable space to study, or relax with friends.
The Hasbrouck complex is made up of suites, each having two to four student rooms, a common bath and a small lounge area. Students who live in the suites enjoy the privacy of their own "living room" and often personalize it (along with their individual rooms) with posters, plants, rugs and furniture. The residents are responsible for maintaining and cleaning their own bathroom.
In the basement of Crispell Hall are a laundry room with washers and dryers, a T.V. lounge, a bike storage room, a recycling room, a study lounge, computer lounge, and a kitchen equipped with an oven, stove top, and microwave. Located on the first floor are vending machines, student mailboxes, as well as public restrooms.
Crispell Hall is in close proximity to a campus computer lab, the Hasbrouck Dining Hall, and the Student Union Building. Crispell Hall seeks to provide its diverse students with academic, cultural, educational and social programs to enhance living and learning experiences outside of the classroom. As a 10-month hall, Crispell is open during all scheduled vacations (unless otherwise indicated by the Director of Residence Life) to permit those students needing housing an opportunity to remain on campus when other halls are closed. You must already live in 10-month housing to stay over breaks.
History: Crispell Hall is named after the Crispell Family, one of the original Huguenot families who settled in New Paltz. In 1660, Antoine Crispell, along with his wife Maria Blanchard and father-in-law, set sail on the Gilded Otter. They were Huguenots escaping religious persecution in France. The young couple had recently married in Mannheim, Germany, and left for America from there. Upon their arrival in what was then New Amsterdam, they headed up the Hudson River to the areas now known as Hurley and Kingston, New York. There they made their new home. Antoine and his family had been settled for nearly 16 years, with their now-teenaged daughter and four other children, when another group of Huguenots arrived from Europe and decided to locate in the rich farmland south of Hurley/Kingston. And so, a few years later, "the oldest street in America with its original stone houses" got its start in a place called New Paltz. Antoine and, later, his sons and daughters, did quite well-farming, milling and acquiring land. One property that Antoine bought, lived in, and later willed to daughter Jannetje, is now a charming restaurant and tavern in Kingston. The Hoffman House is so called because Jannetje married Nicholas Hoffman, where they raised nine children.
Complex Director: Jennifer Conrad
Office Phone Number: (845) 257-5201
Email Address: conradj@newpaltz.edu
Office Hours: Monday 9:00am-1:00pm
Tuesday 12:00pm-2:30pm
Wednesday 11:00am-3:00pm
Thursday 1:30pm-2:30pm
Friday 10:30am-12:00pm