President's Biography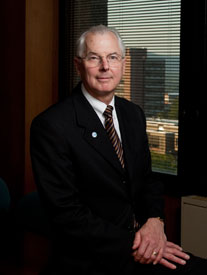 Donald P. Christian was appointed the eighth President at the State University of New York at New Paltz in June 2011 after serving as Interim President during 2010-11. Previously, Christian served as Provost and Vice President for Academic Affairs at the College in 2009-2010.
As President, Christian is responsible for all aspects of campus academic and administrative operations. The President represents the campus' interests within the SUNY System, with local, state, and federal elected officials and surrounding communities, and leads or supports many aspects of the College's role in SUNY and New York State economic development initiatives. In 2013-14, the College began implementing a strategic plan developed under the president's leadership; primary goals are to improve the quality of the student experience and the College's educational contributions, strengthen the College's role and visibility in the region, enhance alumni relations, improve philanthropic success, and enhance institutional effectiveness.
The President speaks and reports frequently about College matters with students, faculty and staff, and community and civic groups, and works closely with the SUNY New Paltz Foundation, which raises and manages private funds to support the College and its goals. He has been a strong advocate for the value of a liberal education tailored to 21st century needs, for study abroad and student research experiences, and for the great breadth of disciplines and majors at New Paltz. Christian has supported the rapid growth of STEM enrollments and the development of 3D printing at the College. He has worked to expand and strengthen programs and opportunities for students from underrepresented groups, and to increase the College's focus on equity, diversity, and inclusion.
Christian has been actively engaged in the Hudson Valley. He is a member of the board of directors of the Mohonk Preserve, the Advisory Council of Historic Huguenot Street, and the President's Trust of the Association of American Colleges and Universities; he is a consultant with Mohonk Consultations. Christian previously served on the boards of Hudson Valley Pattern for Progress (2013-2018) and Central Hudson Gas and Electric (2014-2019). He was appointed by the Lieutenant Governor in 2016 to serve on the Mid-Hudson Regional Economic Development Council and as chair of the Council in 2018. Christian is a proud recipient of the Eleanor Roosevelt Val Kill Medal in 2016, recognizing his and the College's contributions to education and the Hudson Valley.
Prior to his arrival at New Paltz, Christian was dean of the College of Arts and Sciences at the University of Wisconsin-Eau Claire from 2004 to 2009, where he led campus, state, and national efforts to advance understanding of the value of a liberal education in a knowledge-driven global society and economy; strengthened student-faculty research programs; and supported projects to enhance equity and diversity on the campus. From 1997 to 2004, he was associate dean for the Biological Sciences at the University of Montana. Christian held many positions at the University of Minnesota-Duluth (1978-1997), including chair of Biology and director of graduate studies in the Biology Graduate Program. Christian has held appointments as professor of biology at all institutions he has served, including SUNY New Paltz. Recipient of numerous research grants and contracts, Christian has published widely and presented his work at numerous conferences and other institutions. He earned a B. S. in Wildlife Biology, and M. S. and Ph.D. in Zoology from Michigan State University.
Christian and his wife Sandy, a retired psychotherapist, reside in New Paltz. They have two children and one grandchild.