W. Mark Colvson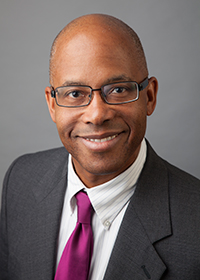 W. Mark Colvson
Dean, Sojourner Truth Library
Dean, Sojourner Truth Library
W. Mark Colvson was appointed as the new dean of the Sojourner Truth Library at the State University of New York at New Paltz, effective July 9, 2012.
In his role as dean, Colvson is responsible for providing strategic leadership for the library. He works with faculty, staff and students to build connections collegewide, integrating library resources and services with academic departments and support services; supporting students and faculty in personal and collaborative research and scholarship; working closely with staff to improve library services including the continued integration and use of information technology; and supporting and initiating regional partnerships. In addition, Colvson will maintain library services during the ongoing $14.3 million library renovation scheduled for completion in winter 2013.
Prior to his appointment at New Paltz, Colvson served as the associate director of the James A. Cannavino Library at Marist College in Poughkeepsie, N.Y., and before that, as associate director for library systems at the U.S. Military Academy at West Point. He also previously spent 12 years at Bryn Mawr College in various library positions, including coordinator for curriculum and research support, and also worked as a senior assistant librarian at Binghamton University and a librarian at the University of Pennsylvania.
Colvson holds a Bachelor of Arts degree in psychology from Haverford College and a Master of Library and Information Science from Drexel University. He also attended the Frye Leadership Institute where library and information technology leaders meet to discuss key issues facing them as professionals working in higher education, such as new sources of competition; use of technology to support effective teaching and learning; increasing focus on students; and the leadership skills necessary in today's rapidly changing environment. Colvson's professional affiliations include the Black Caucus of the American Library Association.
Colvson resides in Poughkeepsie, N.Y. with his wife, Debra Bucher, who is the head of collection development and research services at Vassar College, and their daughter. Their son recently graduated from Haverford College, his father's undergraduate alma mater, and lives in Swarthmore, Pa.