Michele Halstead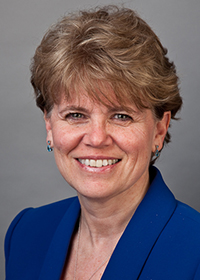 Michele Halstead
Vice President for Administration and Finance
Vice President for Administration & Finance
Michele Halstead was appointed as the new vice president for administration and finance at the State University of New York at New Paltz, effective Aug. 19, 2013.
As the College's senior non-academic administrator and chief financial officer, Halstead is responsible for the institution's financial viability and integrity, its operating and capital budgets, revenues, expenditures, business activities and debt. She oversees Administrative and Financial Services, Environmental Health and Safety, Facilities Management, Human Resources, Purchasing, Technology and Information Services, and Telecommunications.
A native of New Paltz, an alumna of SUNY New Paltz, and a resident of Stone Ridge, she has held positions of increasing responsibility within the College's Division of Administration and Finance since 1990 and has been asked to provide transitional leadership on several occasions.
Since 2002, Halstead has been the assistant vice president for administration and finance at New Paltz. In that position, she assisted annually with the development of the College's $64 million operating budget and developed and implemented the operating budget in 2007 and 2008 while serving as interim chief financial officer. For the last 10 years, she has been responsible for developing the budgets and administering the cash flow of the College's approximately $35 million revenue-generating accounts. In addition, she works closely with Facilities Management to formulate the College's multi-year capital budget for residence halls, which includes managing the debt related to the program and setting room rates annually. During recent budget cuts to SUNY, she worked diligently to develop solutions to reduce the loss of staff positions while remaining within budget.
As Assistant Vice President, she oversaw the following offices and functions: Accounts Payable, Revenue Accounting, Student Loan Counseling Center, Administrative Services, Mail Room, Receiving, Payroll, Property Control, Parking, Telecommunications and Athletic and Wellness Center Collections and Internal Control. During the transformation of the College's student information systems from a home-grown legacy system to Banner during 2006-2007, she led the finance team and successfully transferred more than 150 accounts and 1.4 million transactions totaling $70 million.
From 1999 to 2002, she served as the Director of Accounting Services, and from 1990 to 1999, was Assistant Director of Accounting Services. Her interim leadership roles have included Interim Chief Financial Officer (2007-2008, 2012-2013), Interim Director of Accounting Services (2007), Interim Supervisor for the Office of Institutional Research (2006), and Acting Director of Student Accounts (1998).
Halstead is known on campus and in the community for her service efforts. She initiated and organizes the Annual Campus Cleanup Day. She has served on the Workplace with Heart Committee and the Employee Assistance Program Committee, the Banner Steering Committee, Campus Auxiliary Services Board, and the Intercollegiate Athletics Board. She is a certified radKIDS Instructor, providing personal empowerment and safety education for children. She co-chaired the Golf Scholarship Tournament Committee, which has raised more than $230,000 for scholarships. She is Past President and Treasurer for the New Paltz Adult Athletic League, served as Audit Committee chair for the Friendship Bowling League, and a volunteer fundraiser for major charitable organizations, including the American Heart Association, Leukemia & Lymphoma Society, National Multiple Sclerosis Society.
In addition to her campus duties, Halstead leads the SUNY-wide Accounting/Budget/Bursar Committee, a group of about 100 professionals responsible for the finance and student accounts departments on all state-operated campuses.
In 2010, she received the Chancellor's Award for Excellence in Professional Service.
Halstead earned a Bachelor of Arts degree in economics in 1986 from the University at Albany and a Bachelor of Science degree in accounting in 1991 from SUNY New Paltz.