Laurel M. Garrick Duhaney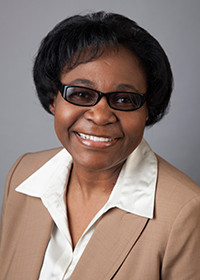 Laurel M. Garrick Duhaney
Associate Provost for Strategic Planning and Assessment
Associate Provost for Strategic Planning and Assessment
Laurel M. Garrick Duhaney was appointed associate provost for strategic planning and assessment, effective Aug. 28, 2017.
In this role, Garrick Duhaney leads the College's assessment efforts and helps foster the connection between assessment, reaccreditation, and strategic planning. She will report to the Provost, who has primary oversight of the College's Strategic Plan. She works with the Strategic Planning and Assessment Council, a campus shared governance committee.
Garrick Duhaney previously served as associate provost and dean of the graduate school at New Paltz from 2006 until 2017. Prior to this appointment, in June 2004, she began serving in both capacities on an interim basis. She was the interim provost and vice president for academic affairs of the College in 2010-2011. She also provided interim leadership of the College's extended learning activities from November 2016 through August 2017.
As associate provost for strategic planning and assessment, Garrick Duhaney is responsible for coordinating assessment across the campus. She oversees assessment and revision of the General Education program—in accord with a broader vision of liberal learning. In her tenure, Garrick Duhaney has seen the SUNY System Administration approve both the College's Campus-Based Assessment Plan and the Strengthened Campus-Based Assessment Plan. She participates in undergraduate and graduate program reviews and disciplinary program accreditation reviews. She also coordinates the College's Middle States Commission on Higher Education accreditation activities, including serving as its Accreditation Liaison Officer to MSCHE.
Previously as dean of the graduate school, Garrick Duhaney managed all aspects of the graduate school including strategic planning; enrollment management, recruitment, and marketing; program development and revision; overseeing over 50 graduate programs; facilitating collaboration and interdisciplinary programming; supporting students; and chairing the Graduate Council. In February 2006, she initiated the graduate school's first annual open house. Prior to moving to the Provost's office, Garrick Duhaney was an associate professor of special education in the School of Education at SUNY New Paltz. She joined the faculty in 1996. She received her bachelor's degree in elementary education from the University of the West Indies-Mona, Jamaica and her M.S.Ed. and Ph.D. in special education from Southern Illinois University at Carbondale.
Research/Creative Activity
Garrick Duhaney's research interests include inclusion of students with disabilities in general education classrooms, meeting the educational needs of students from culturally and linguistically diverse backgrounds, and responsive teacher education for a diverse society. She has published extensively in prestigious, peer-reviewed journals. She has also been instrumental in work funded by the U.S. Department of Education.
Awards, Honors & Recognition
Garrick Duhaney was the recipient of a United States Agency for International Development scholarship (1990-1992).