Special Events for
Jervis McEntee: Painter-Poet of the Hudson River School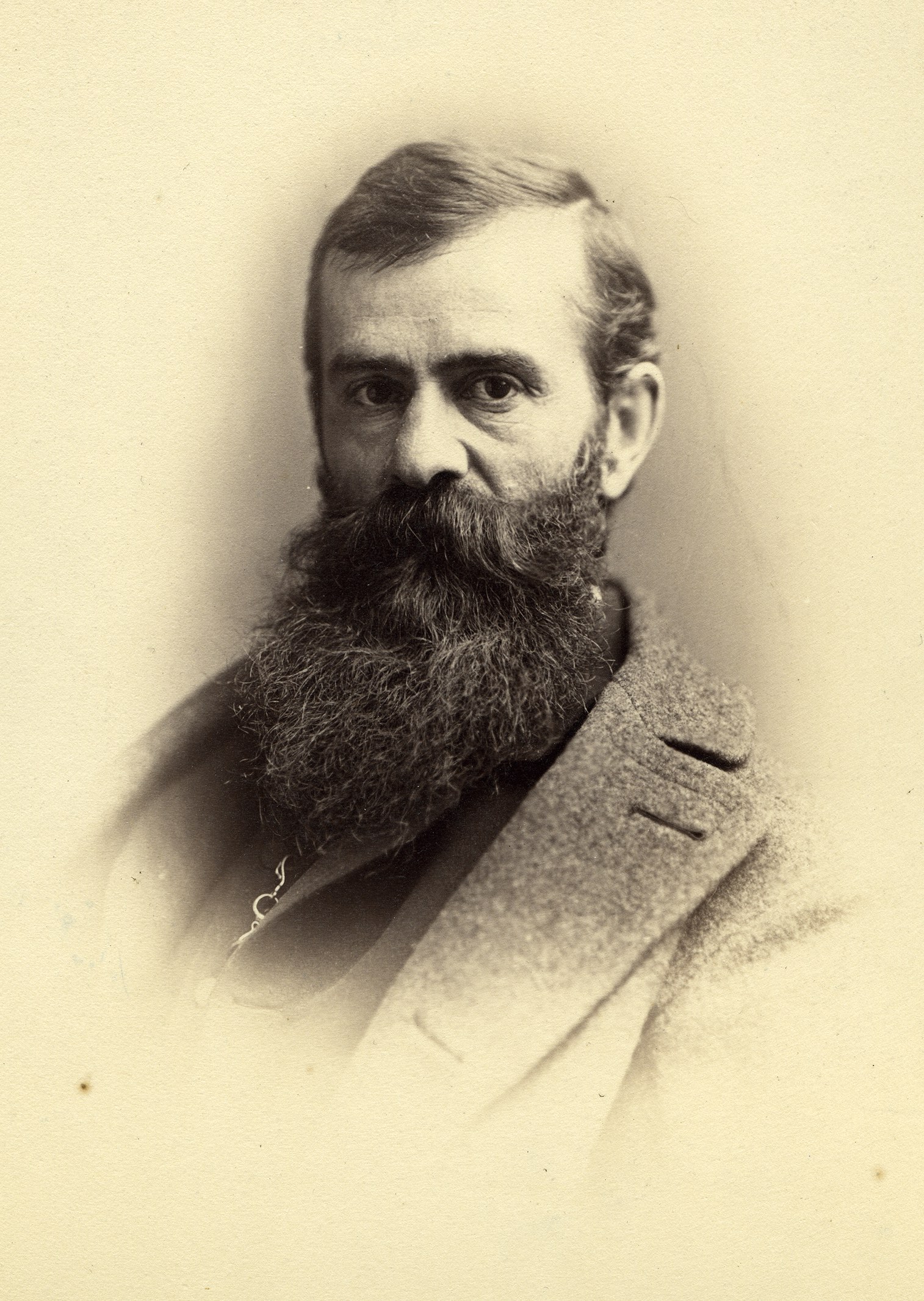 Napoleon Sarony, Jervis McEntee, c. 1867, albumen silver print, The Century Association, New York

SEPTEMBER
Saturday, September 12, 5–7 pm
Opening reception: Jervis McEntee: Painter-Poet of the Hudson River School, Reading Objects 2015: Responses to the Museum's Collection, and Thomas Benjamin Pope: Landscapes from Newburgh and Beyond


Sunday, September 13, 2 pm
Conversation: "Jervis McEntee: Painter-Poet of the Hudson River School"
with curator Lee A. Vedder, historian David P. Schuyler, and SUNY New Paltz professor Kerry Dean Carso, moderated by William Rhoads, co-sponsored by Friends of Historic Kingston (Student Union Building room 62/63)
MODERATOR

William Rhoads is Professor Emeritus of Art History at SUNY New Paltz. The focus of Professor Rhoads' teaching and writing is American art and architecture, especially from the 19th and early 20th centuries. He has published a book The Colonial Revival (Garland 1977) and several articles on Colonial Revival architecture and craft, as well as articles on Franklin D. Roosevelt's patronage of art and architecture. His interest in the architecture of the Hudson Valley has resulted in essays on artists studios in the region and on buildings in Poughkeepsie and the Catskill Mountains. The Friends of Historic Kingston and Black Dome Press published his Kingston, New York: The Architectural Guide in 2003. More recently he has published studies of the Kingston architects Teller & Halverson and of the the Architecture of Hervey White's Maverick colony near Woodstock. In 2011 Black Dome Press published his book Ulster County, New York: The Architectural History & Guide. Currently he is working on a study of Kingston and New York architect Charles S. Keefe (1876-1946).

PANELISTS
Kerry Dean Carso is Chair and Associate Professor of Art History at the State University of New York at New Paltz, where she teaches courses on American art and architecture. Her research focuses on interconnections between the arts and literature in the nineteenth-century United States. Professor Carso is currently researching nineteenth-century garden and park architecture in the United States. Her research has been supported by fellowships and scholarships at the Huntington Library; the Attingham Summer School; the Winterthur Museum, Garden & Library; the Library Company; the Historical Society of Pennsylvania; the International Center for Jefferson Studies at Monticello; and the Grey Towers National Historic Site. She is the author, most recently, of American Gothic Art and Architecture in the Age of Romantic Literature (University of Wales Press, 2014).
David Schuyler is Arthur and Katherine Shadek Professor of the Humanities and American Studies at Franklin & Marshall College, where he has taught since 1979. A native of Newburgh, New York, Schuyler received the Ph. D. in history from Columbia University, where his dissertation was awarded the Richard B. Morris Prize. Professor Schuyler is author of Sanctified Landscape: Writers, Artists, and the Hudson River Valley, 1820-1909 (Ithaca: Cornell University Press, 2012), A City Transformed: Redevelopment, Race, and Suburbanization in Lancaster, Pennsylvania, 1940-1980 (University Park: Penn State University Press, 2002), Apostle of Taste: Andrew Jackson Downing 1815-1852 (Baltimore and London: The Johns Hopkins University Press, 1996) and The New Urban Landscape: The Redefinition of City Form in Nineteenth-Century America (Johns Hopkins, 1986), co-editor of From Garden City to Green City: The Legacy of Ebenezer Howard (Johns Hopkins, 2002), and co-editor of four volumes of The Frederick Law Olmsted Papers, the most recent of which is The Last Great Projects, 1890-1895 (Johns Hopkins, 2015), as well as more than thirty articles in books and professional journals.

Lee A. Vedder, Ph.D., holds a doctoral degree in art history from the University of Maryland, specializing in American and British art, pre-1945. With over twenty years of curatorial and museum experience, she has served as Director of Collections and Exhibitions at the Allentown Art Museum, Allentown, Pa., and has also held curatorial positions and research fellowships in American art at the New-York Historical Society, New York City; The Thomas Cole National Historic Site, Cedar Grove, Catskill, N.Y.; the Huntington Library, Art Collections and Botanical Gardens, San Marino California; the Terra Foundation for the Arts Musée d'Art Américan, Giverny, France; and at the National Gallery of Art, National Portrait Gallery, and Library of Congress in Washington D.C.

Jervis McEntee, Autumn Reverie, 1880, oil on canvas, David and Laura Grey Collection

OCTOBER
Friday, October 2
1 pm: Presentation: "The Hudson River School of Art: Paintings, Painters, Period, and Places," with Skip Doyle
Student Union Building room 418
3 pm: Gallery talk: Jervis McEntee exhibition tour, with Guest Educator Kevin Cook
Co-sponsored by the Mid-Hudson Chapter of the Adirondack Mountain Club

Saturday, October 3, 2 pm
Gallery talk: "Autumn Airs: The Landscapes of Jervis McEntee"
Dr. Kevin J. Avery, Senior Research Scholar at The Metropolitan Museum of Art, will address McEntee's aesthetic and status among his fellow Hudson River School painters, especially Sanford Gifford, Worthington Whittredge, and Frederic Church, as well as the effect on him of the genre painter Eastman Johnson. Co-sponsored by Olana State Historical Site
BIOGRAPHY
Kevin J. Avery is a senior research scholar at The Metropolitan Museum of Art and an adjunct professor in the Art Department of Hunter College, City University of New York. Dr. Avery received his B.A. in art history from Fordham University and his M.A. and PhD. degrees from Columbia University, where he wrote his dissertation on the panorama and its manifestations in American landscape painting. He is the author of Treasures from Olana: Landscapes by Frederic Edwin Church, catalogue of an exhibition that he organized and which toured the United States in 2005-2007. He was the organizer, with Franklin Kelly of the National Gallery of Art, of "Hudson River School Visions: The Landscapes of Sanford R. Gifford," the exhibition seen in 2003-04 at The Met, the Amon Carter Museum in Fort Worth, and the National Gallery Art in Washington, D.C. Dr. Avery is also co-editor and co-author of the catalogue of the Gifford exhibition. In 2002 he edited and co-authored American Drawings and Watercolors in The Metropolitan Museum of Art, Volume I. In 1999 he co-organized "American Tonalism: Selections from The Metropolitan Museum of Art and the Montclair Art Museum", and co-authored its catalogue. In 1993, he organized "Church's Great Picture: The Heart of the Andes", and wrote its catalogue. Other exhibition catalogues to which he has contributed include: Art and the Empire City: New York, 1825-1861 (2000), and American Paradise: The World of the Hudson River School (1987). Currently he is at work on a narrative history of the Hudson River School.

Sunday, October 4, 2 pm
First Sunday Free Gallery Tour with Guest Educator Kevin Cook

Saturday, October 17, 2:30 pm
Plein air painting with Guest Educator Kevin Cook
Limit 15 participants, $20 fee, RSVP to museumrsvp@newpaltz.edu
BIOGRAPHY
Kevin Cook believes that landscape painting is a vital and integral expression in the contemporary art scene. Essentially a realist, he incorporates strong undercurrents of romanticism in his work. In the romantic tradition, he seeks to give his landscapes deep emotional meaning, manipulating them into emotional dream worlds through subdued brushwork and diffused light. The works are largely unpopulated, quiet, still, emphasizing an inner peace or the spirit of each place. Aspects of the work indicate inspiration, eternal life, the passage of time, and the process of nature.
Cook was recently named a Painting Fellow by New York Foundation for the Arts. He has subsequently been invited to serve on the Artist's Advisory Committee of NYFA. In 2009, Kevin's work was exhibited at the American Consulate in Hong Kong as part of the Artists In Embassies Program. He is represented in a number of galleries and has a strong regional following.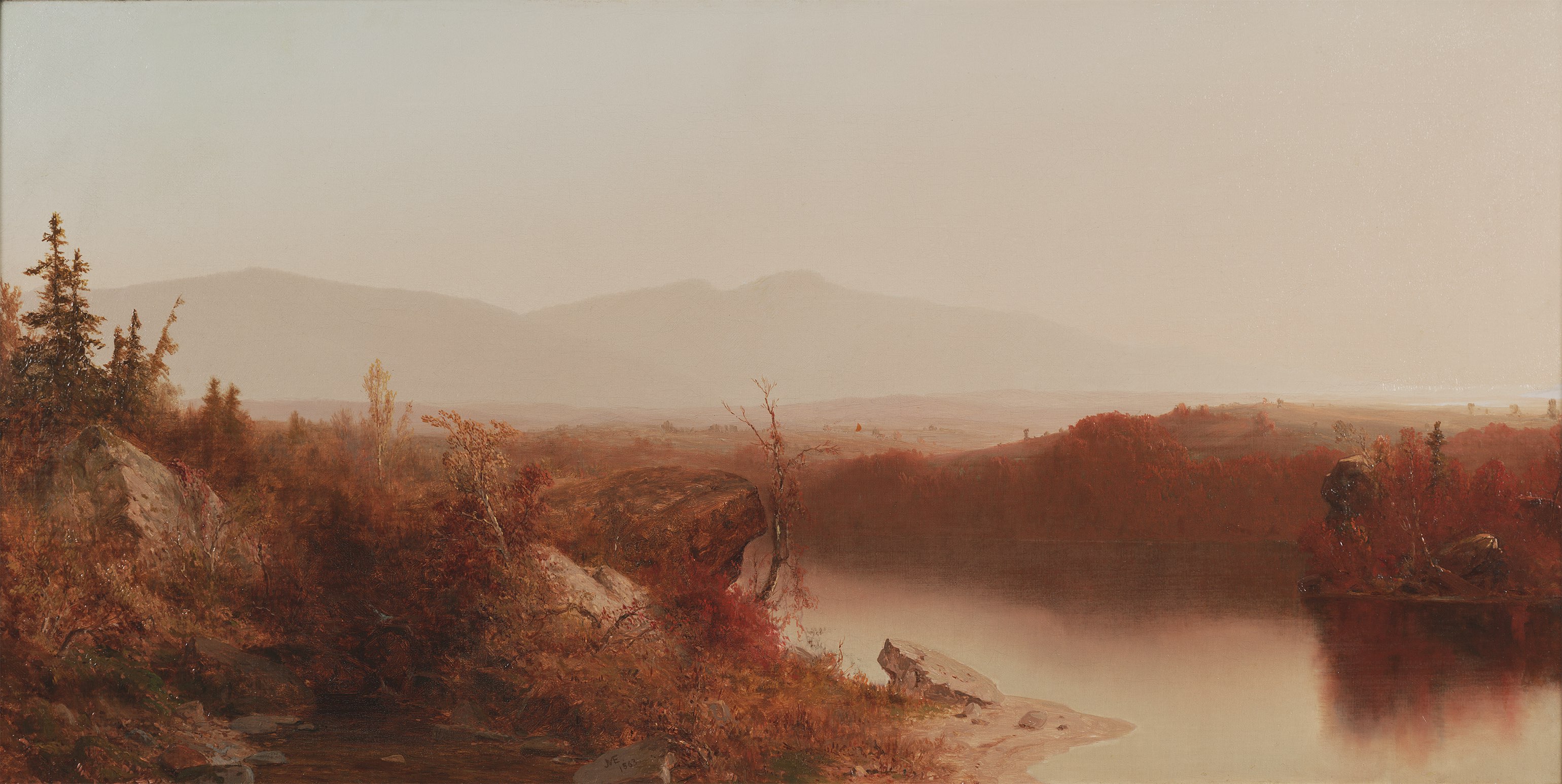 Jervis McEntee, View Facing the Catskills, 1863, oil on canvas, Private Collection

NOVEMBER
Sunday, November 1, 2 pm
First Sunday Free Gallery Tour with Guest Educator Kevin Cook


Saturday, November 14, 2:30 pm
Gallery sketching with Guest Educator Kevin Cook
Limit 15 participants, $10 fee, RSVP to museumrsvp@newpaltz.edu
(See Kevin Cook's Biography above)

All programs take place in the museum unless otherwise indicated.

The Friends of the Samuel Dorsky Museum of Art and the State University of New York at New Paltz provide ongoing support for The Dorsky's exhibitions and programs.
If you are a person with a disability who will require special accommodations please contact Amy Pickering at 845.257.3844 no later than one week before the event.