Fryderyk Chopin + Jan Sawka
A virtual project to connect two artists across time and piano players across the globe.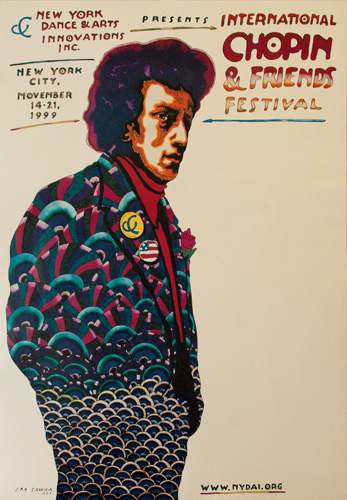 Poster by Jan Sawka for the International Chopin & Friends Festival, 1999.
RECORDED EVENT: Video Premier and Watch Party

The SUNY New Paltz Music Department and the Dorsky Museum present faculty, student and community pianists participating in The Chopin + Sawka Project . This year-long community online project asked pianists to reflect on the music of Chopin, works of art by Jan Sawka, and the memories these works bring to mind. Students recorded their home performances of Frederic Chopin and spoke about these connections. (RECORDED February 16, 2021)

Video Premier recording available at: https://www.youtube.com/channel/UCxtC4ffKjV4U91cYMLp7DbQ
This video features a special performance by internationally acclaimed Polish pianist Lucas Krupinski, laureate of the Chopin Piano competition in Warsaw and the International Busoni piano competition. He performs the darkly tragic Polonaise-Fantasie by Chopin, recorded specially for this project from his studio in London. For more information on Lucas, please visit his website, https://www.lucaskrupinski.co.uk.
---
Both Polish-born émigrés whose work incorporated themes of memory and exile, the extraordinary composer Fryderyk Chopin and the visual artist Jan Sawka are united by their biographies, which have resonances in their similarities, separated by 100 Years. The Dorsky Museum and the SUNY New Paltz Department of Music invite submissions to an online project which considers the themes of memory and exile by connecting Chopin's music and Sawka's artworks through your own individual experience and the lens of the current reality of COVID-19.
In a time when our world is practicing social distancing, itself a form of displacement, our former way of living seems like a distant, but ever-so-close memory. The exhibition Jan Sawka: The Place of Memory (The Memory of Place) focuses on the artist's works about memory and the places through which a human life passes. These artworks possess a deep empathy and a sense of loss that only exile can bring and express an expansive sense of the beauty that hope, art and nature make available to human beings.
Fryderyk Chopin, one of the worlds most renowned composers, dedicated himself to the piano. While living in Paris, at the time the center of European culture, he created ties with many Polish émigrés and inspired generations of composers. He found inspiration from the Polish mazurkas and polonaise he heard as a child in Poland, while expanding on themes from this music to create some of the finest and most influential compositions in the history of music.

We ask piano students, teachers and professional players to consider the following question:
"What does the piece I am playing by Chopin remind me of?"
After you answer that, we ask that you find a work or theme in the exhibition which relates to that memory or idea.
Then, create a video where you
1) provide the name of the artwork you are relating to
2) briefly describe the connection between the memory, the song, and the artwork
3) play the song
You can send your video to Zachary Bowman at bowmanz@newpaltz.edu if you'd like your video to be considered for the website. We will feature selected videos on our web site and some on our social media accounts.
Everybody is welcome to put up videos on your personal social media accounts and add the hashtag #chopinsawka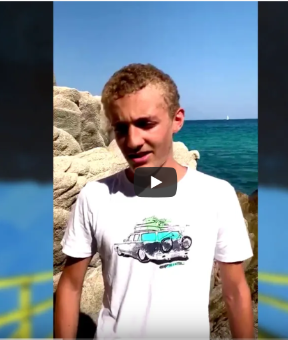 • To see the video submissions that we have already received visit our Videos page.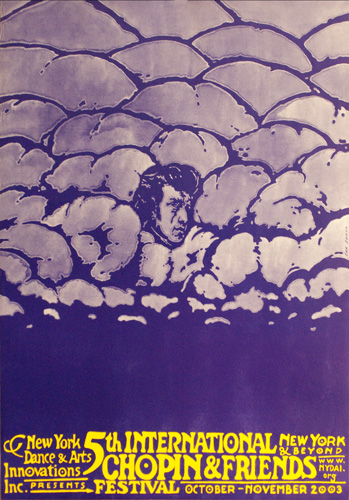 Poster by Jan Sawka for the International Chopin & Friends Festival, 2003.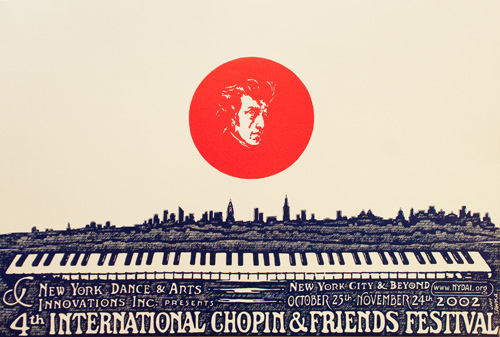 Poster by Jan Sawka for the International Chopin & Friends Festival, 2002.
• For an in-depth look at the resonances in the styles of Chopin and Sawka, see videos by renowned Polish pianist, Łukasz Krupiński,
who performs Chopin's Polonaise-Fantaisie and describes connections he has found in the work of Jan Sawka.


• Read more about the Jan Sawka exhibition and see the catalog for the exhibition which includes all exhibited works.


• You can also take a virtual exhibition tour of Jan Sawka: The Place of Memory (The Memory of Place).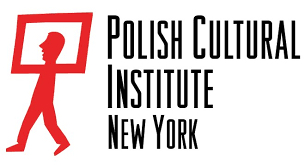 This project would not have been possible without the generous support of The Polish Cultural Institute, New York. Special thanks to the PCINY's Izabela Gola, Curator of Visual Arts and Design and Agnieszka Wilczyński, Music Programming.
This project was created Zachary Bowman, Manager of Education and Visitor Experience at The Samuel Dorsky Museum of Art and Alex Peh, Associate Professor and Coordinator of the Piano Program for the Department of Music at SUNY New Paltz. Special thanks to primary video editor, David Mosca, SUNY New Paltz '21, Bachelors in Fine Arts, Digital Media Production. Also thanks to John Stimmel, and Nathaniel Lewis for their assistance in producing the videos. Our gratitude to the piano teachers who involved their students: Ruthanne Schempf, Maria Peterson, Valentina Shatalova, Ada Margoshes, Akiko Sasaki, and Jean Macdonald.