The museum is closed. we hope not for too long.

Exhibitions
War! through July 12, 2020


Save
Save
Save
Save
Save
Save
Save
Save
Save
Save
Save
Save
Save
Save
Save
Save
Save
Save
Save
Save
Save
Save
Save
Save
Save
Save
Save
Save
Save
Save
Save
Save
Public Programs & Events
News

Saturday, May 2, 11am: Virtual Symposium
Jan Sawka: The Place of Memory (The Memory of Place). Information on our programs page.


The Museum is closed indefinitely to protect the health and well-being of our community. All scheduled live events have been cancelled through 5/10. Any changes that arise will be posted here, and sent in our email newsletter (you can sign up here).
---
Collection
Explore our collection online
through the Hudson Valley Visual Art Collections Consortium
---
Social Media
See what we've been posting
regularly about our exhibitions, works, and more
INSTAGRAM FACEBOOK TWITTER FLICKR
---
Recent Press
Jan Sawka: Polish Refugee in the Hudson Valley (Kaatscast)
Jan Sawka exhibition opens at Dorsky Museum (HV1)
Jan Sawka: Dorsky Museum showcases artist who opposed communism, worked with Grateful Dead (Poughkeepsie Journal)
A Jan Sawka Retrospective at the Dorsky Museum (Chronogram)
"Totally Dedicated: Leonard Contino" opens at the Dorsky (HV1)

---

Follow us on Instagram! Tag your pics using #dorskymuseum and #npsocial
Support for museum exhibitions and programs is provided by the Friends of the Samuel Dorsky Museum of Art and the State University of New York at New Paltz.
---
REGULAR HOURS
Wednesday—Sunday: 11am – 5pm

All events take place in the museum unless otherwise noted.
---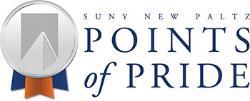 Permanent Collection
SELECTION FROM THE COLLECTION
Sydney Cash, Brooch, 2008, five etched glass cabochons, metal foils, plating, gift of Julie Cash, 2017.005.002
In addition to its extensive collection of paintings, drawings, sculpture, and photography, The Dorsky Museum has a distinguished collection of artist-made jewelry. Hudson Valley sculptor, painter, light artist, and jeweler Sydney Cash's exquisite brooch is a (
more
)
---
---
Photography Permission Policy: Periodically, The Dorsky Museum takes photographs and video of Museum visitors and activities for use in promotional and editorial material. All rights to the photographs and video belong to the Museum. Please notify the Front Desk if you do not consent to this policy.