Curated by Elizabeth Brotherton
August 31 – December 11, 2016
Seminar Room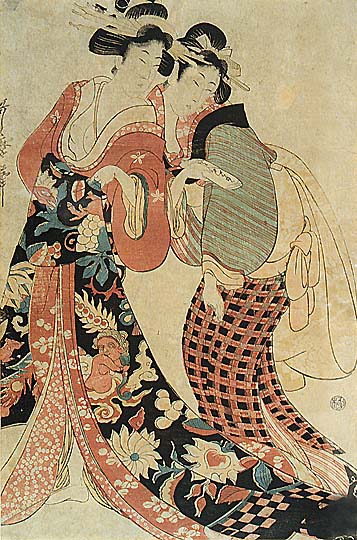 Kitagawa Utamaro, Two women, c. 1800, woodcut, 1989.010.002
The objects in this exhibition were donated to the Dorsky Museum by Professor Emeritus Hugo Munsterberg (d. 1995), who believed in the importance of teaching art history through the direct observation of high-quality art works. Munsterberg began teaching in the Division of Art Education at SUNY New Paltz in 1958. By the time of his retirement twenty years later, he had established the Division of Art History and served as its first Chair. On the centennial of his birth, Munsterberg is remembered as both father of the Art History Department and benefactor to the Museum.
---
The widely differing cultures and periods represented in this group of art works indicate Munsterberg's broad approach, regarding art as a primordial activity common to all humanity, and as a carrier of meaning that transcended its immediate background or cultural boundary. In this he shared an idealistic conception of art that was influential in the earlier twentieth century, both in the West and other parts of the globe. Going hand-in-hand with this approach was his de-emphasis on the pre-modern Western tradition of mimesis or naturalistic art, along with a general skepticism toward artistic polish and sophistication when these things lessened an artwork's authenticity.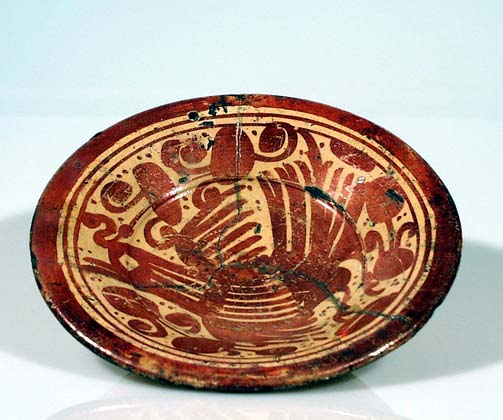 Unknown Spanish artisan, Hispano Moresque Plate, c. 17th century, Lusterware, 1978.019.004
Munsterberg's love for Japanese folk art is represented by the stoneware Mingei (folk art) plate, on which the signs of artistic process are clearly visible in the irregularity of its parallel lines of glaze. A comparable roughness exists on a Persian (Iranian) vase, the undisciplined markings of which distantly recall the regular sections and scalloped medallions of classical ceramic ornament. Works in this exhibition reflect high degrees of cultural sophistication, many deriving from late stages in their respective visual traditions. The small group of modern works by Professor Munsterberg's colleagues reflect his support for practicing artists from the Art Department of SUNY New Paltz and the larger Hudson Valley area.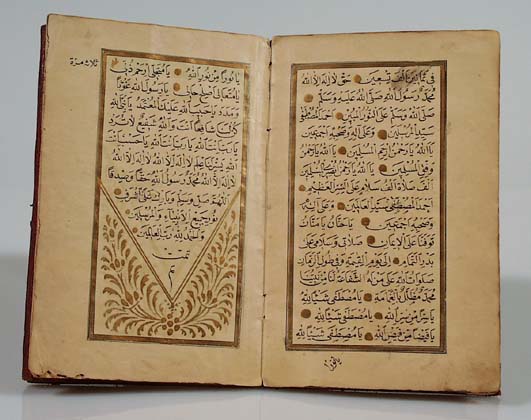 Unknown Turkish Artisan, Chapter from the Koran, c. 1850, ink, gold paint, leather binding, 1994.006.003