Curated by Emilie Houssart
February 6 – July 11, 2021
Seminar Room Gallery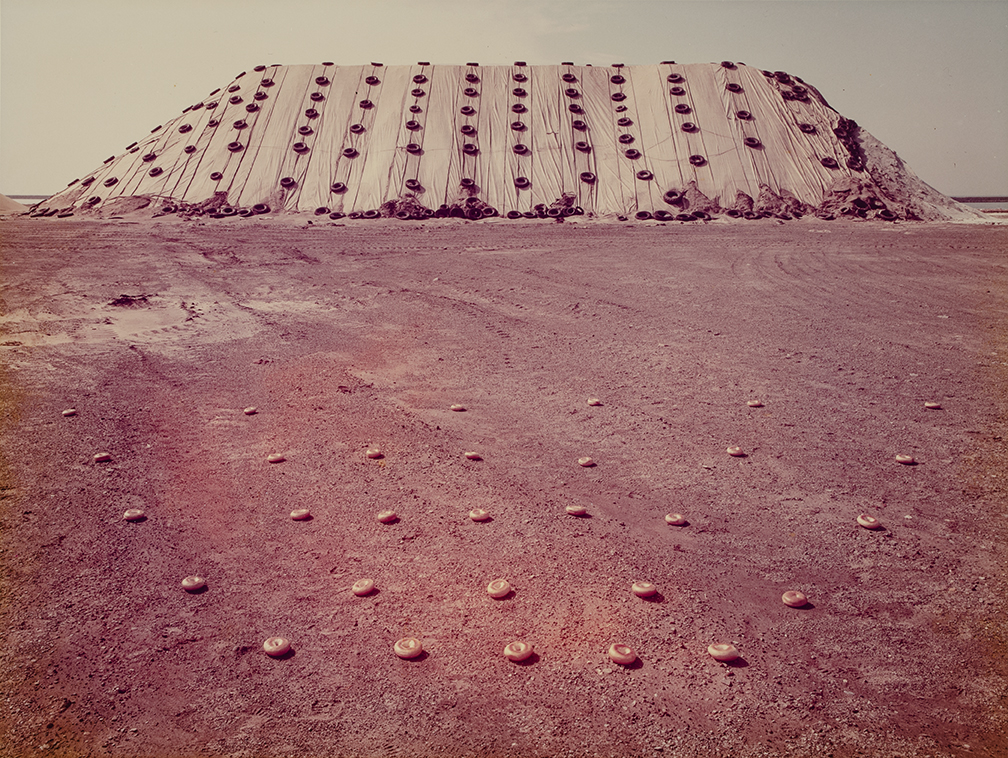 John Pfahl, Salt Pile with Bagels, South Buffalo, NY, 1976, Samuel Dorsky Museum of Art
Organized by The Dorsky Spring 2021 MFA Artist in Residence, Emilie Houssart, DIRT: Inside Landscapes will be the base for a project centered around community and dirt, two most precious but socially undervalued elements. A selection of artwork from the Dorsky permanent collection will provide multiple perspectives on how we relate to surrounding ecologies.

Artwork on display—from Hudson River School works to contemporary representations of the landscape—shows a range of artists' relationships with the local land, including Thomas Cole's feelings of insignificance in relation to his beloved 'American scenery' and John Pfahl's playful photographs questioning human domination over the earth.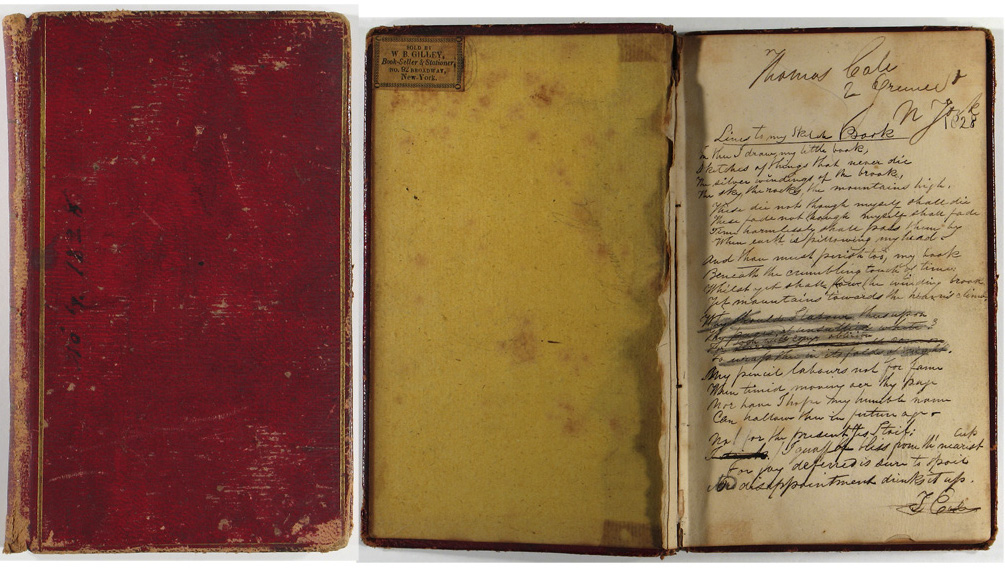 Thomas Cole, Sketchbook, 1828, pencil and paper, Samuel Dorsky Museum of Art

This interactive project will invite visitors to think about dirt in a very clean place. Through remote programs, local high school students and members of the public will be encouraged to reimagine our relationships with the ground. Their earth-related thoughts and drawings will be displayed in the museum on an evolving interactive wall that Houssart will construct over the course of the exhibition and featured on Instagram at @dirt.scapes.

By looking closely and responding creatively Houssart hopes we can ask ourselves these questions: What is our perception of the land around us? What are our blind spots, our assumptions? Can we see ahead to a more collaborative, respectful relationship with the land?
About Emilie Houssart:
Emilie Houssart is a Dutch-American artist based in New York's Hudson Valley. Her multidisciplinary projects examine symptoms of human-environmental disassociation, questioning our desires for control and our evaluations of intelligence and success. Recent explorations have centered around big box stores, industrially farmed potatoes, and the forest floor. Her public interventions probe at the boundaries of the absurd to illuminate culturally normalized forms of ecological estrangement.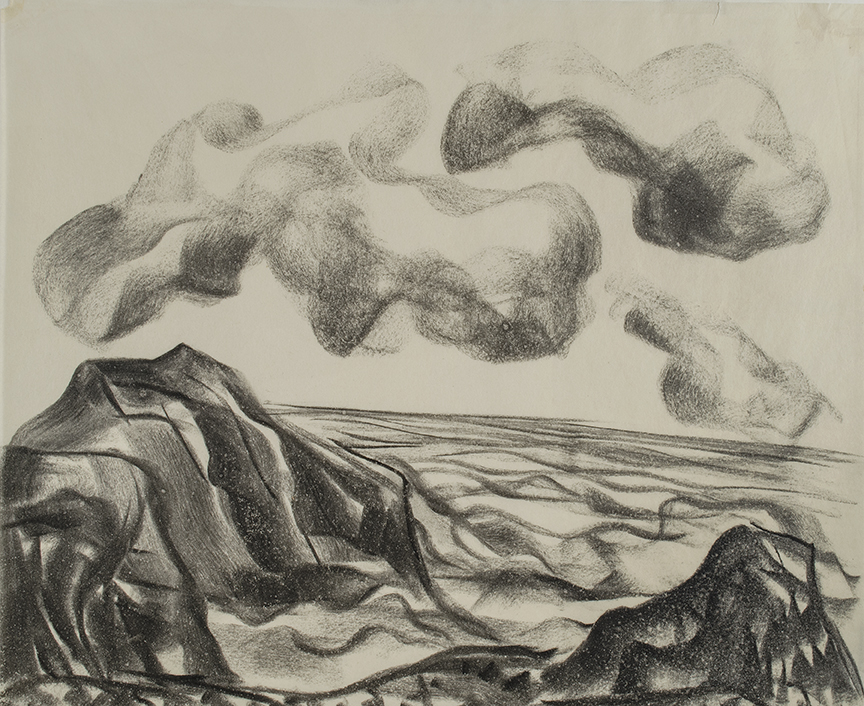 Stefan Hirsch, Clouds, Waves and Rocks, 1941, Samuel Dorsky Museum of Art
Houssart's work is included in Owning Earth at Unison Arts Center, NY, and Paranatural: Beyond Paper at Remarque Print Workshop, NM (both upcoming in 2021). Previous exhibitions include Forest Geometries (solo installation and performance), Frans Masereel Centrum, Belgium; Damaged Goods (solo), Norwich Millennium Library, UK; and If We Opened People Up We'd Find Landscapes, Fairhurst Gallery, UK. She recently co-curated EARTHBOUND pop-up, NYC, EXPORT 19, Poughkeepsie Trolley Barn, NY, and the Catalytics series at Arts Mid-Hudson, NY, and has held residencies at Frans Masereel Centrum, Belgium and Print to the People, UK.
Originally from Norwich, UK, Houssart gained a BA Hons. in Modern Languages from the University of Durham, UK, studied painting at the Charles H. Cecil Studios, Italy, and is an MFA candidate and Sustainability Faculty Fellow at SUNY New Paltz. Houssart has taught at SUNY New Paltz, Vassar College, West Point Military Academy, the Charles H. Cecil Studios, and the British Institute of Florence. She is currently an Instructor at Fall Kill Print Works and the Woodstock School of Art.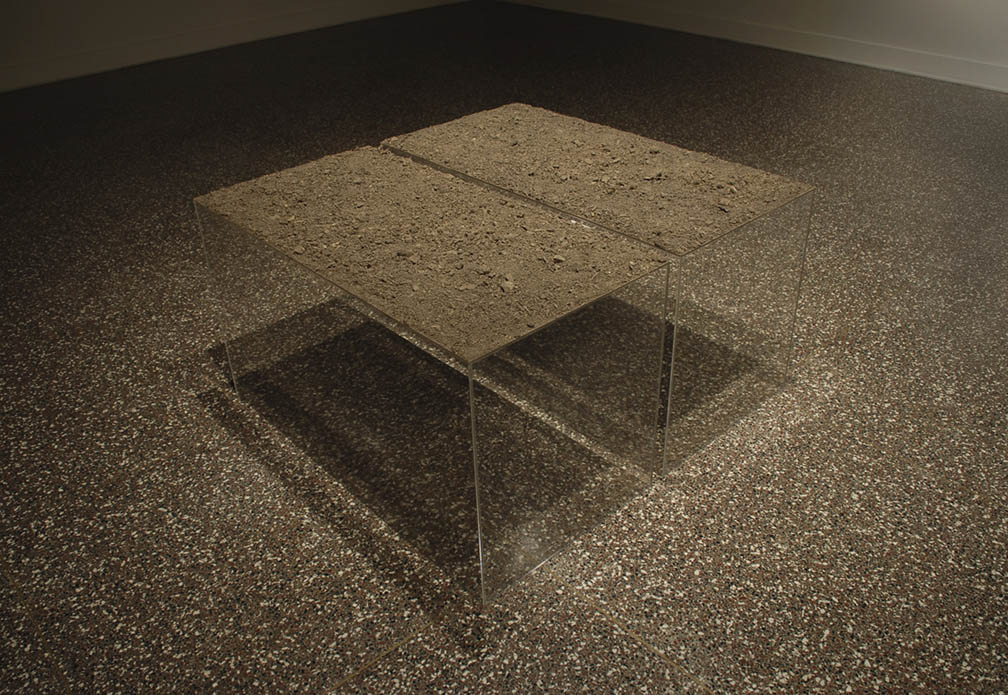 Peter Iannarelli, This Land Is My Land and This Land Is Your Land, 2007, Samuel Dorsky Museum of Art

About the Dorsky Artists in Residence Program:
The Dorsky Museum's Artist in Residence (AiR) program invites a contemporary artist to spend four months working with the museum, responding to our collection and bringing new art, ideas, and audiences to The Dorsky. What makes the Dorsky's AiR program unique is that our artist is selected from the talented pool of emerging artists that make up the SUNY New Paltz MFA degree program. The AiR follows a program focused on engaging our visitors and activating our permanent collection of over 6000 art objects. In response to their research and experiences during their residency, the AiR produces new artwork and shares their project through a public talk, performance event, or exhibition.