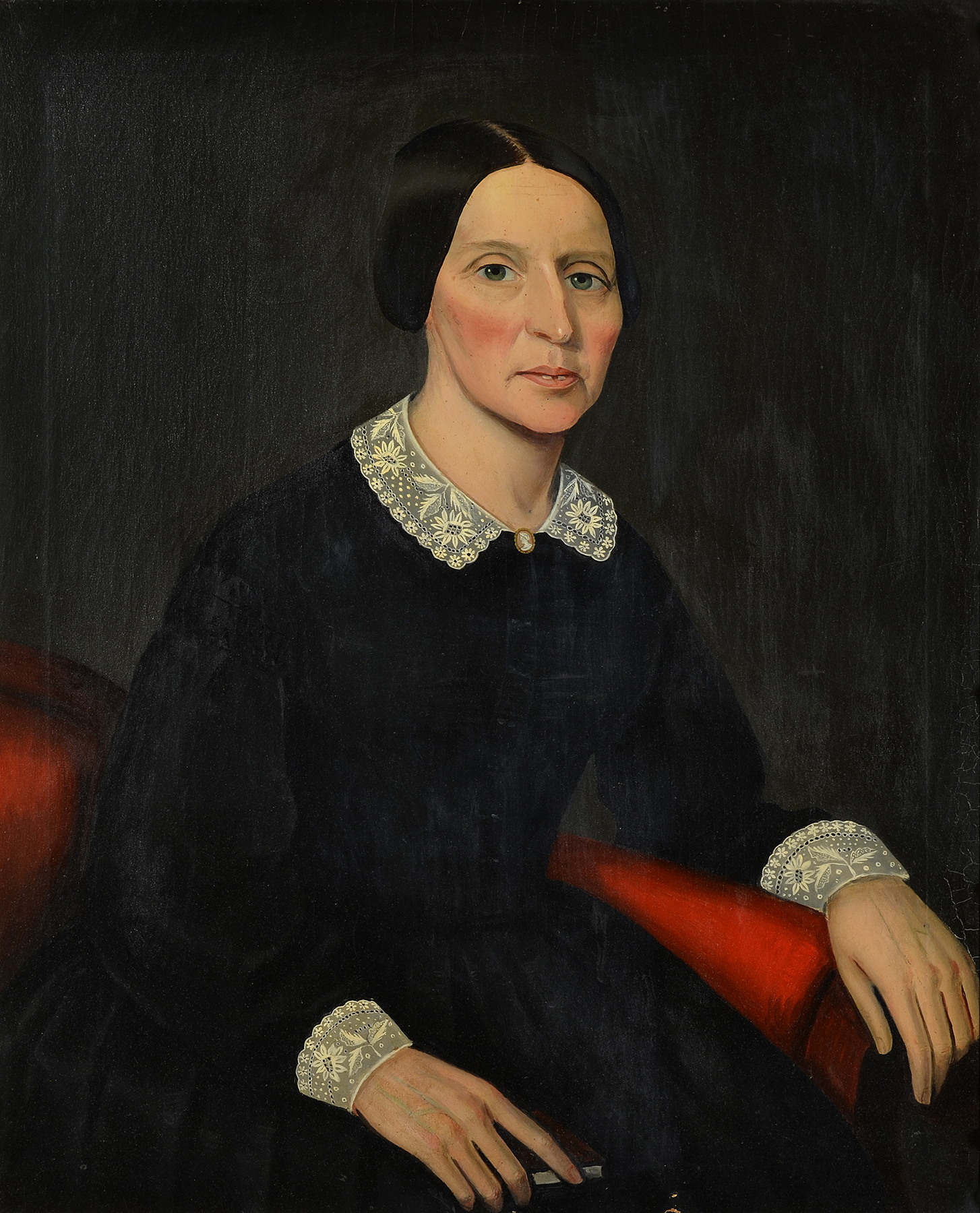 Ammi Phillips
Untitled
c. 1848-1860
oil on canvas
33 1/2 x 27 1/2 in.
gift of Shari Hubner
2015.062
---
Untitled
Prior to the availability of popular photography, itinerant painters provided middle class families with affordable likenesses to document their economic and social status and to perpetuate their memory. Entirely self-taught, Ammi (pronounced Am-eye) Phillips was working as an itinerant portrait painter by the time he was twenty-one. During his lifetime, he worked the territories of eastern Connecticut, western Massachusetts and the Hudson River Valley from Rensselaer and Columbia Counties down to Ulster and Dutchess Counties. He often did not sign his paintings and because of his evolving skill over a lengthy career, his work was once thought to be that of three different painters, known as A. Phillips, the Border Limner, and the Kent [CN] Limner. Rather than settling in one place and traveling to obtain work, Phillips would live in an area, becoming acquainted with and painting its socially prominent residents; then he moved on to live in another territory. This familiarity with his portrait subjects allowed him to convey a sense of the particular personality of the sitter uncommon in most itinerant portraits.


Our painting is unsigned but bears the unmistakable characteristics of a Phillips painting. The three-quarter length portrait of an unknown woman is broadly painted in a straight-forward manner. The degree of naturalistic modeling in the face suggests that the painting was made in the later years of Phillips' career. The palette is dark, with the sitter's face and hands framed by her white lace collar and cuffs. The costume details of lace and ruched sleeves are typical of Phillips' attention to detail. The sitter has a lively demeanor and engaging personality as she leans forward towards the viewer. Her pink cheeks are echoed in the red settee, emblematic of a strong personality. She holds a book, indicating education and a religious or intellectual nature. She is particularly distinguished by a marked overbite, which personalizes the portrait and adds to the sense of amiability in her expression. The less skillfully painted hands and the simplified rendition of the lace suggest that an apprentice or assistant may have painted these elements. Before this portrait came to the museum, it had hung for years in Pleasant Valley, NY, not far from Amenia, NY, where Phillips resided from 1834 to 1860. The painting was also once owned by a member of the Hasbrouck family suggesting that the sitter might have lived in Ulster County. Investigation into the identity of the sitter is ongoing.