College mourns passing of H.R. Stoneback, long-time professor in the Department of English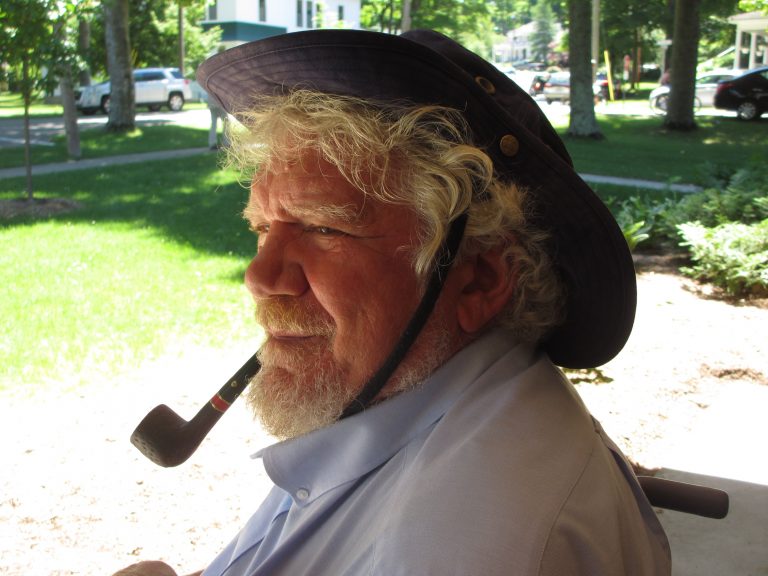 It is with sadness that the College shares news of the death of Professor Emeritus Harry Robert Stoneback, an internationally renowned scholar of 20th-century fiction who taught for many years in the SUNY New Paltz Department of English, on Dec. 22, 2021. He was 80.
A Vietnam War veteran, Stoneback received his Ph.D. from Vanderbilt University in 1970. He was a faculty member at New Paltz for exactly 50 years, from his appointment on Sept. 1, 1969, until his retirement on Sept. 1, 2019. In 2004, he earned the rank of SUNY Distinguished Teaching Professor, the university system's highest faculty designation.
Stoneback earned worldwide acclaim as a scholar of Modernist literature with special expertise in the life and work of Ernest Hemingway. In 2014, he was elected president of The Hemingway Society, the preeminent international collective of Hemingway scholars.
Stoneback was also a prolific writer who authored more than 100 essays for national and international journals and traveled frequently throughout his career, sharing that work at academic conferences and other events across the globe.
He shared that passion for critical scholarship with generations of New Paltz students, helping to create opportunities for English majors to publish their writing and research.
He served as director of graduate studies in English from 1975-1978 and again from 1987-2005, and was the founding editor of The Shawangunk Review, an annual journal of original work by students and faculty published by the SUNY New Paltz English Department.
In an editorial forward to the 2019 edition, Stoneback's final issue, Co-Editor and Associate Professor Cyrus Mulready wrote, "the traditions Prof. Stoneback set in place 30 years ago remain as strong as ever."
Later in his career, he continued supporting new traditions at the College, including through his annual attendance at our Veterans Day dinner events.
Even campus community members who never studied or collaborated with Harry Stoneback likely observed his regular chats with students outside the Humanities building. Anyone who participated in those impromptu meetings knows he kept many more stories than could ever be recounted here.
We express our condolences to his family and to the many students, faculty, staff, alumni and extended community members who valued him.
Students who would like assistance processing this loss are encouraged to contact the Counseling Center at (845) 257-2920. Employees can contact the Employee Assistance Program at (845) 257-2886.
College mourns the death of Manuel Bromberg, professor emeritus and artist behind the "Cliffside" sculpture on Huma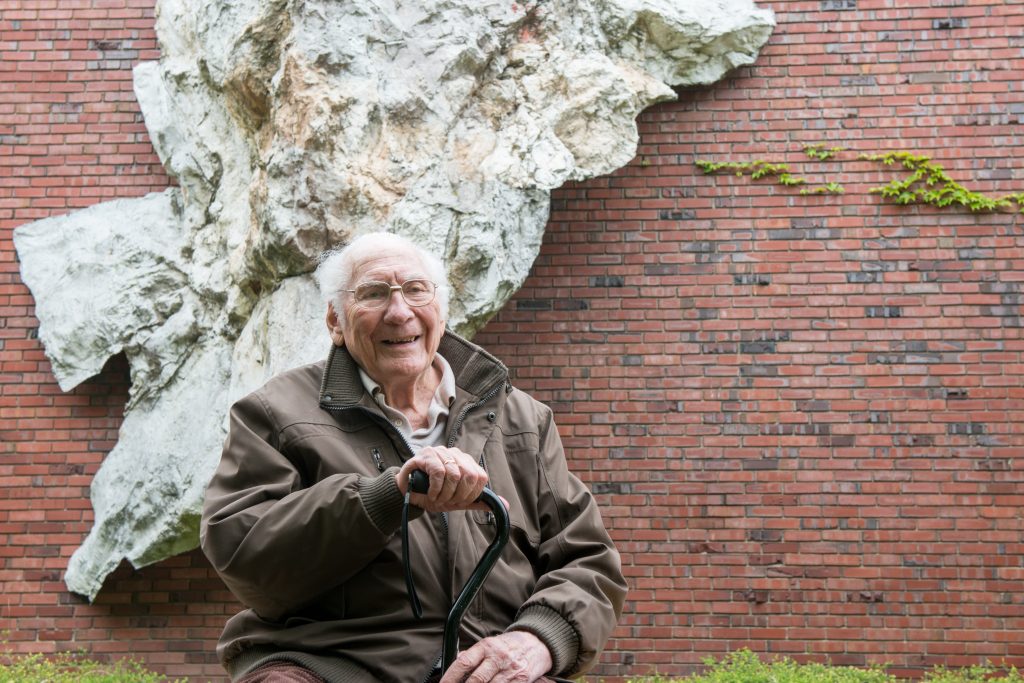 It is with sadness that the College shares news of the death of Manuel "Manny" Bromberg, professor emeritus of art, on Feb. 3, 2022. He was 104.
Bromberg is among the most acclaimed artists to have taught at SUNY New Paltz. He served as a professor of painting and design from 1957 – 1979 and is the artist behind one of the most iconic permanent installations on campus: the "Cliffside" sculpture mounted on the outer wall of the Humanities building.
"Cliffside" was originally dedicated in 1970 as a tribute to Martin Luther King, Jr., who had been assassinated just a couple years prior.
"That was a time of a great social unrest that was felt on this campus as it was on many college campuses," Bromberg said at a 2016 rededication ceremony on campus. "I had great respect for King and was deeply saddened by his death, so once again I approached President [John] Neumaier, to request that the cliff be dedicated to King."
Mounted next to the sculpture is "Cliffside" a plaque with a well-known excerpt from King's "I Have a Dream" speech: "We will hew out of the mountain of despair a stone of hope."
The story of the sculpture's creation and installation is recounted in detail in "Manny Bromberg won't give an inch," a 2016 feature from Hudson Valley One that includes may other stories from his decades-long career as an artist.
In addition to his contributions at SUNY New Paltz, Bromberg served as a WWII war artist and was awarded the Legion of Merit in 1944. Prior to coming to New Paltz, he taught at Salem College, North Carolina State University College of Design, where he collaborated with Buckminster Fuller, among others.
Alumni
1940 - 1949
Elizabeth (Snyder) Wolven '44
Doris N. (Neill) Bierstine '46
Patrice D. (Manuche) Bolgen '485
David P. Anderson '49
1950 - 1959
June T. (Tompkins) Walker '51
Jack Abrams '52
Margaret (Musto) Gondarowski '52
Jeanne F. (Dailey) Whitney '52
Ruth A. (Eckoldt) Bryant '55
Alice M. (Rankin) Moreland '56
Elizabeth (Vail) Harding '57
Madeleine D. (Hood) Tierney '59
George A. Giuliani '59
1960 - 1969
Alan R. Schmidt '60
Rose M. (Saccoman) Hansen '61
Robert P. Skipp '63
James F. Melnik '65
Dorothy (Fitzpatrick) Schreyer '67
James P. Henriques '69
1970 - 1979
Kathryn (Decker) Jellison '70
Sheldon M. Isaacson '71
Martin W. Moran '71
Linda B. (Blessing) Ostaski '72
Catherine Friedmann '72
Henry W. Burdine '73
Wayne B. Metsch '75
1980 - 1989
Valeria (Dawes) Terwilliger '81
Mary E. (McDonald) Downey '81
Barbara H. (Piontek) Carpenter '82
Daphne (Graham) Zupan '83
Patricia E. (Mollach) Cassidy '84
Carol J. (Krystel) Vandewater '84
Roger A. Rascoe '85
Shawn R. Ashby '86
Heather Aiello '83
1990 - 1999
Martha R. (Naujoks) von der Gathen '90
Michael A. Henderson '91
Debora Banner '91
Douglas C. Morrison '93
Patricia A. (Bomersbach) Dul '94
Michael K. Williams '95
2000- 2010
Roland F. Brock '01
Kristoffer Swart '06


Faculty & Staff
Ardis J. (Denton) Marcotte '88
Dr. Anne (Hopper) Champlin
William Secor
Dr. Harry Stoneback