Success & Acceptance at indeed.com
Sean Haberkorn '11 (Journalism) works for Indeed, the #1 job site in the world boasting more than 250 million unique visitors every month.
As a Senior Client Success Specialist on the Enterprise brands like Amazon and Uber, Haberkorn helps clients to connect with the millions of people in search of new professional opportunities. His commitment to his alma mater has brought these insights back to campus through his ongoing relationship with the Career Resource Center.
"At Indeed, our mission is to help people get jobs," said Haberkorn. "We foster a collaborative workplace that strives to create the best experience for job seekers. It makes sense to share this story of success with the students at New Paltz, to remind them that the right job is out there, it's just a matter of finding it."
According to Haberkorn, the culture at Indeed is much like New Paltz, where students are encouraged to "come as you are" and define their own journeys.
"New Paltz and Indeed both encourage a culture of openness and acceptance that allows everyone to be an individual," said Haberkorn. "The minute I stepped on campus at the College, I told my dad this is where I was going to go. I had a very similar experience at Indeed, too. Our culture here embraces an open office setting where everyone can sit together. There's none of that usual office hierarchy or pressure, everyone does their work and works really hard. We're creative, we explore and support one another."
New Paltz and Indeed both encourage a culture of openness and acceptance that allows everyone to be an individual,"
Working for an industry that shares New Paltz values and helps people get jobs makes Haberkorn a natural when it comes to reconnecting with the College and its current students. In 2014, he joined a panel of alumni for the "Brilliantly Creative and Gainfully employed" event, which fostered a relationship with Mark McFadden, director of the Career Resource Center. He returned in 2016 for "Career to Classroom" where he was able to speak to his own journey and how he ended up one of more than 7,400 global employees at Indeed.
Haberkorn most recently hosted a site visit to the company's Manhattan headquarters as an opportunity for New Paltz students to network with professionals in this fast-growing fi eld and learn more about all aspects of the job search process. He stresses the importance of forging good relationships at every job and internship. His ongoing relationship with the College reminds him to always take his own advice to "not burn any bridge."
"If I didn't keep in touch with the person from my first internship role, I wouldn't be where I am today," said Haberkorn, who reconnected with a coworker while working part time at Gourmet Pizza in New Paltz. Turns out, that person worked at Indeed and was happy to share their business card, eventually paving the way for the alumnus's current success.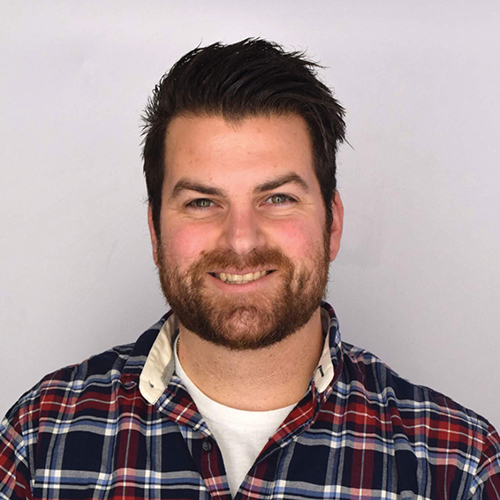 Sean Haberkorn '11 (Journalism) joined Indeed in 2014 as a Client Support Specialist and has since been promoted three times. He currently lives in Watchung, N.J., with his wife and fellow alum Amanda Barney- Haberkorn '11 (Business). The two just welcomed their second child.