DARRELL P. WHEELER TAKES THE HELM OF SUNY NEW PALTZ AS PRESIDENT DONALD P. CHRISTIAN RETIRES AFTER 12 YEARS OF DEDICATED SERVICE

Upon the recommendation of the State University of New York Interim Chancellor Deborah F. Stanley, the SUNY Board of Trustees appointed Dr. Darrell P. Wheeler as President of SUNY New Paltz, effective July 18, 2022.
Wheeler's appointment comes after SUNY New Paltz President Donald P. Christian announced on May 25, 2021, his intention to retire in July 2022, after a 45-year career in higher education. Christian was appointed as the College's 8th president in 2011 after serving as interim president in 2010-11, and provost and vice president for academic affairs at New Paltz during 2009-10.
"Dr. Wheeler brings an impressive array of experiences and achievements to this new role. I am pleased and excited to be passing the leadership baton to him," said Christian. "I am impressed that he thinks 'presidentially' even as he will be new to the role. I will do everything I can to support his success – including as he pursues new initiatives and directions needed for the success of the College in a dramatically changing higher education world."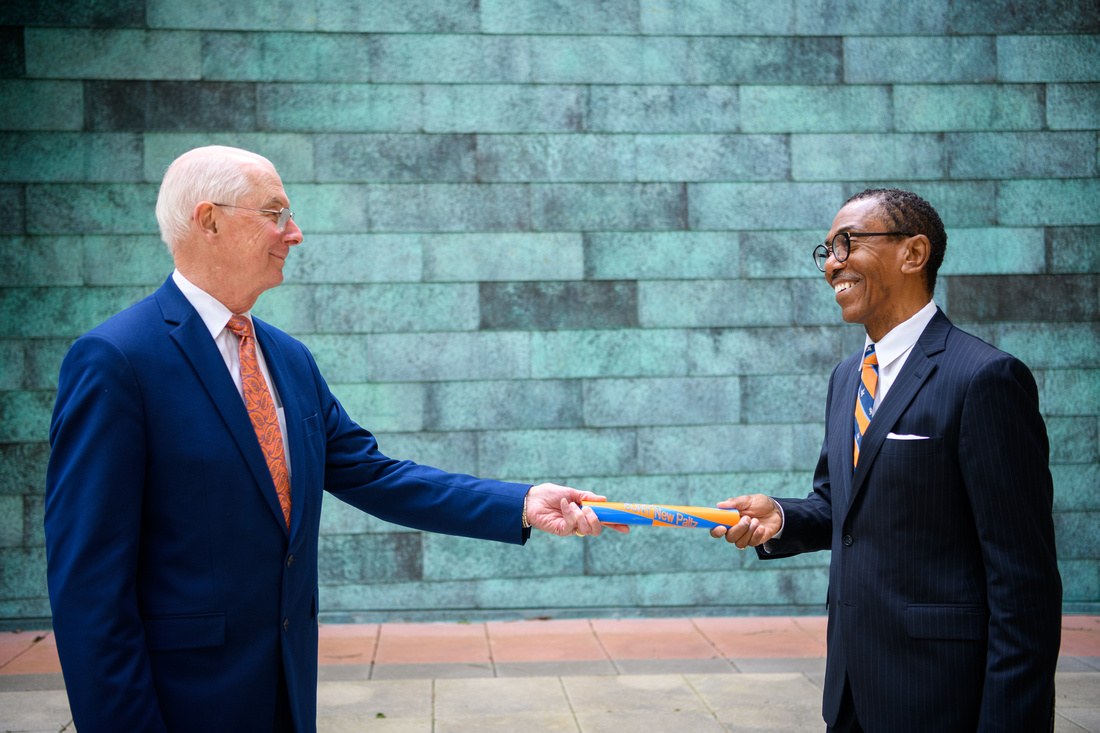 For the last year, Christian has worked to position SUNY New Paltz for continuing success and to set the stage for the next president's entry and success. His work included ongoing planning for a post-pandemic future, additional progress on diversity and inclusion and anti-racist initiatives, and guiding campus leaders through the presidential transition.
Said incoming President Wheeler: "It is an honor and a privilege to be named New Paltz's ninth president and to join a campus community I have already come to respect and admire. I look forward to working together with students and colleagues at New Paltz to build upon the institution's core values of access, integrity, inclusion, social justice, leadership and excellence."
A PRESIDENT'S 12 YEARS OF SERVICE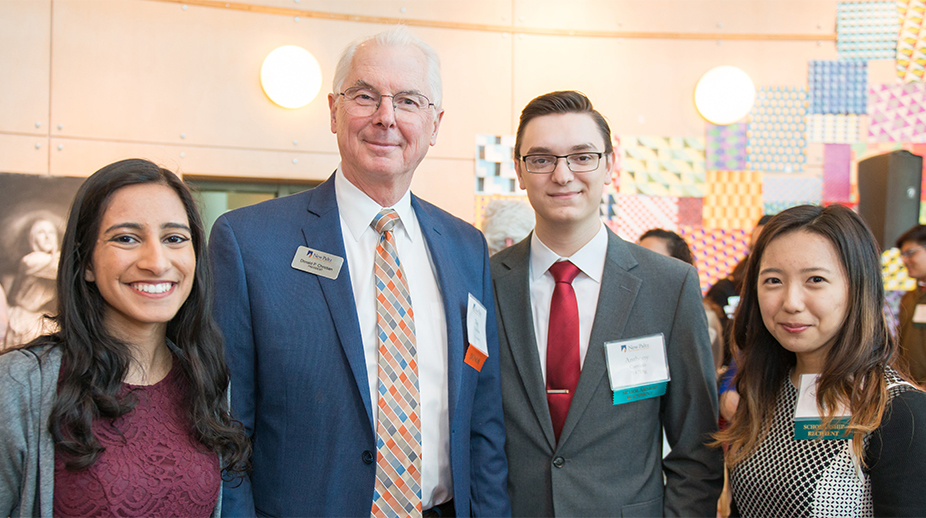 Through Dr. Donald P. Christian's leadership, the College's reputation as a top-tier public institution has grown both statewide and nationally. The College ranked in the top 3% of U.S. colleges and universities in the 2020 Social Mobility Index. He has been a strong advocate for the value of a liberal education tailored to 21st century needs, for study abroad, the Honors Program, and student research experiences, and the great breadth of disciplines and majors at New Paltz.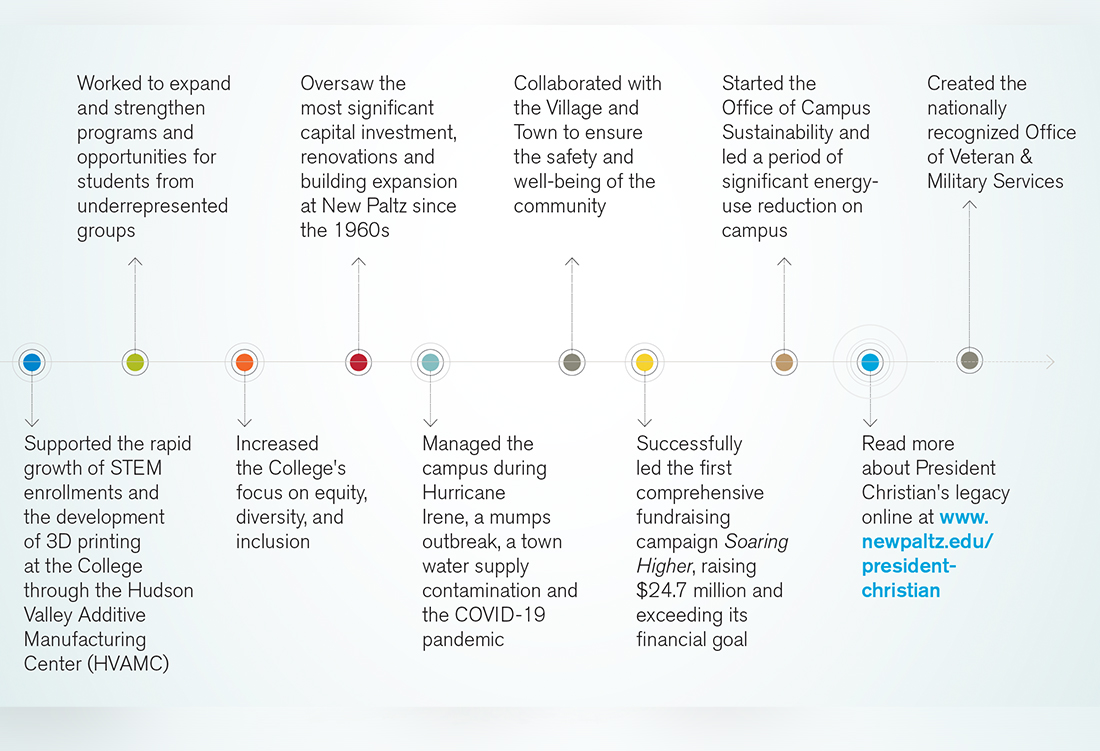 President Christian's leadership over more than a decade has helped forge many new partnerships with community organizations and businesses, which have expanded and solidified SUNY New Paltz's vital role as an engine of the Hudson Valley economy. It's been a great pleasure to work with him and his leadership team, and I wish him all the best in his well-deserved retirement."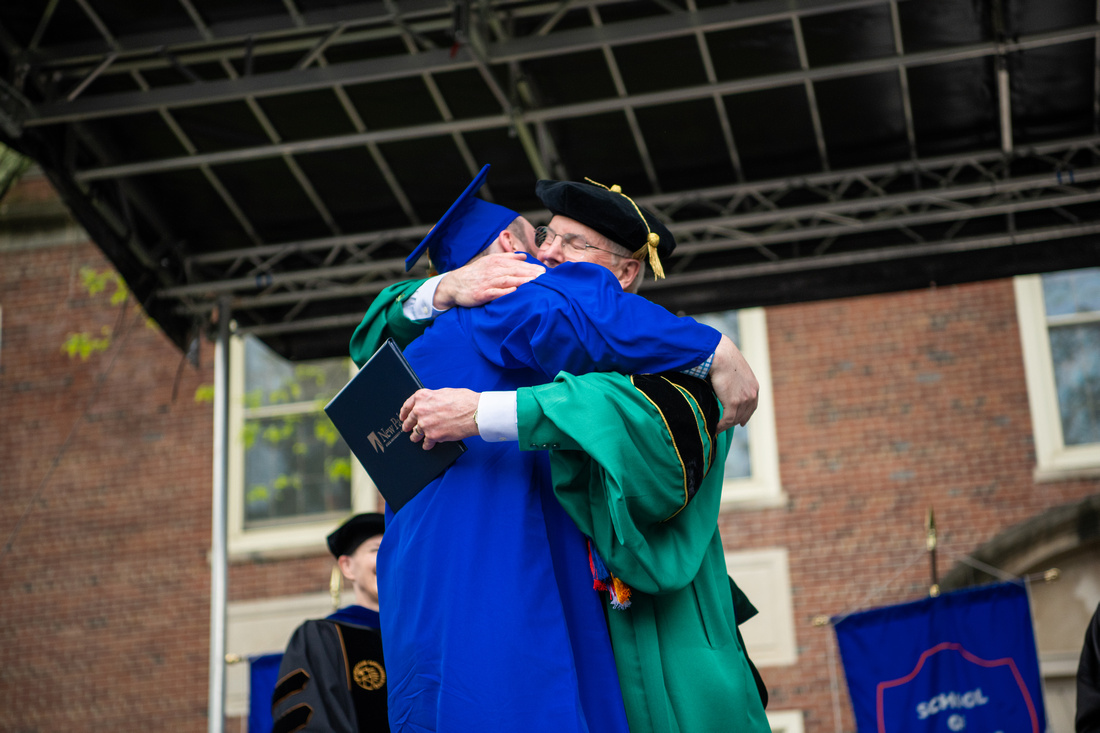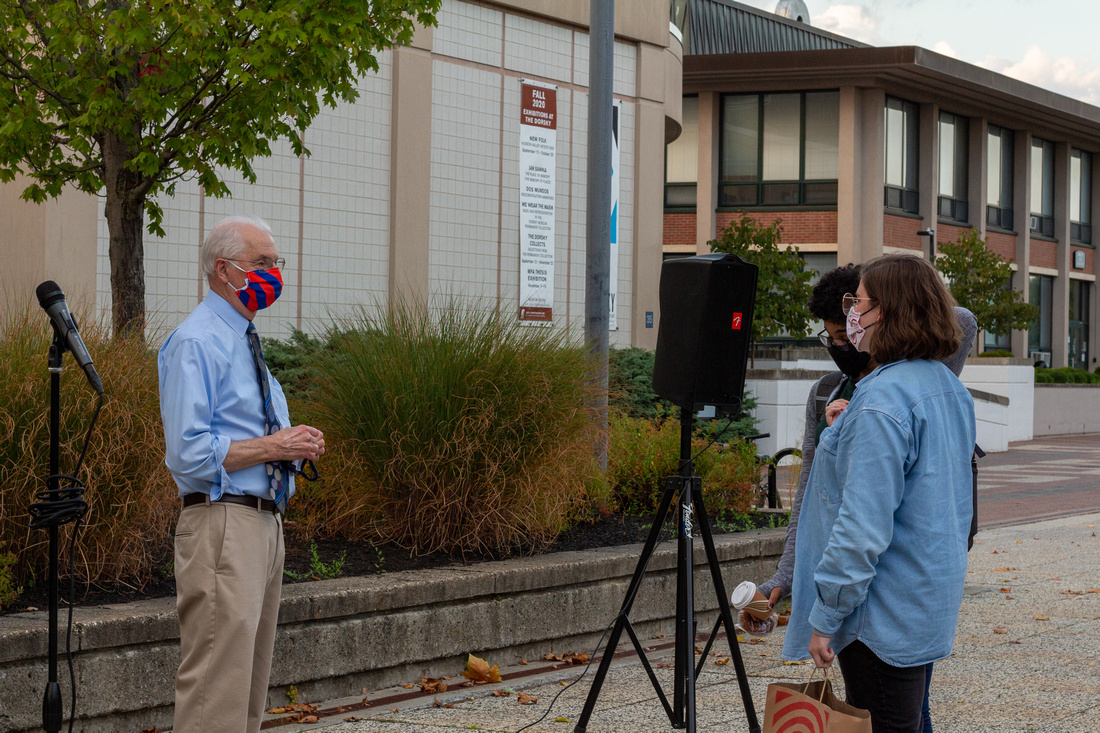 President Christian and his wife, Sandy Christian, were the guests of honor at three receptions held on campus this spring, as faculty, staff, alumni and campus stakeholders gathered to offer gratitude and congratulations as the Christians prepared for retirement.
There were celebrations on May 4 & 5 with friends of the College and other external stakeholders and a culminating event for New Paltz faculty and staff (current and retired) on May 9. These programs gave friends and colleagues old and new an opportunity to share reflections, memories and thank-yous as President Christian's tenure neared its final days. It also gave him one more opportunity to speak with the community, and reflect on the meaning of his decade-plus of service to SUNY New Paltz.
"I'm very grateful for the many opportunities that I've had during my 45-year career in higher education, including 12 years leading this fine institution, and I feel really privileged to have loved every stage of my career," President Christian said. "I'm grateful for all that we, and I emphasize we, have accomplished during my time as president. I think you all know that I love this institution, and I valued the opportunity to serve as president. It's now time to move on to the next phase of life, and I look forward to a slower pace. I have several times drawn parallels between a presidential transition and the passing of a baton in a relay race. I'm really pleased to be passing the leadership baton to Dr. Darrell Wheeler, and I'm going to do everything that I can to help him be successful."
President Christian's tenure officially ended on July 17, 2022.
Photos from the faculty and staff reception can be found here.
A more detailed history and timeline of President Christian's career at New Paltz is available here.
"It has been an honor and a privilege to serve as President of SUNY New Paltz and to have had such a long and rewarding tenure in this role. Amid budget challenges and more recently a worldwide pandemic that tested all our abilities and stamina, this community and each individual student and employee, has persevered and excelled through it all."
A New President for Changing Times
Dr. Darrell P. Wheeler will guide SUNY New Paltz through the next chapter in our campus's history. Here's what you need to know about our new president and his three-plus decades as a scholar and higher education leader. Read his welcome message to SUNY New Paltz alumni here.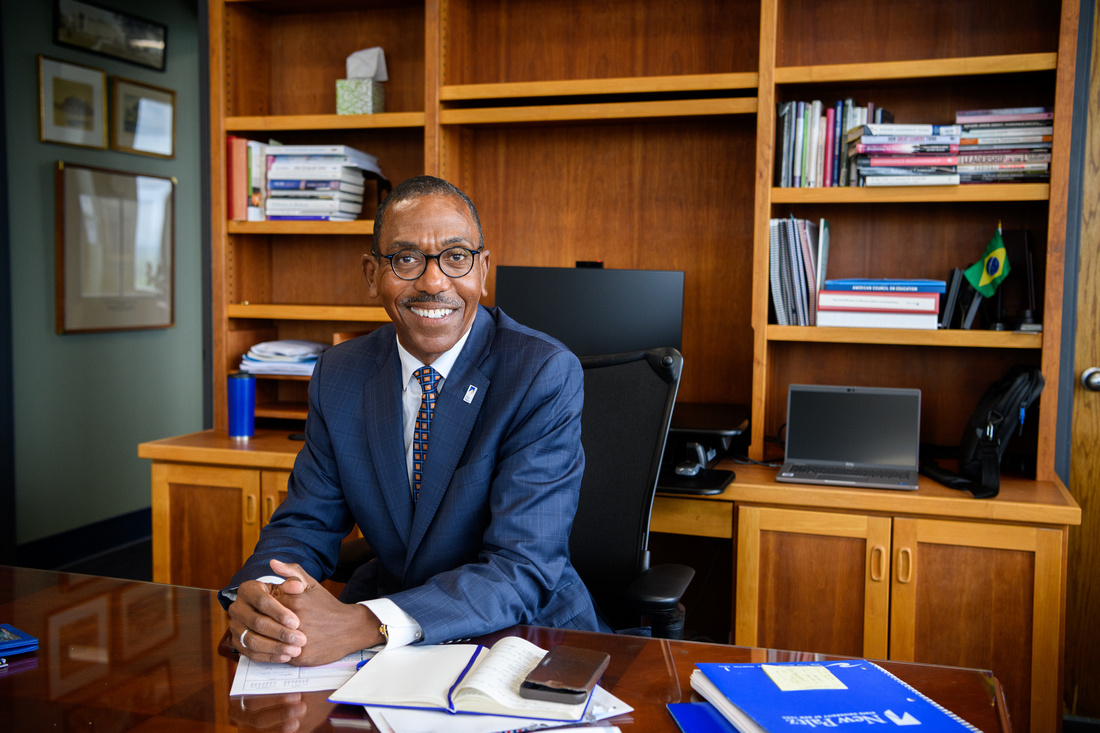 Dr. Wheeler has more than 30 years of research and community partnership experience in health disparities research with extensive scholarly work with local and national Black men who have sex with men (MSM) communities. While at the University at Albany, he was Co-PI on the NIMHD S21 Health Disparities Research Capacity and Resources grant entitled Endowment for Community-Based Health Disparities Research and Training, which was administered at UAlbany's Center for the Elimination of Minority Health Disparities (CEMHD), a previous NIMHD-funded P20 and R24 Center.
Wheeler previously served as Provost and Senior Vice President for Academic Affairs at Iona College. Prior to that, he served as Dean of the School of Social Welfare and Vice President for Public Engagement at the University at Albany, Dean for the School of Social Work at Loyola University Chicago, and has held academic positions at Hunter College, CUNY, Columbia University, and the University of North Carolina at Greensboro.
Wheeler currently serves on the U.S. Presidential Advisory Council on HIV/AIDS (PACHA); is on the Executive Management Committee of the HIV Prevention Trials Network; co-chairs the HIV Prevention Trial Networks HPTN Scholars Program, which has become a model for other mentoring programs to foster career development among underrepresented minority scholars; and is on the Board of Directors for the NASW Assurance Services Incorporated.
In 2021, Wheeler was selected as one of 16 Westchester County (New York) Health Care Heroes for his work to reduce the spread and impact of COVID-19 in the county. He has worked to promote the engagement and success of underrepresented minorities in HIV-prevention sciences. His research, teaching, and community engagement work has demonstrated a deep understanding of the use of data and evidence in developing innovative programs and policy initiatives, especially related to health with marginalized and oppressed groups.
Dr. Wheeler received his Ph.D. in social work and MPH in health administration from the University of Pittsburgh, his MSW in health/mental health from Howard University, and his B.A. in sociology from Cornell College. He served in the United States Air Force and as an intern officer in the U.S. Public Health Service Commissioned Corps.
As New Paltz's next President, I will promote the academic opportunities at the University; the prominence and impact of its institutional members (students, faculty and staff); its community and regional relevance; and success in advancing the social mobility of its graduates."