The College mourns the passing of Emeritus Professor Joseph C. Paparone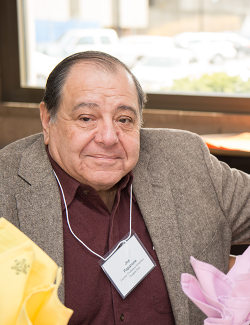 It is with sadness that the College shares the passing of Emeritus Professor Joseph C. Paparone. He died on Jan. 19, 2021, at the age of 80.
A 43-year veteran of the SUNY New Paltz Department of Theatre Arts, Paparone was an accomplished professor, performer, producer and director. Some of Paparone's acting credits include: Law & Order, Men in Black, Nobody's Fool and Perfect Stranger.
He poured his love for theatre, his energy, his wisdom and his humor into mentoring and educating thousands of students who now carry his legacy while performing at arts institutions throughout the world.
"If you've ever seen a play or musical, there's a good chance someone involved in the production was connected to 'Papa Joe,'" said his daughter, Lisa Kerry. "He is deeply missed, and his presence endures."
Paparone retired from the College in 2013. He served on the board of directors for McKenna Productions, a non-profit organization that since 1973 has granted funds and support to theatre arts students. Along with family and friends, Paparone established the Joseph C. Paparone Endowed Scholarship to support juniors majoring in theatre arts with a concentration in design technology.
He was a 2016 recipient of the College's Heritage Award, which recognizes those whose devotion to the ideals of the College serves as an extraordinary example to the entire New Paltz community.
Contributions in his memory should be made to the Dr. Joe Paparone Theatre Student Scholarship Fund.
Celebrating the life of alumna Patricia King '60
The College mourns the passing of Patricia (Gisin) King '60 (Elementary Education; Political Science), 82, of New Paltz. She passed away on Jan. 14, 2021, at Woodland Pond at New Paltz.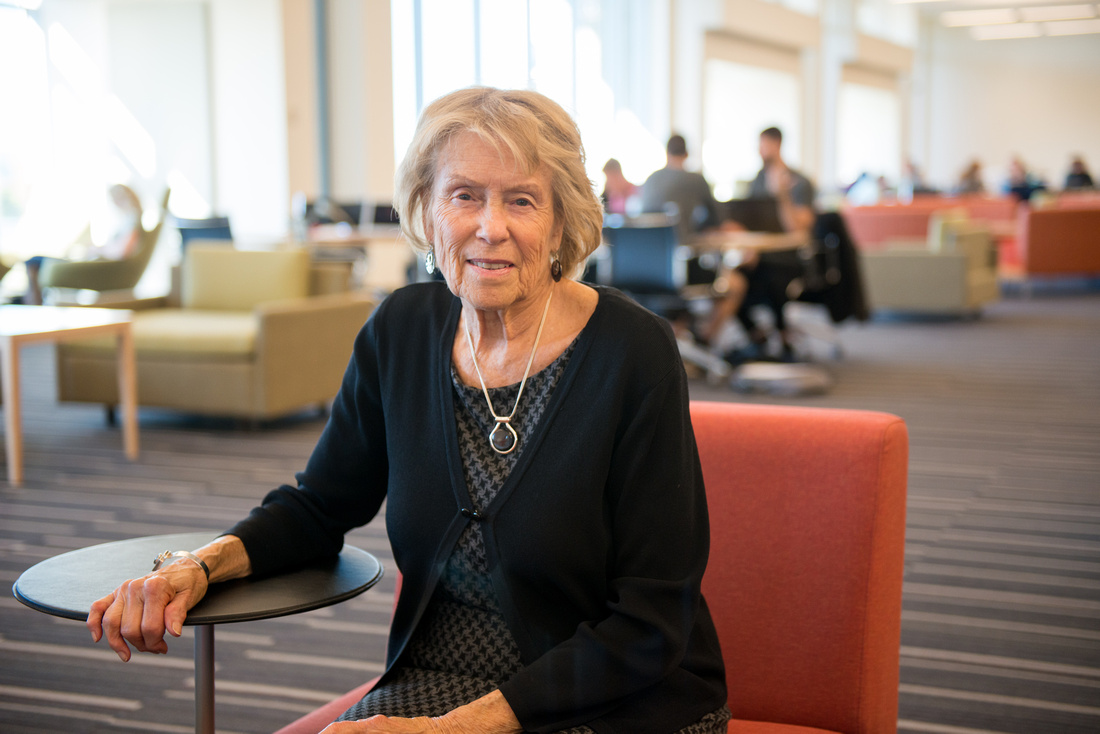 King arrived at the College in 1956 to study elementary education and joined the Arethusa Sorority. There, she met Hal King '61 (Elementary Education) and the two were married in 1960.
King embarked on a 30-year career with the Wappingers Central School District, teaching kindergarten at James S. Evans and Sheafe Road Elementary. She believed strongly in the importance of early education and instilled in hundreds of pupils the value of sharing, caring, reading and love of learning.
She retired from teaching in 1996 but continued to be involved in the community and education programs. She volunteered at Duzine Elementary School, served on the board of the New Paltz Child Care Center, and worked closely with the SUNY New Paltz Foundation.
King was honored, along with fellow alumna and longtime friend Rosemarie (Mainberger) McBride '60 (Elementary Education; Biology) '68g (Secondary Education; Biology), by SUNY New Paltz in 2018 with the Heritage Award for their service to the College and community. Both served second terms on the Alumni Council and previously served several years on the Alumni Association Board. They volunteered for their 50th reunion, during which they reinvigorated the modern-day Lantern Ceremony that takes place at the All-Class Heritage and Lantern Ceremony Dinner. They were shepherds of the College's history and traditions and brought an invaluable prospective to the alumni community.
Alumni
1930 - 1949
Charlotte (Kline) Bruskin '37
Shirley (McWilliams) Brown '42
Mary (Palmer) Palmer-Cioccolanti '45
Jean (Brown) Parrish '49
1950 - 1959
Virginia (Fiore) Martin '52
Marjorie (Fleischman) Yris '52
Mary (Hayes) Jannotti '53
Mary Lou (Burger) Quinn '53
June (Peterzell) Kleinwaks '54
Alfred Meier '55
Mary (McGurk) McGurk-Mauk '56
Roger Gibson '57
Edward Hicks '58
Alberta (Udall) Kelsey '59
Carolyn Schrier '59
1960 - 1969
Patricia (Gisin) King '60
Shirley Horowitz '61
Donald Britton '62
Mary Sterbenz '63
Mary Hoyt '64
A. Marie Wester '64
Eric Horsboll '65
Nancy Kelley '65
James Monk '65
Lawrence Contratti '66
James Dodd '66
Denise Heude '66
Harold Smelter '66
Stephen Hanson '67
Timothy Millard '67
Susan (Dutcher) Najork '67
Kay (Carvey) Oakes '67
Robert Kay 68
Barbara Levinson '68
Carl Bueti '69
Gary Gilbert '69
Nicholas Pulichene '69
1970 - 1979
Arthur Russnow '70
Mary Totta '70
Anthony Causa '71
Ronald Frantz '71
Keith McLeod '72
Wayne Fedotoff '73
Jay Litzman '73
Ian McColl '73
Robert Fivel '74
Phillip Tumbarello '74
Joseph Warnock '74
Jeannette (Thomas) Clemons '75
Irene Samuels '75
Jeanette (Stone) Sutherland '76
Donna Laurendeau '77
Jeffrey Kaye '79
William S. Yosh '79
1980 - 1989
Vincent Bettina '81
Lucille Gower '81
Barbara (Maines) Humphries '81
Gina Ambrosio '82
Jeannine Burich '82
Sheila (Pearlman) Freedman '82
Michael Lambert '82
Patricia Lynch '82
Heather Aiello '83
John McGowan '83
Amity (Smith) Smith '83
Annemarie Parisi '84
Joyce Hellenschmidt '85
Laurence Kleidman '85
Thomas Giroux '86
Kent Hottinger '86
Carl Klein '86
Keith O'Neil '87
Maryellen Guba '88
Elizabeth Lafera '88
Charles Pompey '88
Muriel Fanurakis 89
1990 - 1999
Anita Butwinski '90
John Ford '90
Lisa Manarky '90
Colette Butterick '91
Virginia Schiller '91
Mary Hoffman '94
Allison Farr '95
Palmer Kocher '96
Virginia Stappert '96
Josette (Dzencelowcz) Bailey '97
Timothy Conley '98
Manuel Blanco '99
2000- 2016
Desmond Dutcher '01
Robin Carroll '08
Barbara Fiore '08
Christopher Ehring '16
Alyssa Volpacchio '16
Faculty & Staff
Prof. Diana Banks '74
Mr. Jozef Gembarovic
Prof. John Palencsar
Dr. Joseph Paparone
Mr. Laurence Rowe
Dr. Donald Roper
Dr. Selden Spencer