ENGINEERING A PRECISE FUTURE
Jared W. Nelson, assistant professor of mechanical engineering at SUNY New Paltz, has received a $75,000 grant to purchase state-of-the-art equipment that will allow students and faculty to test the structural properties of a range of natural materials.
The award paves the way for the College to establish new public and private partnerships across the bio-industrial supply chain, from farm to industry, in the pursuit of innovative and sustainable solutions to modern engineering challenges.
The grant comes from FuzeHub, a not-for-profit organization that supports technological innovation and commercialization in New York State by fostering connections between higher education, agriculture and manufacturing.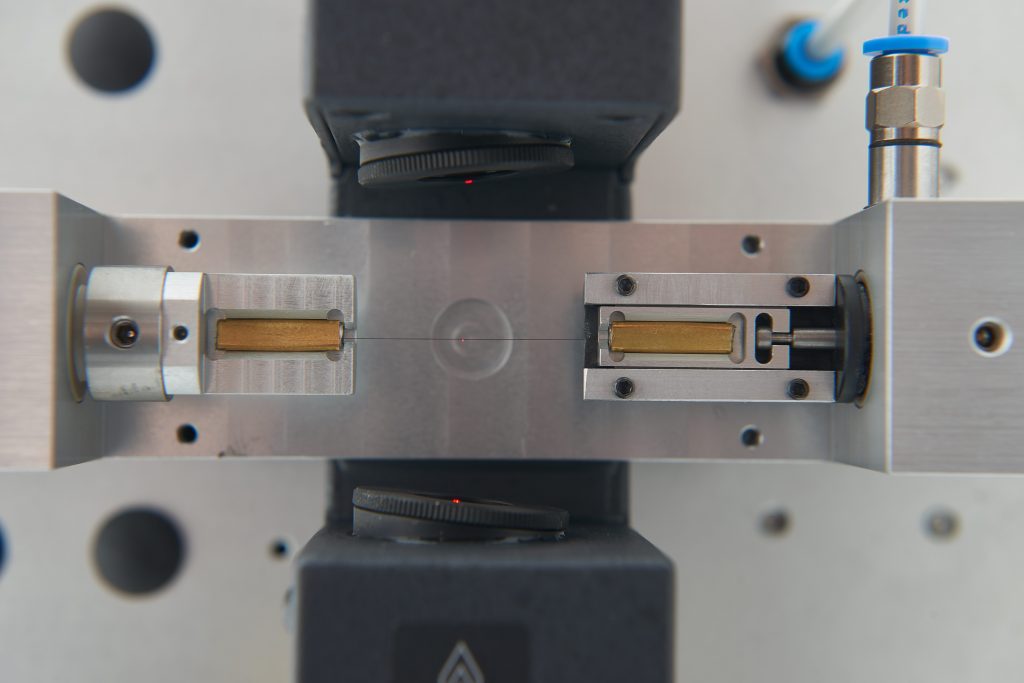 It allows New Paltz to become one of the first universities in North America to obtain and use an extensometer, a piece of equipment that enables previously impossible degrees of precision in dimensional fiber analysis.
"This investment in new equipment will enable improved research of natural materials to inform their use in end products ranging from interior upholstery in automobiles to reinforcing plastics used in building materials and sporting goods," Nelson said. "By gaining a better understanding of the properties of these materials, the Division of Engineering Programs at SUNY New Paltz can serve as a leading resource connecting farmers, processors and end-users in this burgeoning industry."
SUNY New Paltz Foundation votes to divest from fossil fuel companies
The SUNY New Paltz Foundation Board voted overwhelmingly to remove endowment funds from direct investment in fossil fuel companies in September 2017.
"Climate change resulting from the use of fossil fuels presents issues of significant concern to all, including the faculty, students, staff, alumni and supporters of SUNY New Paltz," said President Donald P. Christian. "This important action by the Foundation points toward a future that recognizes the College's sustainability goals while balancing its fiscal responsibility to donors."
The initial request to consider divestment came from a group of students who raised the issue with the College President in September 2016. Christian suggested the students involve faculty governance in the discussion through the Sustainability Committee, and he committed to bring the issue to the Foundation Board's Finance and Investment Committee at its meeting in November 2016. He strongly encouraged the Board to support divestment while safeguarding endowment funds. Meanwhile, the Sustainability Committee proposed a divestment resolution that the full faculty approved at its November meeting.
The SUNY New Paltz Foundation endowment currently stands at about $20 million. Data as of June 30, 2017, shows that about 4.5 percent, or $920,055, was directly invested in fossil fuel companies.
The funds that were divested as of Dec. 31, 2017, have been contributed by private donors, some living, some not, to establish endowments.
What should names on campus buildings represent?
SUNY New Paltz President Donald P. Christian called on the campus community last fall semester to engage in a dialogue this academic year about the names of the Hasbrouck Complex buildings (Bevier Hall, Crispell Hall, Deyo Hall, DuBois Hall, Hasbrouck Dining Hall and Lefevre Hall).
These six Hasbrouck Complex buildings bear the names of six Huguenot families who were the first European settlers in New Paltz in 1678. The Huguenot families and their descendants played a critical role in founding the community of New Paltz and establishing, supporting and financing the educational institutions that later became SUNY New Paltz. The earliest generations of these families in America owned slaves during the period of slavery in New York State.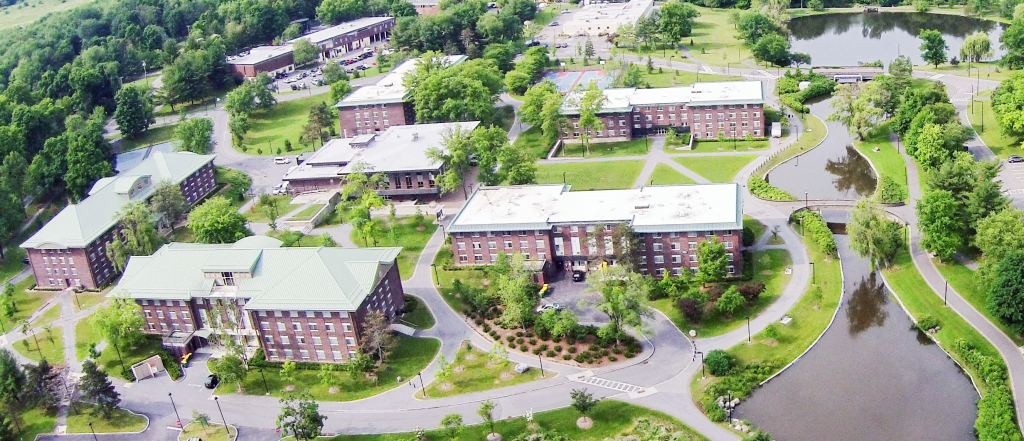 "Some view these building names as perpetuating the legacy of slavery, and I am aware that some students, particularly students of color, have expressed their discomfort about living in halls with these names," Christian said.
Christian asked college community members to participate in a transparent, inclusive and respectful dialogue to analyze and build awareness and understanding of historical and contemporary issues surrounding these names and northern slavery, with the help of scholars—including SUNY New Paltz faculty members—and develop a consensus view about both the pros and cons of either retaining or replacing those names.
That process has been led by the Diversity and Inclusion Council, which was asked to report on its activities, findings and recommendations by April 15, 2018. The conversation has included faculty, staff, students, alumni, College Council members, Historic Huguenot Street, Huguenot descendants, and other community partners.
For updates visit
newpaltz.edu/diversity/hasbrouck-dialogue/
.
College, Alumni Celebrate the Life of Heinz Meng
The College honored the late Dr. Heinz Meng, Professor Emeritus of Biology, at a special celebration last fall that included a plaque dedication, screening of a short film "The Legacy of Heinz Meng" produced by recent Digital Media Production alumni Paul Spaulding '17 and Abby Shaffer '17, and a special lecture by alumna Susan Cardillo '94 (Biology), Central Park Zoo Animal Curator. The College also announced the establishment of the Dr. Heinz K. Meng Environmental and Conservation Education Fund at SUNY New Paltz to continue his legacy of connecting students and the wider Hudson Valley community with the natural world.
Dr. Meng, who died in 2016, was a beloved teacher, and pioneered work to breed peregrine falcons in captivity for successful release into the wild. That species had virtually disappeared from eastern North America in the 1960s, and was placed on the Endangered Species List in 1970. Its subsequent recovery and eventual removal from the list in 1999 is regarded as "one of the most dramatic success stories of the Endangered Species Act" – made possible by Dr. Meng's research. In recognition of this work, he was named by National Audubon Society as one of the 20th century's "100 Champions of Conservation."