Treasured administrators announce retirements
L. David Eaton & Linda Eaton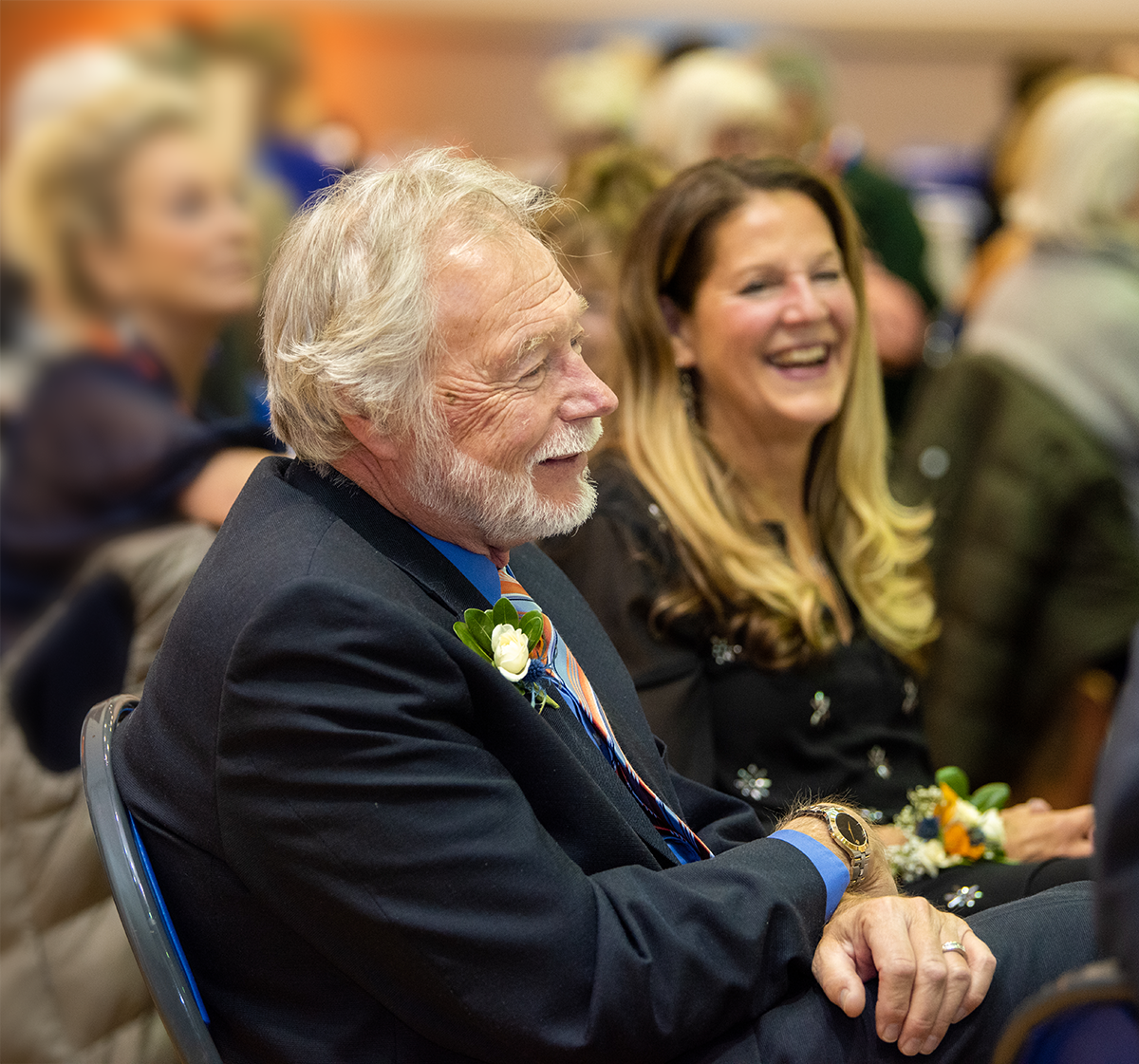 L. David Eaton, vice president for enrollment management at SUNY New Paltz, announced his intention to retire at the end of June 2020.
David has served in his current role and as a member of the President's Cabinet since 1998. He has made significant contributions to the Divisions of Student Affairs and Enrollment Management, and to the campus during what will be a 39-year career at the College.
"I am grateful to David for his unwavering loyalty and commitment to SUNY New Paltz, our students and alumni," said President Donald P. Christian.
David joined New Paltz in 1981 and is responsible for all aspects of the enrollment process from recruitment and enrollment to revenue collection and certification for degree conferral. He also developed a marketing and public awareness campaign that has contributed to the growth in popularity and selectivity of New Paltz's undergraduate programs.
Linda Eaton, associate vice president for Student Affairs at SUNY New Paltz, also will retire at the end of June 2020. Linda joined SUNY New Paltz as associate dean of students in 1994 and served as dean of students from 1997 until 2014, when she was promoted to her current role.
"I am both extraordinarily pleased for her and sad that we are losing her institutional knowledge, content expertise, exceptional judgment and passion for students and higher education," said Stephanie Blaisdell, vice president for student affairs. "Her leadership in Student Affairs over the past 25 years is a remarkable legacy."
As associate vice president, Linda oversees Residence Life, Student Development, Student Activities and Union Services, the Career Resource Center, the Campus Media Center, the Dean of Students, the Disability Resource Center, and administrative support for the Student Association.
The College is conducting national searches to replace these positions.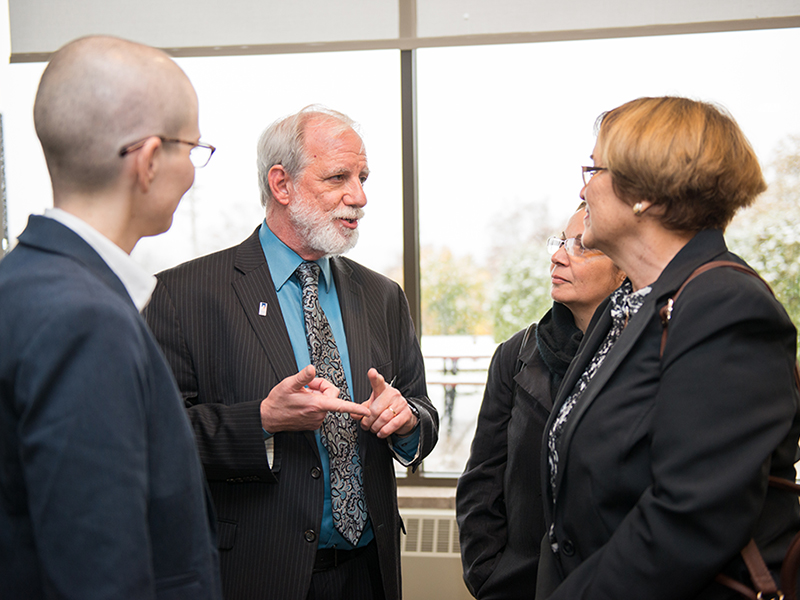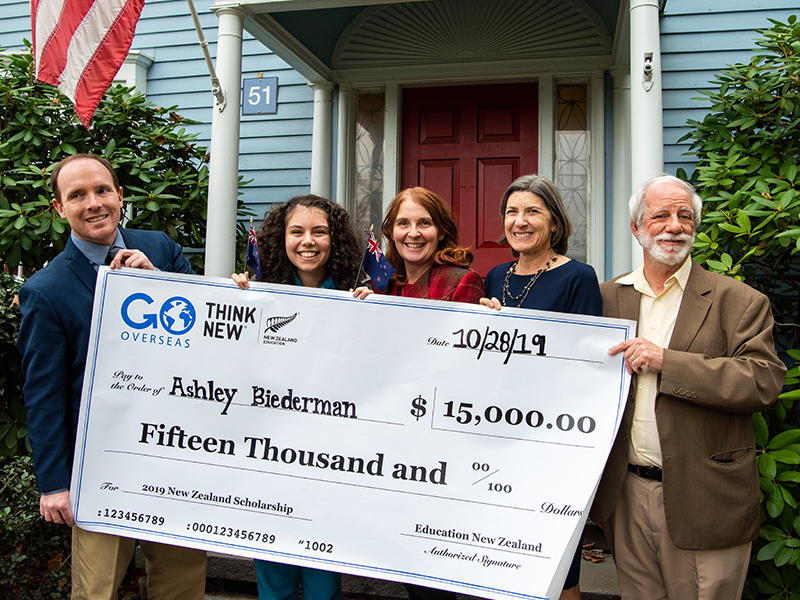 Bruce Sillner, former dean of the Center for International Programs, entered a phased retirement this fall after a 33-year distinguished career at New Paltz during which he has had a remarkable impact on international education.
Effective Sept. 5, he is serving as senior advisor on global strategy, focusing on external relations and program development in the U.S. and beyond.
Beth Vargas, former associate dean of the Center for International Programs, succeeds Sillner as executive director of the Center. Vargas is a highly regarded expert on immigration regulations affecting international students and scholars. She began her New Paltz career in 1999 and oversees services and programs for international students.
Sillner is the longest-serving senior international officer in the SUNY system and the first at a SUNY comprehensive institution. He began his career at New Paltz in 1986 as the Director of the Haggerty Institute, supervising the intensive English as a Second Language (ESL) program for international students. He was named founding dean of the Center for International Programs in 2001.
During his tenure, Sillner created academic partnerships with universities in Argentina, Australia, Belgium, Brazil, China, Cuba, the Czech Republic, Ecuador, Egypt, England, Ireland, Italy, Jamaica, Japan, Mexico, New Zealand, Scotland, South Korea, Spain, Sweden, Switzerland, Taiwan, Wales and most recently, Kenya. He worked with governmental and nongovernmental scholarship organizations to bring to New Paltz cohorts of sponsored students from Indonesia, Egypt, China, Spain, Sweden, Brazil and Mexico.
As the founding director of the Center for International Programs at New Paltz, Sillner brought together the Haggerty English Language Program, study abroad, international student and scholar services, the Institute for International Business, and bi-national programs under one administrative structure, the first of its kind on a SUNY comprehensive campus. His visionary leadership has touched the lives of tens of thousands of students. Under his leadership, New Paltz enrolls more international students than any comparable SUNY college and is a leader in the rate of participation of students who study abroad.
In 2015, the Institute of International Education (IIE) awarded SUNY New Paltz the Andrew Heiskell Award for Innovation in International Education, in the "Study Abroad" category. The Heiskell Award recognizes innovative programs in higher education that make study abroad accessible to a broader student population. Nearly 25 percent of all SUNY New Paltz undergraduate students undertake a study abroad experience during their time at the College, among the highest figures in the SUNY system.
Sillner is the 2009 recipient of the Marita Houlihan Award conferred by NAFSA, the Association of International Educators, for imaginative and creative contributions to international education. In addition, he received the SUNY Chancellor's Award for Excellence in Professional Service in 2013.
Learn more about Sillner's contributions to the College and the transition in International Programs at newpaltz.edu/news.