College commemorates Pauline Uchmanowicz, professor of English
Pauline Uchmanowicz, professor of English, passed away June 1, 2019. She was 61.
Uchmanowicz came to SUNY New Paltz in 1996 after earning her MFA from the Iowa Writers' Workshop and her Ph.D. from the University of Rhode Island.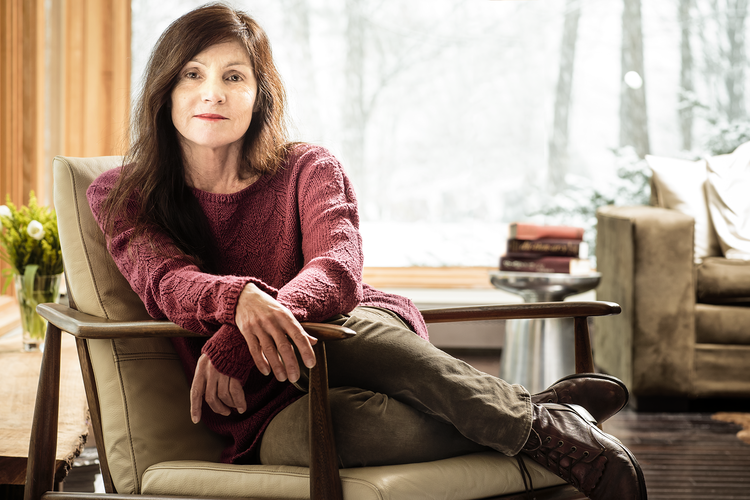 She previously taught at Wheaton College, Southeastern Massachusetts University and Wayne State Univerity in Michigan. She helped develop creative writing curricula in the Department of English, and also served for many years as the coordinator of the Composition Program.
Uchmanowicz received a SUNY New Paltz Athletes Faculty Appreciation Award in 2002, a SUNY Chancellor's Award for Excellence in Teaching in 2004, served as faculty speaker at the 2006 Convocation ceremony and was the 2008 College of Liberal Arts & Sciences Teacher of the Year.
A gifted writer, Pauline's scholarship, poetry, essays, journalism and reviews have appeared in publications such as College English, International Journal of Comic Art, Ohio Review, Chronogram, Ulster Publishing, Ploughshares, Radcliffe Quarterly and Z Magazine.
Dozens of friends, mentees and colleagues shared memories of Pauline's exceptionally dedicated teaching and mentorship during a commemoration of her life on campus October 2019.
"I think everyone who knew Pauline was touched by her energy, her capacious intellect, and her dedication to poetry, writing, and teaching," said Andrew Higgins, former chair of the Department of English. "She was a brilliant literary scholar, the author of numerous ground-breaking articles on poetry, graphic novels, composition, and more. She was a delightful, inventive poet, a master of her craft.
College mourns passing of Anne Goding, lecturer of communication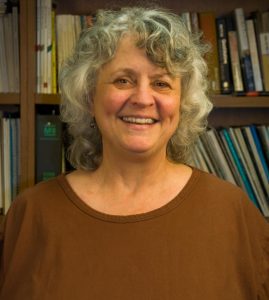 Anne Goding, recently retired lecturer in the Department of Communication, passed away on Sept. 19, 2019. Goding was a distinguished teacher and scholar known by students and colleagues alike for her kindness and generosity.
She held an M.S. in communication studies from Eastern Washington University, and specialized in the intersections of intercultural communication, public communication and storytelling.
Goding joined the SUNY New Paltz faculty in 2001 and forged connections with numerous students through her compassionate teaching, advising and mentorship.
She may be best known by students outside the Department of Communication as the creator of the popular "Storytelling and Culture" course, which challenged students to consider diverse storytelling forms through a mixture of research, public speaking and performance.
Prior to joining the SUNY New Paltz community, Goding worked as a teacher at the Bear Tribe Medicine Society in Spokane, Washington, leading outdoor summer programs on topics related to Native American philosophy, ritual and ceremony.
She retired from the College on Sept. 1, 2019. There will be a memorial held in her honor on campus, Feb. 20, 2020.
Alumni
1920 – 1939
Dorothy (MacLaury) Lain '28
Jean (Erath) Krebs '38
Evelyn (Judson) Heinrichs '39
1940 – 1949
Mildred (Ludwig) Solomon '40
Constance (Thompson)
Borntraeger '43
Geraldine (Locey) Cadzow '43
Doris (Tiger) Lapierre '43
Margaret (LaTour) Young '45
Eleanor (Achenbach)
Achenbach-Moss '46
Agnes Adams '47
Mary (Frey) Allen '47
Ruth Edgar '47
Elizabeth (Tierney) Sima '47
Marguerite (Caputo) Testa '47
Arthur Worm '47
1950 - 1959
Margaret (Wall) McCoon '50
Constance (Jagodzinski) Young '50
Mary (Reehil) Fay '52
Joan (Smith) Macdowell '52
Albert Beard '53
Alice (Kelsey) Cameron '54
Mary Feeney '54
Cynthia (Conway) McNally '54
Edna (Sandbo) Kaplowitz '55
Joan Nelson '55
Marguerite Schaedlich '55
Sarah (Sebastiano) Luposello '56
Marion Merola '56
Brenda French '57
Barbara (Frace) DeGilio '59
Alfred Zappala '59
1960 - 1969
Priscilla Butler '60
Delores Roberts '60
Judy (Spivack) Wardlaw '60
Fred Giamportone '61
Anne Hicks '61
Deanna Prisco '61
Maryellen (Hickey) Harrison '62
Amy Kargman '62
Barbara Duryee '63
Robert Gettens '63
Ilse (Schoenfeld) Stern '63
Oakleigh Thorne '63
Rosemary (Cessario) Gagliardi '64
Sandra Lasher '64
Godwin Oyewole '64
Janet Dibello '65
Mary Ann (Chrapowitzky) Guarney '65
Joan Northrop '65
John Schoenberger '65
Sally (Ostergren) Sheley '65
Jean Atwell '66
Theodore Eggers '66
Patricia Gould-Peck '66
Paul Kelley '66
Sharon (Palmateer) Vannostrand '66
Mary Gately '67
Ned McEwan '67
Marion Berg '68
Donna Lasota '68
G. Miller '68
Frank Caliendo '69
Harry DeValk '69
Joel Fass '69
Earl Kipp '69
Valerie Mulloon '69
1970 - 1979
Fred Anderson '70
Sandra (Bennett) Dixon '71
Donna Hayes '71
Jane Stabile '71
Marc Adin '72
Barbara Bee '72
Diane (Walen) Junga '72
Pamela Achilla-Brown '73
Laura Hilbert '73
Mary Lemma '73
Leonard Romanelli '73
Eleanor Meltzer '74
Anne Karian '75
Brenda McFarland '75
Patrick Glover '77
Daniel Scenna '78
Elizabeth Giglio '79
Keith Robson '79
Sandra Skrobul '79
1980 – 1989
Andrea (Levine) Bruzik '80
Marilyn Detraglia '80
Sanford Duskin '81
Donna Greenspan '81
Claudia (Krainin) Zadro '83
James Eckerson '85
Virginia Karl '85
Carmen (Rijos) Kassler '85
Peter Lancaster '86
Peter Malloy '86
Eloise (Douds) Mills '86
Julie Pierce '87
1990 – 1998
John Bennett '90
Jo-Anne Billesimo '90
Paula Garnot '90
Dolores Henrich '90
Joseph Gaspard '91
Aderonke Grillo '92
Hugh Schrowang '93
Arthur Stein '93
Linda Wakefield '93
Keith Willis '94
Eileen Willett '95
Stephanie Fischer '96
Angus Wilson '96
Tara Tamang '97
Rita Bryant '98
2000-2019
Michelle Nerone '02
Thomas Turley '03
Nicole Romano '09
Murphy Rosner '17
Faculty & Staff
Ms. Mary Fellows
Ms. Anne Goding
Mr. Michael Sodders
Dr. Pauline Uchmanowicz
Prof. Richard Veghte
Mr. George Wardlaw