Not many places in the U.S. combine workshop, education and exhibition space, but Brooklyn Metal Works does. Part studio, part educational center, it aims to advance metalsmithing and critical dialogue among those who practice, write and invest time and energy in the field.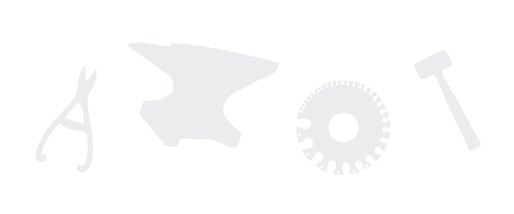 Co-founders and owners Erin Daily '02g (Metal) and Brian Weissman '02g (Metal) feel that the three-pronged approach is important to create the studio of their dreams, where no one part exists autonomously, and education and exhibition can intermingle.
"Quite frankly, it just made sense," said Daily. "In our dream space, all of these aspects existed interdependent to the whole. Unfortunately, in the larger world, these parts are often fragmented in disadvantageous ways. It is important to us that people know where work like what we exhibit is made and it is important for students to see how certain skills can be applied to finished works."
In 2011, Daily and Weissman came to Prospect Heights to open Brooklyn Metal Works, a 4,000-square-foot converted factory floor where individuals can rent a studio, or even just a bench.
The semi-private setup encourages metalsmiths to engage with each other, a practice Daily and Weissman remember from their time together at SUNY New Paltz.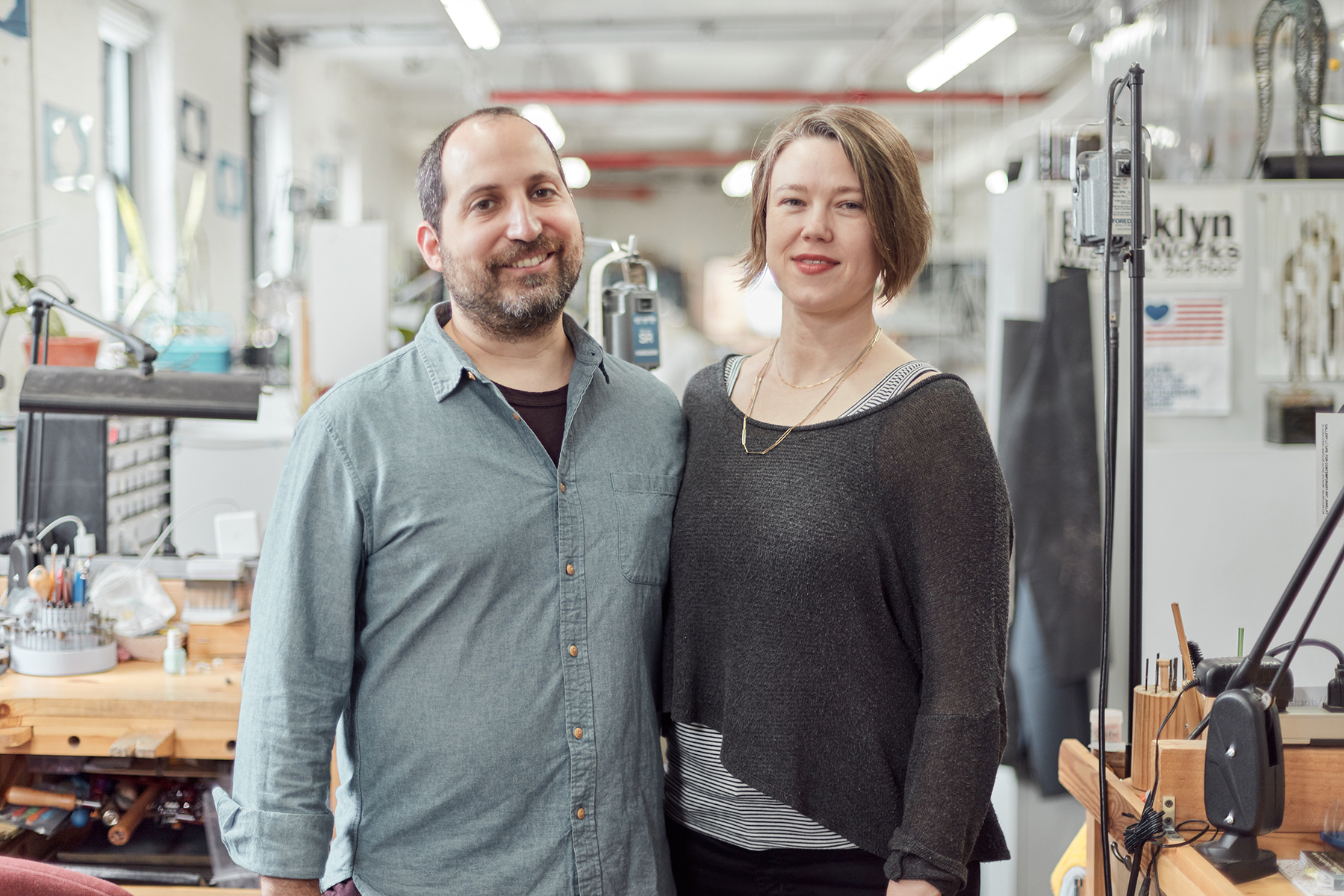 "We both connected with the sense of belonging and active imagination found at the College. It's where our relationship began and where the idea for our shop was born," said Weissman.
The couple seeks to build upon the sizeable and diverse jewelry and metals community and foster further connections among artists. They offer concept-based classes and gallery space to promote artists, designers and makers. They also provide a wide inventory of tools and equipment in a safe environment.
"The collaborative setting is designed to foster exploration, encourage experimentation, and strengthen the knowledge base of all involved," said Daily.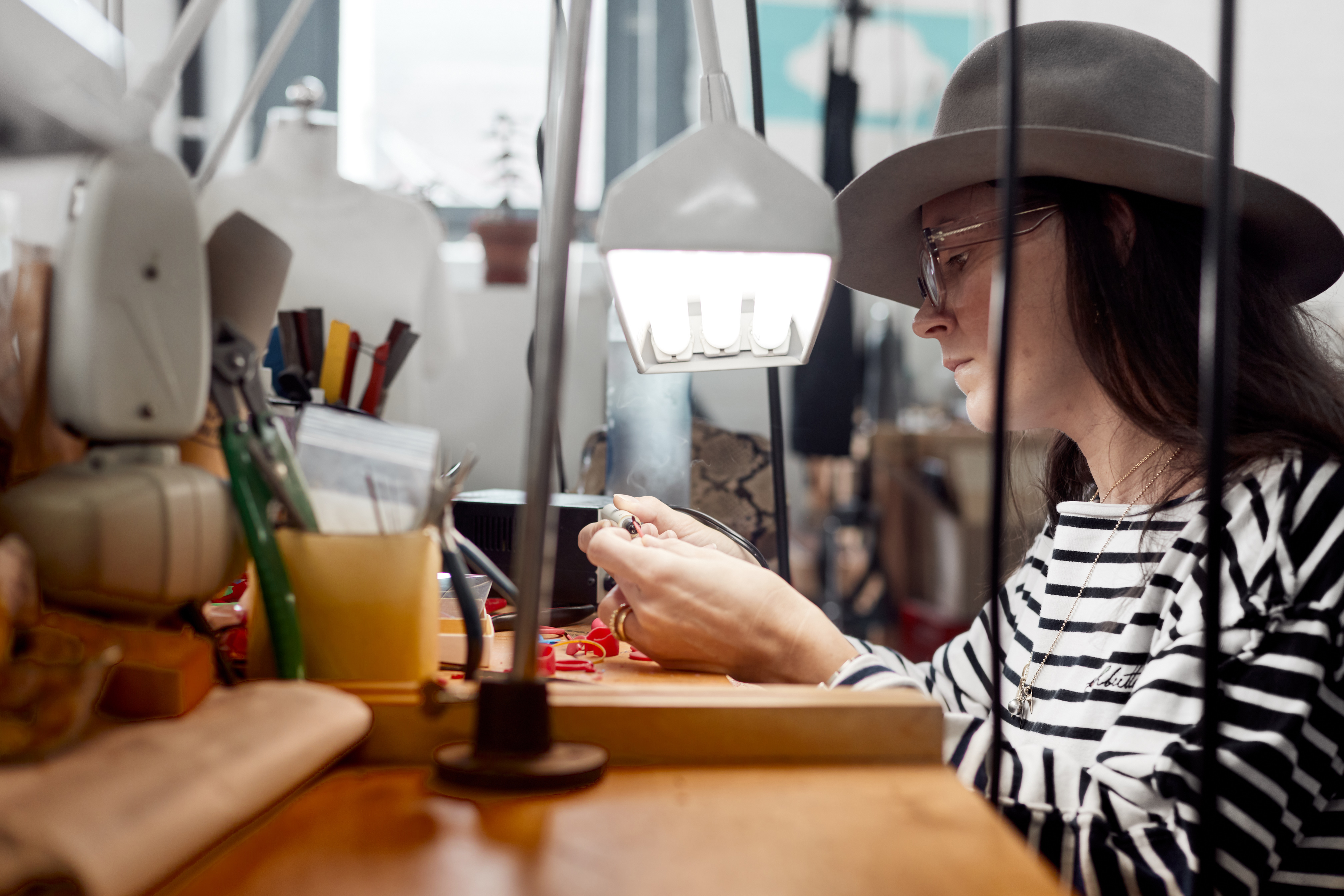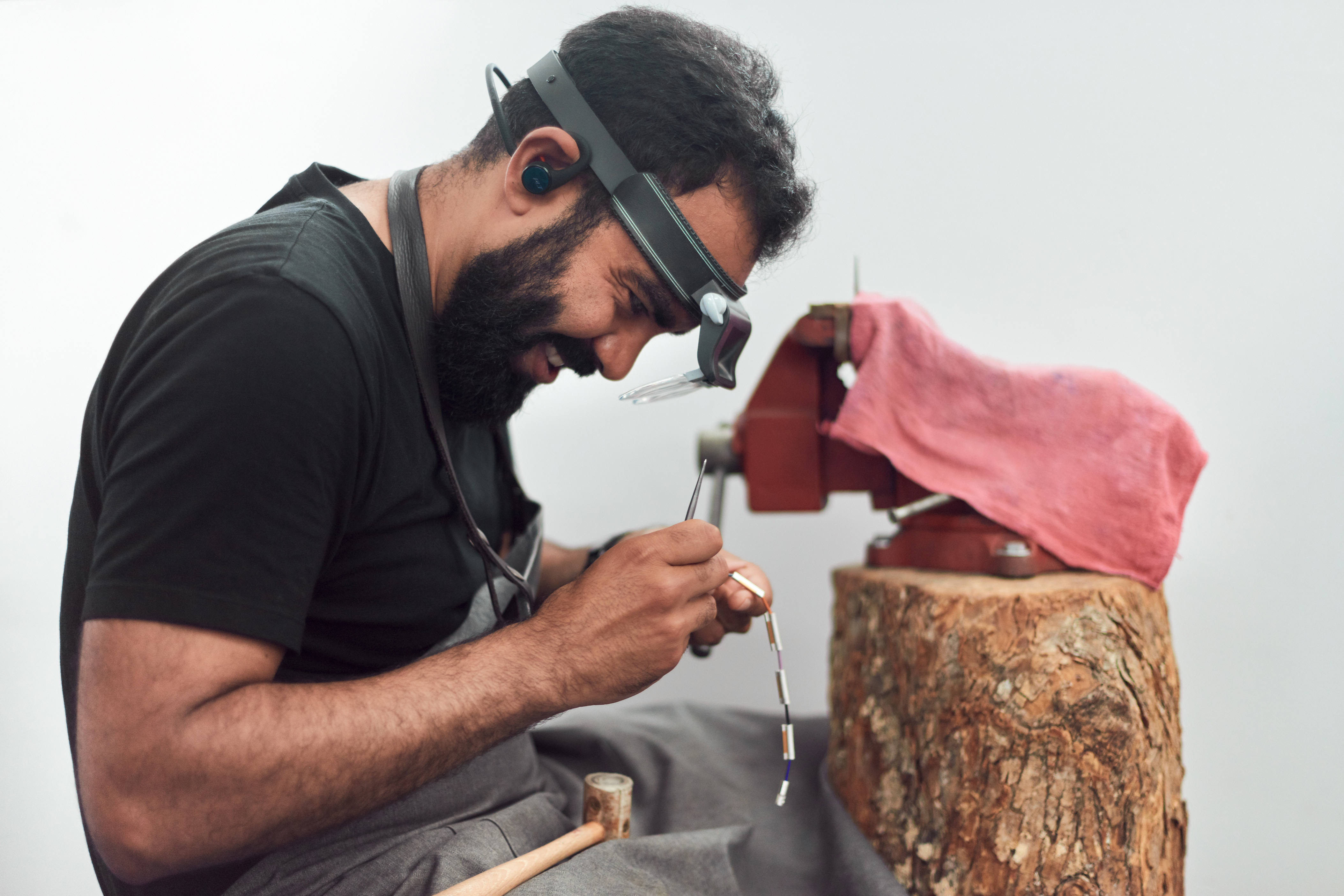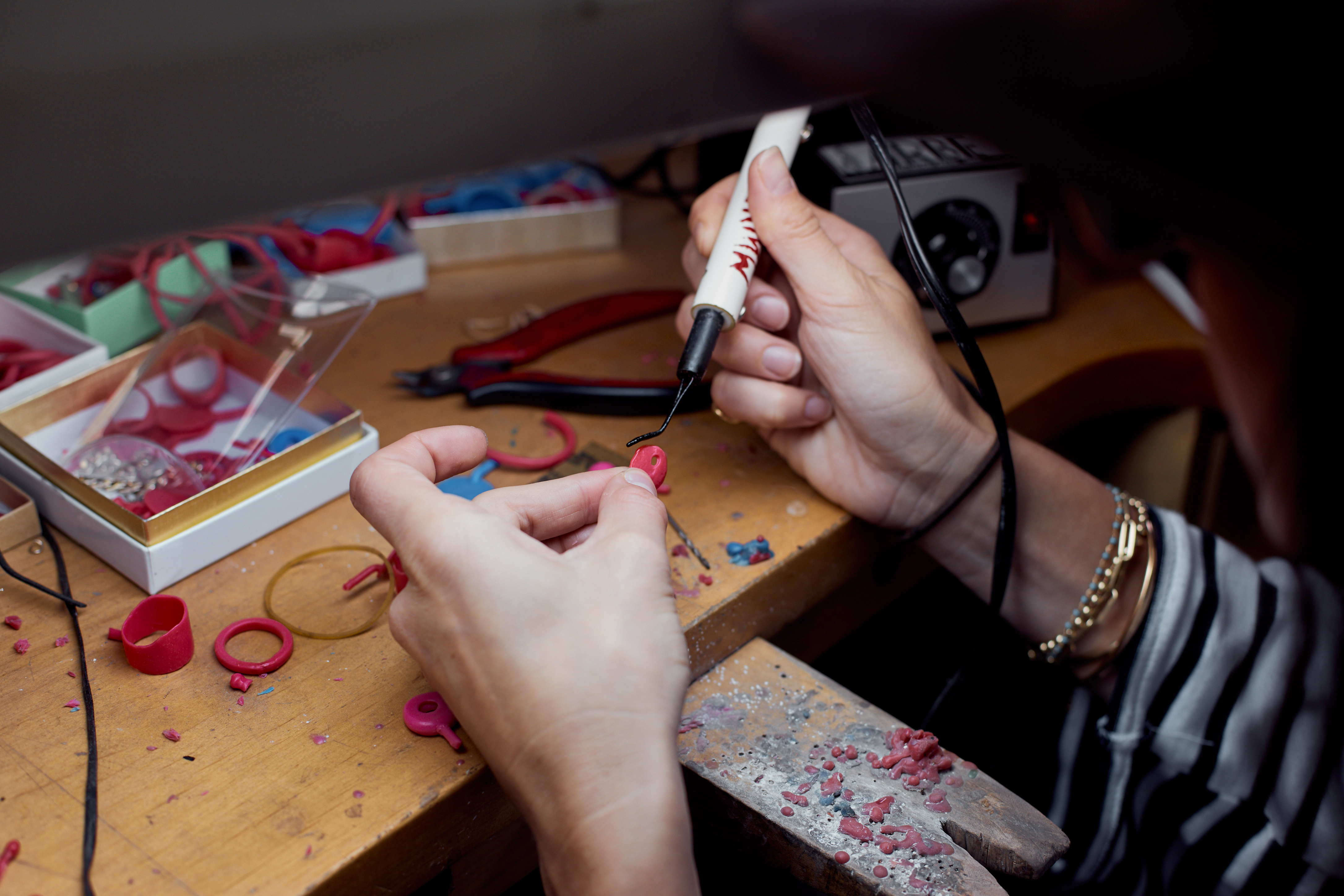 Daily's interest in metal began more than 20 years ago, when she instinctively grabbed a pair of her dad's needle-nosed pliers to reconfigure her costume jewelry into something more to her liking.
"I honestly haven't stopped making art since," said Daily. "Though my tools, materials and techniques have certainly been upgraded."
Daily earned a bachelor's degree in metal from the University of Kansas before spending several years working in her own studio, training and working as a bench jeweler. She later returned to graduate school at New Paltz to investigate the concepts and ideas of contemporary craft and metalsmithing.
"My graduate studies at SUNY New Paltz helped me hone my understanding of critical theory, explore new concepts and techniques, and strengthen my commitment to building a stronger community and audience for contemporary metal," she said.
In addition to making art, Daily has taught at SUNY New Paltz, the University of the Arts in Philadelphia, Snow Farm at the New England Craft Center, and the 92nd St. Y. She is also a member the Society of North American Goldsmiths (SNAG) and regularly attends their national conferences. She currently teaches at Parsons in the School of Constructed Environments.
We both connected with the sense of belonging and active imagination found at the College. It's where our relationship began and where the idea for our shop was born."
Weissman earned a bachelor's degree in technical theater and art studio from SUNY Geneseo before entering the graduate program at New Paltz. He has taught at The New School, the University of the Arts, the 92nd St. Y, SUNY New Paltz, The New England Craft Center and at The Fashion Institute of Technology. His artwork has been exhibited both nationally and internationally and can be seen in Silver Magazine, Metalsmith Magazine, 500 Judaica, and most recently, the 16th Silver Triennial catalog.
"I enjoy working with traditional metalsmithed objects to examine how their socially, politically and culturally inherited meanings and values can be distorted through a constantly changing world," said Weissman "Through these explorations I try to find the humor and beauty in the objects I later create."
Despite their individual and combined successes, according to Daily and Weissman, Brooklyn Metal Works is still growing. They have plans for an artist-in-residence program and recently opened a brick and mortar store for their online retail shop, "Specific Gravity," which features curated work by artists working at the studio.
"This is different from our gallery in that here we are mostly focused on fine jewelry, both production and one-of-a-kind pieces," said Weissman. "It's located near the studio on Vanderbilt Avenue."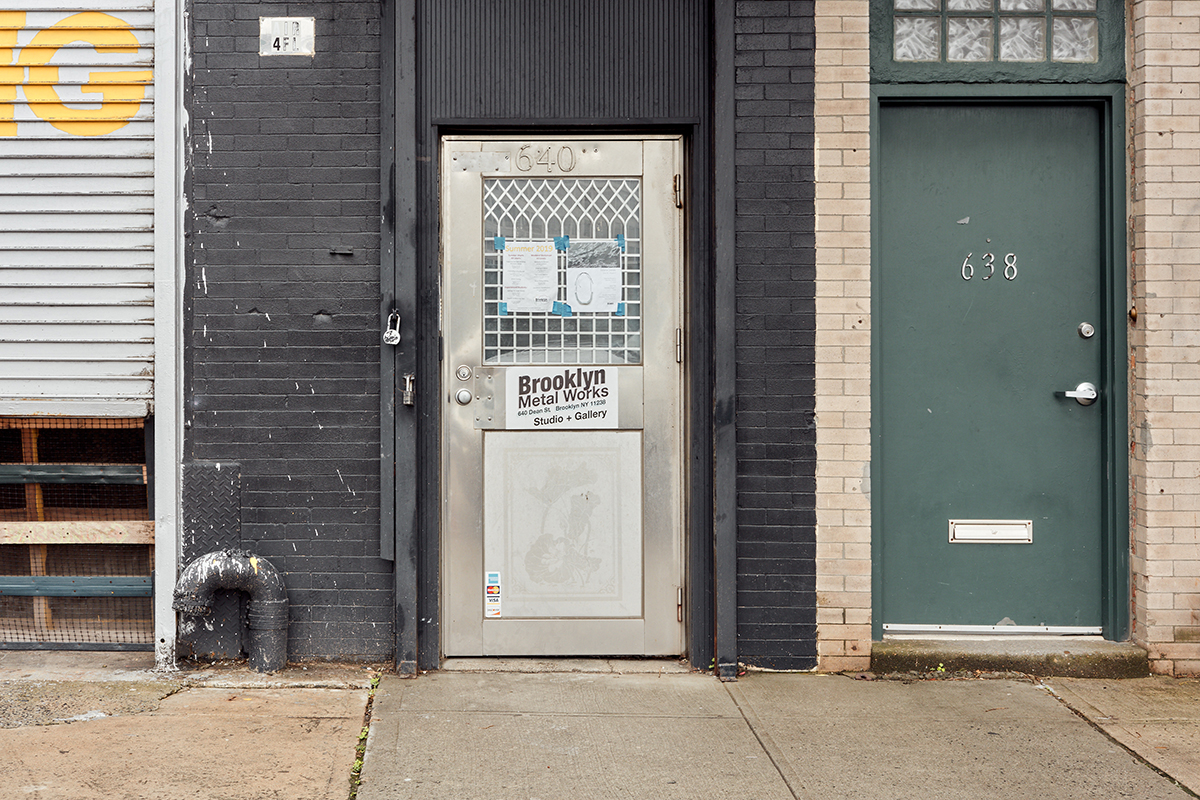 The couple is also always looking to expand cooperative relationships with other groups and institutions and hopes to develop even more creative projects that will take them off site into New York City and beyond.
"We have so many long and short-term plans that it makes me anxious," said Weissman. "We are developing a core curriculum; we are building more relationships with other institutions and groups, and we are looking to offer grants and scholarships, and maybe even host a symposium. Time is moving so quickly these days, and we have so much to do. It makes it hard to sit still."