It has only been a few months since SUNY New Paltz students Dylan Atkins, Lori Jockers, Kayla Marchant, Ariel Pignatelli, Jack Yang and Christian Zoeger became the first to complete the Bachelor of Science in Mechanical Engineering degree program – but if their newly curated success is any indication, the program has already had a hand in engineering a better future.
"We are very proud of our first graduating class of Mechanical Engineers, whose hard work is already paying off," said Kevin Shanley, assistant professor of mechanical engineering. "The sort of professions our graduates are stepping into speak to their personal accomplishments and to the strength of the program at SUNY New Paltz."
Ariel Pignatelli, '17 (Mechanical Engineering) of Rexford, N.Y., landed a job with Bechtel Plant Machinery (BPMI), a contractor for the Navy that develops nuclear propulsion technology for aircraft carriers and submarines.
"I learned a lot of the professional skills I'm using every day through the research and the senior design classes I had at the College," said Pignatelli. "The small class sizes made me very comfortable working in teams and helped me to problem solve with different types of people."
The U.S. Navy's Nuclear Propulsion Program (NNPP) has depended upon BPMI's team of highly skilled engineers, procurement personnel, and support staff to consistently advance nuclear technology to support approximately 80 U.S. Navy aircraft carriers and submarines. Pignatelli does not take her mechanical engineer position at the company lightly, or for granted.
"I plan to continue building my career at BPMI," said Pignatelli. "In 10 years I hope to have my master's degree and to continue working on these types of meaningful projects as an engineer."
I think we all aspire to land a job soon after we earn our degrees. And it looks like many of the first six to graduate from this program have really hit the ground running."
Dylan Atkins '17 (Mechanical Engineering) also had no trouble finding employment after graduation, right here in the Hudson Valley. This May, he began his career as a Mechanical Design Engineer at MPI Industries in Poughkeepsie, just a week after he took part in the College's Commencement celebration. MPI is the leading manufacturer of wax injection equipment used by the investment casting industry around the world to make various objects.
"My education at New Paltz really made me think more creatively and forced me to come up with ways to solve a problem," said Atkins. "This is directly related to the work I now do at MPI Industries. Here, the customer comes to us with specifics and we're tasked with finding a way to meet their individual needs and requirements."
Atkins, who grew up in Wallkill and attended Wallkill High School, said the company is a great fit for his skillset and a reminder of why he always wanted to be an engineer.
"I was always into science and math and grew up watching 'MythBusters,'" said Atkins. "I always knew I wanted to be an engineer, to take things apart and see how they work."
The mechanical engineering program launched in 2014, complementing the School of Science & Engineering's long-standing, ABET-accredited programs in computer and electrical engineering.
"Being in the first class of graduates and seeing how the professors work, I can say I appreciate now how a class gets built, how projects get designed," said Christian Zoeger '17 (Mechanical Engineering) from Lima, Peru, who started at New Paltz as an ESL student in the Haggerty English Language Program. "In the same manner that an engineer has iterations, the professors in engineering here make improvements in their classes, and also make themselves available to help when we're having trouble."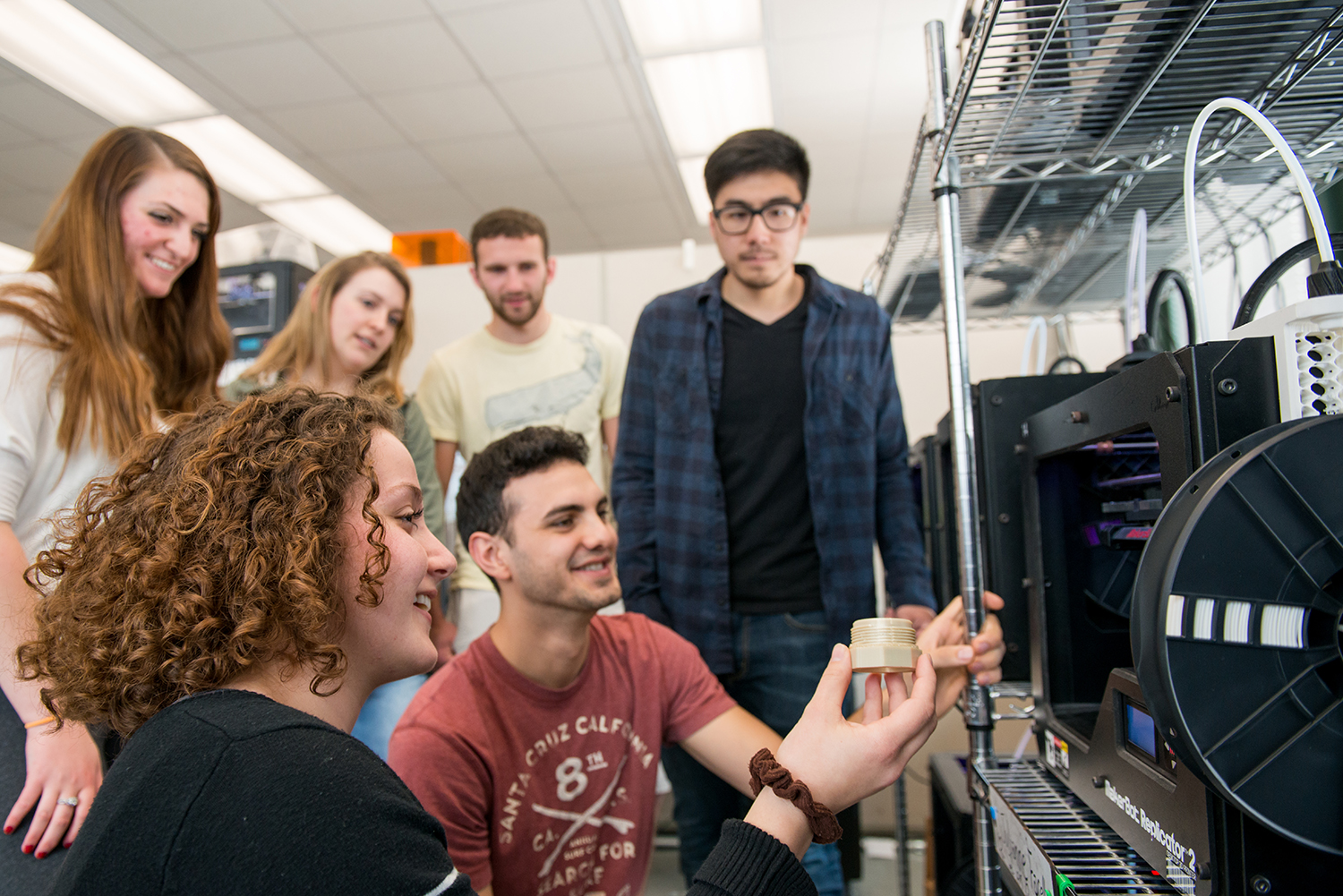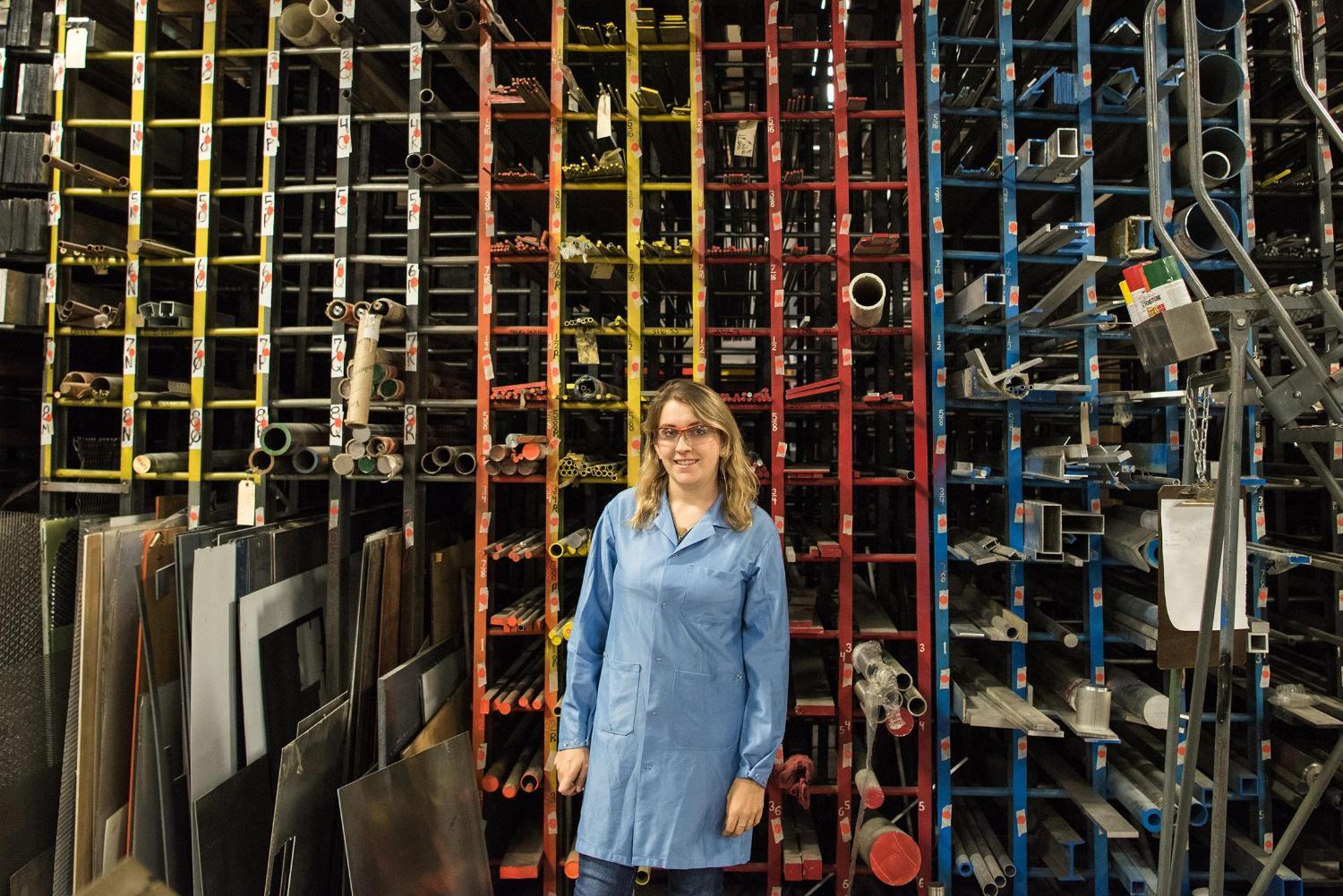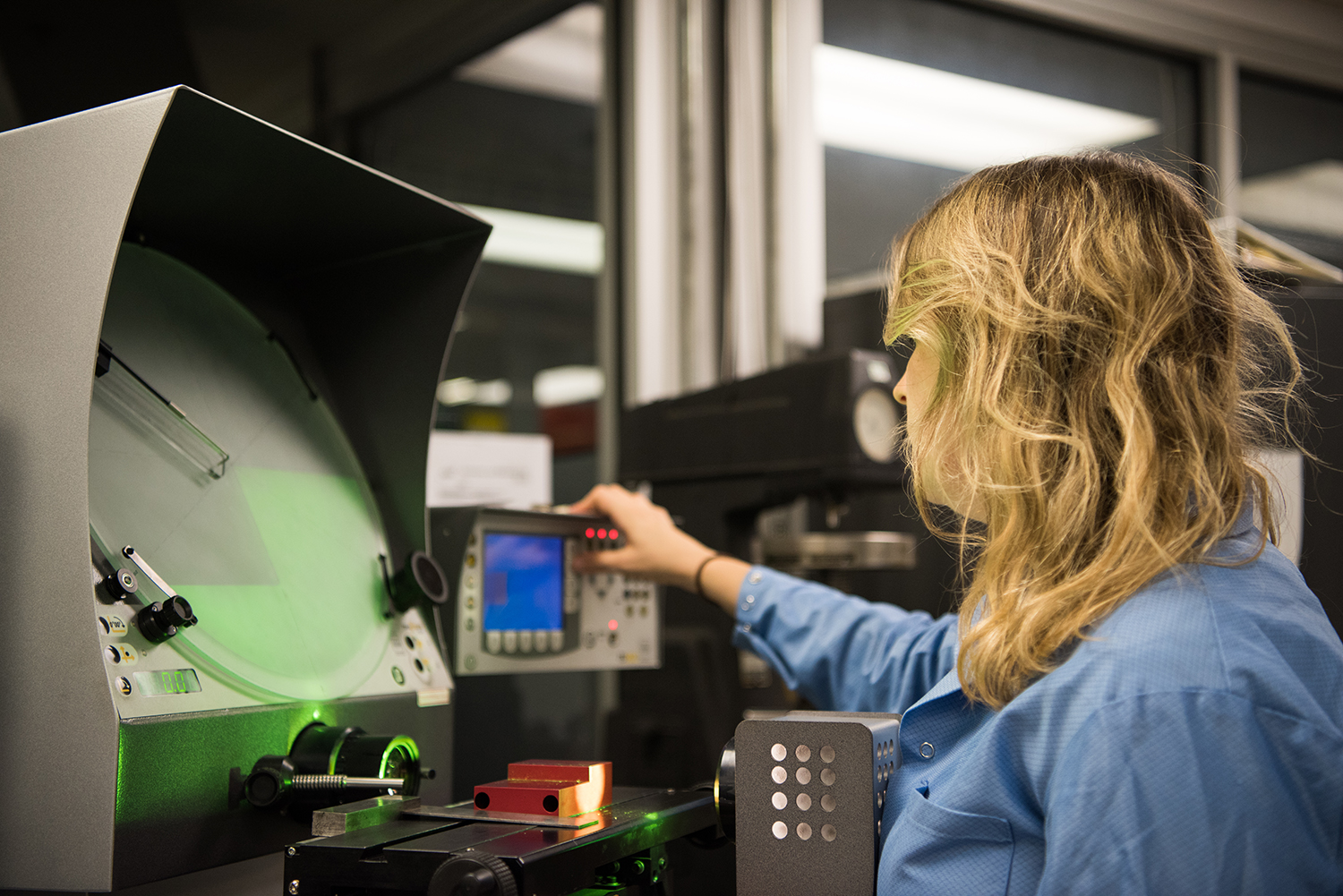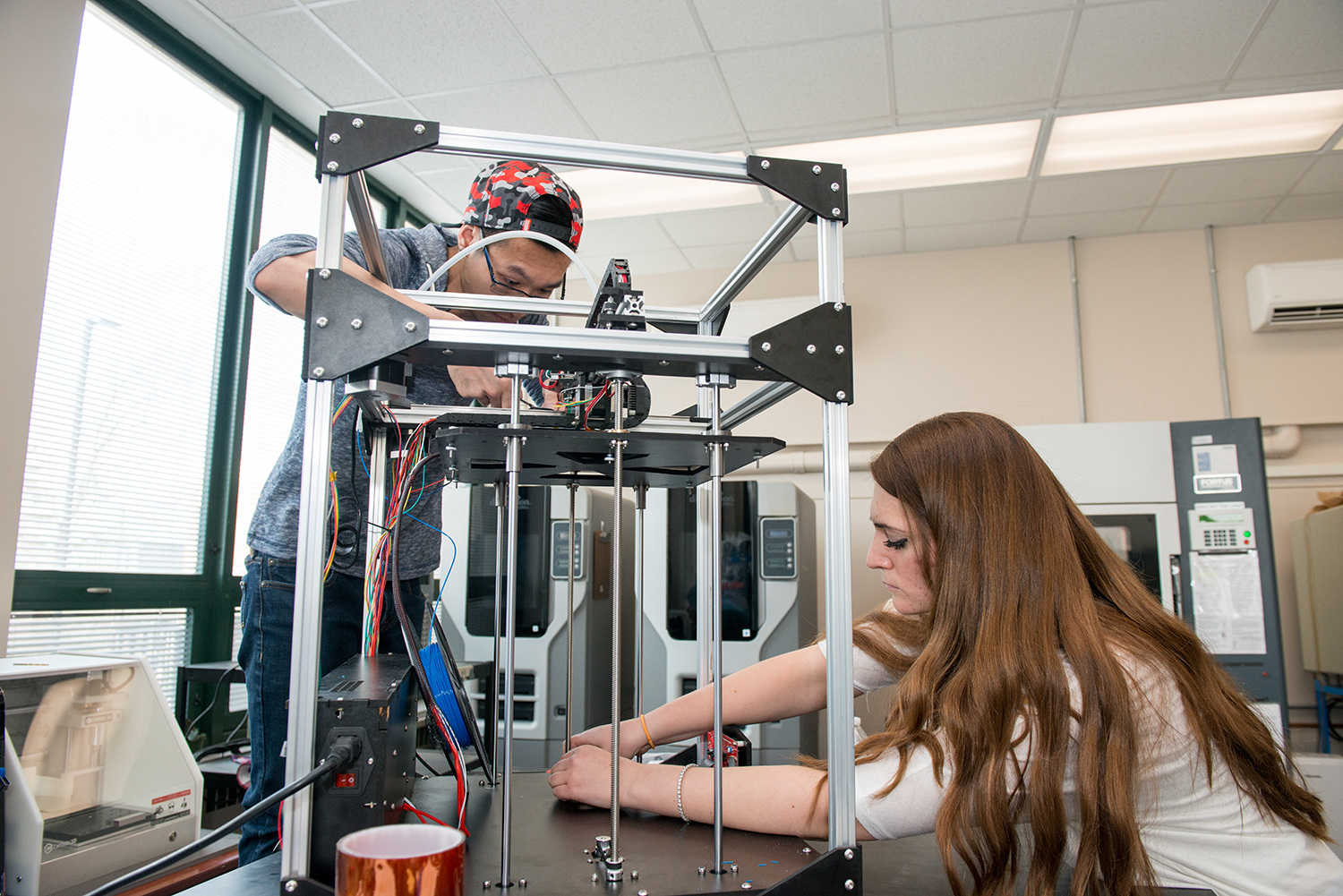 Mechanical engineering at New Paltz is supported by modern facilities, tools and technologies, including the Keysight Technologies Senior Design Lab in Wooster Hall, where students have access to state-of-the-art test instruments and computer software provided by the international leader in engineering hardware. A new Engineering Innovation Hub is scheduled to open on campus in late 2019.
The College held a groundbreaking ceremony this fall and new SUNY Chancellor Kristina Johnson was in attendance. The building was made possible by Governor Andrew Cuomo's NYSUNY2020 grant competition, in which SUNY New Paltz was awarded $10 million for its plans to improve economic development in New York State.
Defined by its small class sizes, close student-faculty collaboration and focus on preparing students to meet the modern demands of regional employers and advanced degree programs in mechanical engineering, the program has grown rapidly, hitting the 100 enrolled student milestone in fall 2016, just two years after its debut. Enrollment for fall 2017 is at 150, indicating that the College has again exceeded its target to add 50 students per year.
"I would encourage incoming students to enroll in the mechanical engineering program," said Jack Yang '17 (Mechanical Engineering) of Flushing, N.Y. "Overall, the experience was great and our teachers taught us the needed industry skills and encouraged us to be self-reliant in our future careers."
Overall, the experience was great and our teachers taught us the needed industry skills and encouraged us to be self-reliant in our future careers."
The participation rate of women in mechanical engineering at SUNY New Paltz is higher than the national average of all engineering fields. Of the 109 New Paltz students enrolled in mechanical engineering during the spring 2017 semester, 28 (or 26 percent) were female, and 81 (74 percent) were male. A 2016 National Science Board report, with data current up to the year 2013, reported that women's enrollment in engineering fields nationwide was at 19.3 percent, indicating that the participation rate of women in mechanical engineering at SUNY New Paltz is higher than the national average.
"I came here for the art program, because I heard it was really good, but I had a strong background in math and I wanted to combine the two," said Lori Jockers '17 (Mechanical Engineering) of North Massapequa, N.Y. "When I found out they were starting a mechanical engineering program here, I figured there would be a creative aspect to designing new things. I was excited to take the design classes every year, and learned to really enjoy the program overall."
For fellow alumna Kayla Marchant '17 (Mechanical Engineering) of Rhinebeck, N.Y., the program's integrated approach helped to directly prepare her for her current job as quality engineer for FALA Technologies in Kingston, N.Y. FALA designs and builds advanced tools and innovative systems to solve manufacturing problems for the semiconductor, green energy, medical, transportation and biotechnology industries.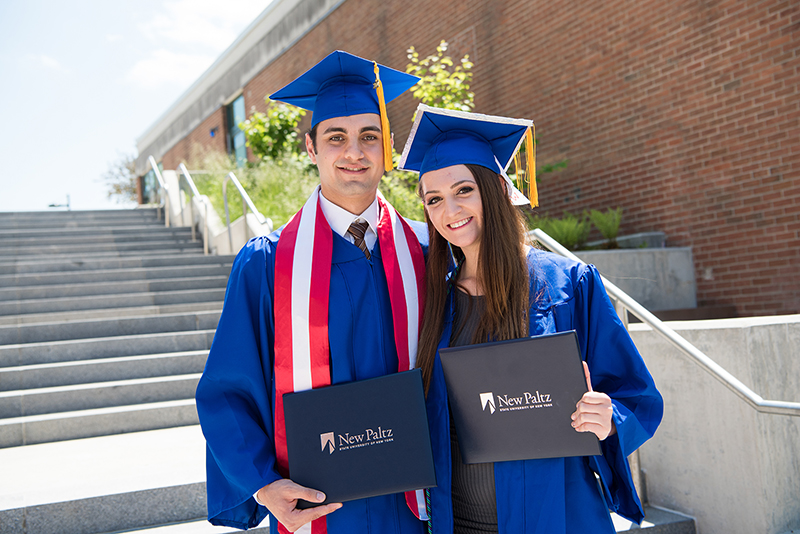 "Looking back now, it is definitely true that hard work and perseverance pays off," said Marchant. "I hope current students realize this as well. A lot of people are surprised to hear that an undergraduate degree can be completed in only four years, because of the rigorous course load, but the six 2017 graduates prove it is possible."