Primary Logo & Variations
Primary Logo & Variations
The new New Paltz athletic marks were designed to create a consistent brand for the New Paltz Hawks. At the same time there are many variations to choose from so that there should be a design compatible to any application. The preferred logo is the primary mark shown on the right.
Logos that do not contain "New Paltz" or "NP" are for use only when either the school name or NP monogram have been previously presented. For example, the hawk alone design can be used inside a brochure if a logo or words identifying the university has been used on the cover. Or the hawk head logo can be used on a garment if the university name or monogram is identified in a prominent place. All artwork and variations are available in Macintosh and PC digital file formats. For information on using the logos with different words in the banners see below.


Primary Logo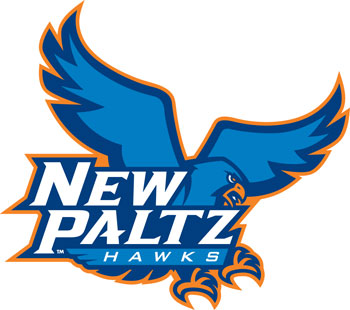 Secondary Logos
Hawk Head
Hawk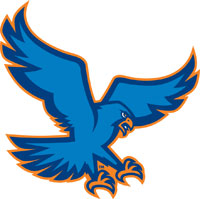 New Paltz Wordmark Head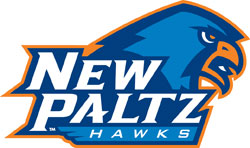 New Paltz Wordmark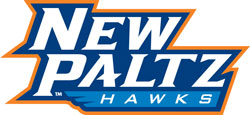 Color Variations
All of the New Paltz Hawks logos may be used in full color (New Paltz Navy, New Paltz Royal and New Paltz Orange), all New Paltz Navy or all black. Some examples are shown on the right. New Paltz athletic logos can be used in all white on dark backgrounds as shown below.
Full Color

New Paltz Navy

Black

To use New Paltz Hawks logos in all white on dark backgrounds use the white art layer from the black and white art and allow the background to show through where the black art would be. NEVER reverse the logo art to create all white logos.
Contact Design Services for assistance at (845) 257-3971.
Athletic Logos with Banner Text
The five logo configurations shown below are capable of presenting different text in the banners. If you need to have a customized logo contact the Director of Design, Print & Mail Services.
Available Banner Text
Hawks, Athletics, Baseball, Basketball, Cross Country, Field Hockey, Lacrosse, Soccer, Softball, Swimming, Tennis, Volleyball and Wellness And Recreation. Note: The "Wellness and Recreation" banner text only works with the double line New Paltz Wordmark as shown here.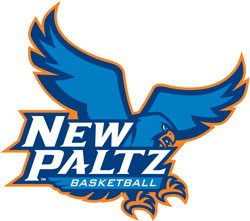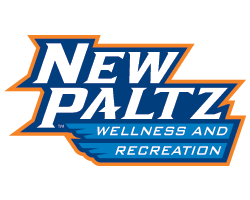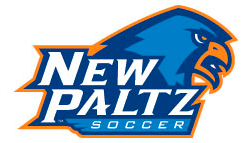 All other wording must be approved first by the New Paltz Director of Athletics. Banner text must represent intercollegiate sports at New Paltz. Club or intramural sports may NOT have custom banner text logos.
Safe Zones
Each of the New Paltz Hawks logos has an established safe zone. This safe zone is intended to maintain the logo's integrity and to avoid visual confusion. No other type or graphic element (including folds, trims or edges) should fall within the safe zone shown. The safe zone for most horizontal New Paltz Hawks logos is equal to one fifth of the height of the logo (A).
The safe zone for the more square New Paltz Hawks logos is equal to one eighth of the height of the logo (B). This safe zone spacing is uniform on all sides of the logo.