Frequently Asked Questions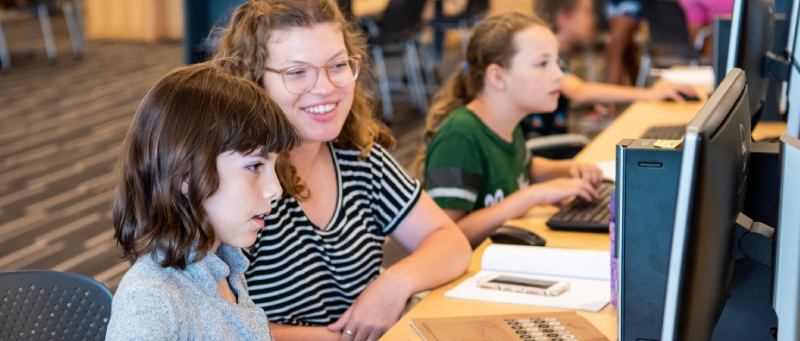 What are Young Writers Programs?
Since 2002, the Hudson Valley Writing Project has provided literacy enrichment programs to give children and teens opportunities to write and learn in welcoming, supportive settings. HVWP celebrates the power of writing. Writing allows young people to explore who they are, where they are, and what they care about.
Will classes take place online or in person this year?
We will offer most of our summer classes in person in summer 2022, but some offerings will be fully online. The format is noted for each class in their descriptions and the registration form.
What health and safety procedures are in place for in-person classes?
HVWP is committed to providing safe experiences for students, teachers, and visitors at our Summer Young Writers Programs. We follow COVID-19 guidelines established by SUNY New Paltz, which are detailed on the college's Coronavirus Dashboard website. Please note that the SUNY mask and vaccine policies are set independently from the rest of New York State and are subject to change in response to the continuing pandemic.
In accordance with SUNY New Paltz policy, proof of full vaccination or a negative COVID-19 test within 72 hours of the first day of the program is required to participate. As of March 14, 2022, masks are optional in most indoor areas on the campus.
What do online/remote programs look like?
Working in real time using secure online platforms, HVWP teachers guide and support young writers as they work together and independently in developmentally-appropriate ways. All of our programs are designed around a central theme and use an inviting, fun, and constructive process that encourages writers to try many types of writing. Teachers offer creative writing prompts to spark students' imaginations and introduce them to craft strategies they can use to draft and revise their writing. Writers will have opportunities to share their work in small groups, learning ways to give and receive feedback to improve their writing.
Who will teach the programs?
HVWP's experienced teacher writers lead our youth programs. They have completed a rigorous professional development program sponsored by HVWP and the National Writing Project. At least two teachers lead each program (one teacher for every eight students) and SUNY New Paltz future teachers offer additional support to young writers.
For what kind of student is the program geared?
HVWP teachers work to reach every kind of writer, from the reluctant to the most passionate. We find children and teens embrace writing when they are given freedom to choose what they write about, exploring topics of interest to them. They build confidence by writing in a variety of genres, gaining new skills, and developing their voices as writers.
What writing supplies will my child need?
Writers attending classes in person will be provided with materials and supplies. Some program leaders will reach out to request that students bring a laptop computer if available. Writers enrolled in online classes will need access to a computer with Wi-Fi, a camera, and audio. They will also enjoy and benefit from having writing and drawing materials (paper, pencils, markers, etc.) on hand.

How can I support my child during online programs?
Prior to the start of the workshop, you will receive a welcome letter from the teachers with logistical information and suggestions for supporting your child during the program. All instruction will be live, with time interwoven for students to reflect, write, and talk together in small and whole group discussions. Younger writers (ages 8-12) will likely need someone close by during short instructional breaks. Older students will work independently, writing on their own for brief periods before bringing their work back to the group. Here, the National Council of Teachers of English offers some additional advice on promoting writing and language development at home.
Will my child have work to do outside of the allotted class time?
There is no homework, but many students are motivated to write outside of class, exploring new ideas or continuing to work on a piece that they have started.
What if my child cannot attend the full program?
Writers benefit most from attending the full program and contributing to the writing community. Programs are designed so each day's work builds upon the prior meeting. We cannot offer make-up days or provide refunds for missed classes.

How does the waiting list work?
When a class is fully enrolled, we invite families to sign up for a waiting list using the online registration form. If a spot opens up in the class or another section is added, we will accommodate families on the wait list in the order in which they signed up. Payment will not be due until you are fully registered. There is no guarantee that space will become available for those on the waiting list.
What is the refund/cancellation policy?
Tuition is non-refundable, but we will issue a credit good for one year for cancellations due to illness or family emergency.
How do I get a tax receipt?
After your child completes the program, please email us at hvwp@newpaltz.edu and provide your name, your child's name, and your mailing address.
Other questions? Please email us at hvwp@newpaltz.edu or call us at (845) 257-2836.