Early Career Leadership Institute (ECLI)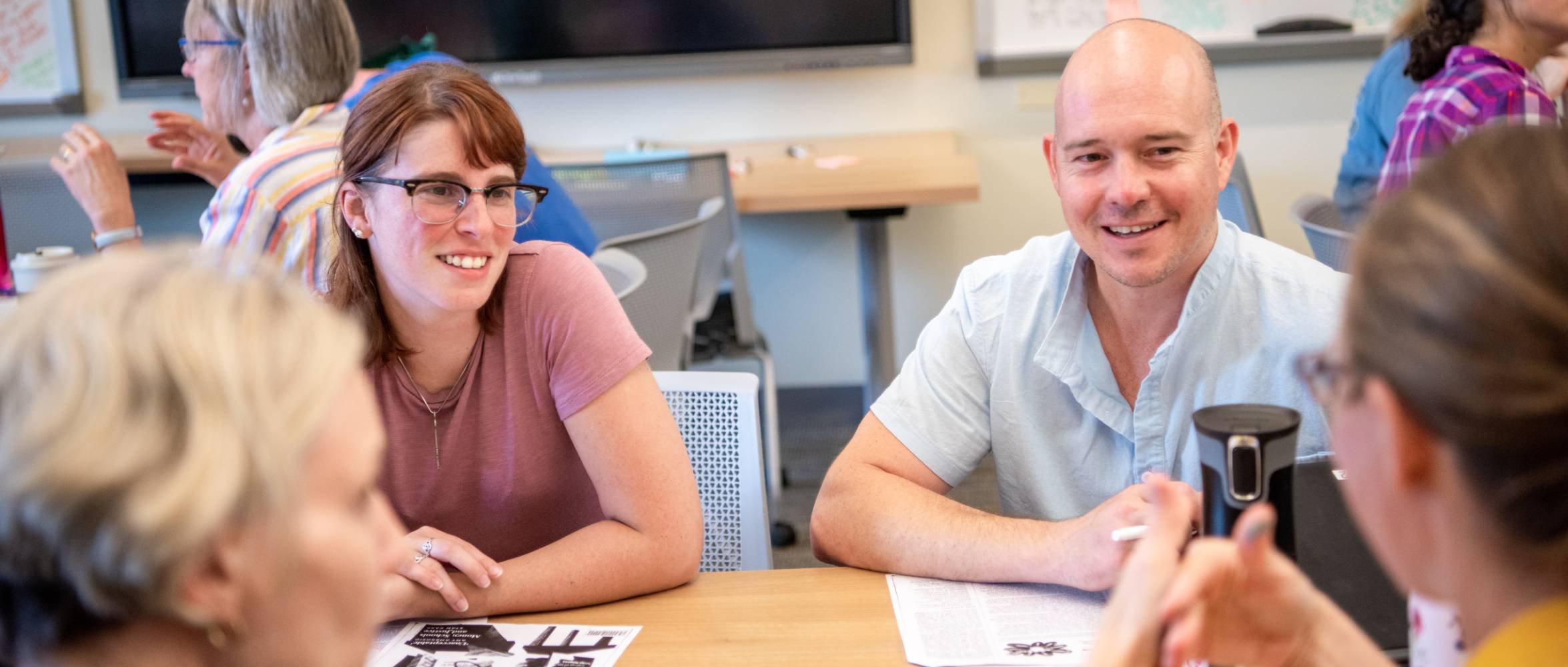 The Hudson Valley Writing Project is now inviting applications for its 2023-24 EARLY CAREER LEADERSHIP INSTITUTE, a unique program for educators in the first five years of teaching. In this yearlong institute with hybrid instruction, fellows develop new teaching and leadership skills as they learn powerful literacy strategies that put writing, deep reading, and critical thinking at the center of their practice.

HVWP welcomes applications to the institute from teachers who work with kindergarten to college students in all subject areas, including ELA, TESOL, social studies, science, math, the arts, and special education. Institute fellows teach in public, private, and out-of-school settings and in urban, rural, and suburban communities.
I now feel more confident having so many new strategies and knowing that I have a peer group that I can turn to for suggestions. I know that writing about things they care about or people they love can help to solidify their identities as writers.
-Rheanna Fiddle, Liberty High School
2023-24 COURSE DESCRIPTIONS AND DATES
ENTERING COMMUNITIES: ECLI I
*ONLINE*
Summer 2023: July 17-20 & 24-27, 8:30 a.m.-3:00 p.m.
August 22, 8:30 a.m.- 12:00 p.m.
Join a community of practice in which you refine your vision for teaching and learn about the communities where you teach. Through writing and rich discussion, you will develop as a writer, gaining new skills and confidence to incorporate more writing into your teaching. In late August we will meet for a morning to prepare ourselves for the new school year.
ENGAGING IN REFLECTIVE PRACTICE: ECLI II
*IN-PERSON at SUNY New Paltz*
Fall 2023: Sept. 23, 8:30 a.m.-3:00 p.m. | Oct. 14, 8:30 a.m. - 12:00 p.m. and
Oct. 28, Nov. 18 & Dec. 9, 8:30 a.m.-3:00 p.m.
Working alongside colleagues, you will document and study your students' learning in order to build a reflective practice to inform your teaching. As you expand your professional network, you will learn about resources to support your students, classroom, and school community.
STEPPING INTO LEADERSHIP: ECLI III
*IN-PERSON at SUNY New Paltz*
Spring 2024: Jan. 20, Feb. 3, Feb. 24, Apr. 13 & April 27 | 8:30 a.m.-3:00 p.m.
Focusing on student and community needs, you will add your voice to the professional conversation about how to best improve teaching. You will develop new leadership skills by designing and leading a literacy-rich workshop for an audience that includes current and future teachers.

ECLI Facilitation Team: Terri Weiss is an award-winning middle school English teacher and literacy coach in the Valley Central School District. Meghan Landerway, one of the first participants in ECLI, is an elementary teacher in the Kingston City School District with a special interest and expertise in math and science.
The EARLY CAREER LEADERSHIP INSTITUTE is offered in partnership with SUNY New Paltz. Institute fellows earn either a combination of 6 graduate credits and 30 CTLE hours or 120 CTLE hours through their participation.
HVWP is committed to creating access for all early career teachers who wish to participate in the Institute. We received a grant that allows us to support 2023-24 ECLI fellows and greatly reduce the program and tuition fees.
Please see the program application for more information and apply today!
Contact us at hvwp@newpaltz.edu or (845) 257-2836 with any questions about the Institute.