Hiring TAs & GAs
Teacher of Record (TR)
Responsibilities include some combination of the following:
Duties: Serves as primary instructor of record, teaching classes which may include lecture, studio, laboratory, or other types of courses as required by the department. As primary instructor, they automatically gain access to Brightspace for the course that they are teaching.
Providing direct instruction.
Grading student assignments.
Developing academic instructional materials.
Maintaining office hours to provide instructional support.
Providing curricular and academic advice to students.
Teaching Assistant (TA)
Select this type if your new hire will provide grading support for faculty.
Responsibilities include some combination of the following:
Duties:
Grading student assignments.
Proctoring exams.
Tutoring students.
Leading lab or discussion groups.
Developing academic instructional materials.
Maintaining office hours to provide instructional or tutoring support.
Providing curricular and academic advice to students.
Graduate Assistant (GA)
Responsibilities include some combination of the following:
Conducting research.
General office work/clerical/receptionist/scheduling.
Advising, outreach and/or technical services.
Website management/assisting faculty/staff with web pages.
Network administration/end user support.
Onboarding or training services.
Assisting with event management.
Marketing, social media and/or non-research publications.
Lab/Studio/Equipment/Materials maintenance and/or organization.
Providing consultation to students, guests, or clients.
Providing curricular and academic advice to students.
Graduate Student Assistant (GSA)
GSA positions are Temp Service. They are not equivalent to a GA.
Responsibilities include some combination of the following:
As compared with the All-University Graduate Assistant (GA) position, Graduate Student Assistants (GSAs) are not unionized and receive neither a tuition scholarship, nor a stipend.
They are hired through the Payroll department as temporary service.
They are paid an hourly rate and submit by-weekly timesheets via my.newpaltz.edu
They are hired using a Student Assistant Appointment Form
Graduate Assistantship Cost Detail by Appointment Type (Full vs Half) and Scholarship Rates
NOTE: Base stipends are subject to change depending upon GSEU negotiated salary increases.
Load
All-University Assistantships may be offered as:
Full assistantships which include 20hrs of service, $2500 stipend

*

/term, and an Ashokan Scholarship (6 credits)


*

English TRs receive $2500 for teaching Composition I and $3000 for teaching Writing & Rhetoric

Half assistantships which include 10hrs of service, $1250 stipend/term, and a Mohonk Scholarship (3 credits)
Tuition Scholarships
Ashokan Scholarship (6cr waiver)
Mohonk Scholarship (3cr waiver)
Peregrine Plus Scholarship (Optional add-on award that covers the tuition differential between in state and out-of-state tuition. (The Peregrine Plus Scholarship can only be used in combination with an Ashokan or Mohonk Scholarship.)
Reminder: Tuition Scholarships are calculated at the NYS resident tuition rate (GR and MBA). You can increase this support by checking the "Add Peregrine +" when completing the Graduate Assistantship ARF.
Tuition Scholarships in Action
Click image below to enlarge.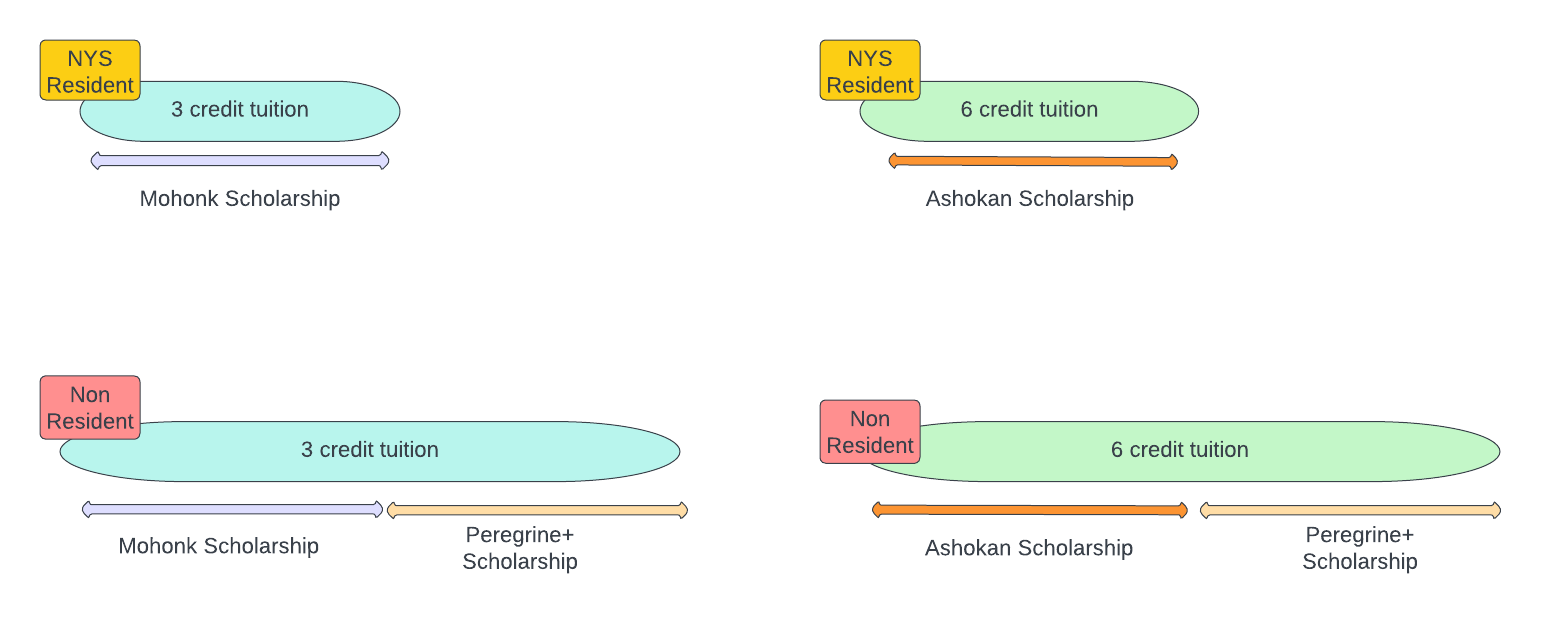 Duration
All-University Assistantships may be offered for the:
Academic Year (AY) – or – One Term (Spring or Fall)
Note: Departments are encouraged to hire for the full academic year since the abbreviated timeframe between the fall and spring terms results in delayed access to Brightspace, paychecks and benefits.
Click image below to enlarge.
Hiring Documents
Students are hired through submission of a Graduate Assistantship ARF. We can provide you with a brief PowerPoint presentation to walk you through it. If you have any questions, please e-mail Vika Shock at shockv@newpaltz.edu
Modifying an ARF
To cancel a TAGA appointment, please submit a revised Graduate Assistantship ARF indicating with the student's last day of service (if applicable) so that the student may be removed from payroll and the tuition scholarship waiver withdrawn.

Click image below to enlarge.
Orientation
Human, Resources, Diversity & Inclusion (HRDI) will schedule orientation sessions for new assistants. Students may also request an individual appointment with Vika Shock if they have questions regarding the hiring process, tuition scholarship or stipends.
Professional Development
We require that all Teachers of Record participate in an ongoing professional development program. Individual departments must offer incoming TRs an orientation before the semester begins in addition to tracking and evaluating their students' progress. Departmental programming should be sufficient in scope to be directive and meaningful to a teacher-in-training.
Please note that participation in the departmental training program must be documented at the conclusion of the TR's first appointment and that the mentoring faculty member should prepare a statement describing the training. This statement should be signed by the department chair and then forwarded with any re-appointment request. Failure to supply this statement will prevent the student from being rehired as a Teacher of Record (TR).
Remuneration
Students typically wait four weeks before receiving their first paycheck. An appointment letter is not generated until students respond to HRDI's email request with a Fair Chance Hiring Form. Any delays in finalizing this step will postpone the student's initial paycheck. If students submit their signed appointment letter and other hiring paperwork to Human Resources by late August, they will receive their first paycheck in mid-September.
Note: Students wait two periods (one month) before receiving their first check – any delays in returning documents may prolong the waiting period for paychecks.
Full Assistants working 20 hours/week are eligible to enroll in health insurance coverage through the GSEU. Half assistantships are not eligible for benefits.
Students who are employed in spring and receiving health care benefits through the TAGA program, can continue their coverage over the summer if they are offered continued appointment for the next fall semester.
Click the images below to enlarge.

We launched a new Teams site where we will store approved ARFs, appointment letters, performance programs, HRDI approvals, tuition scholarship information, etc. At this time, we have restricted access to associate deans, budget personnel, department chairs, and select administrative assistants. Please contact Vika Shock if you are unable to access this Teams site, would like to add a member to your folder, or would like a tutorial on how to access and use the site.
Processing Deadlines for Fall

or All-Year TAGA Hires

Hiring Departments have more flexibility when hiring students for the fall or entire year

Processing Deadlines for Spring TAGA Hires

Spring hiring deadlines are unforgiving due to time constraints between the fall and spring terms.

School: June 15

Reviews & approves ARF

Uploads it to the TAGA Team Site

School: November 15

Reviews & approves ARF

Uploads it to the TAGA Team Site

GPIS: July 1

Reviews ARF for eligibility criteria (min GPA, account #, etc.)

Adds students to shared scholarship spreadsheet

Updates Banner

Sends ARF to HRDI using the Teams Approval process.

GPIS: December 1

Reviews ARF for eligibility criteria (min GPA, account #, etc.)

Adds students to shared scholarship spreadsheet

Updates Banner

Sends ARF to HRDI using the Teams Approval process.

HRDI: July 15

Sends out Fair Chance Hiring Form upon receipt of the ARF

Sends out Appointment Letter upon receipt of Fair Chance Hiring Form

Sends out Email w/login information for PeopleAdmin where TAGAs complete the rest of their hiring paperwork.

HRDI: December 15

Send out Fair Chance Hiring Form upon receipt of the ARF

Sends out Appointment Letter upon receipt of Fair Chance Hiring Form

Sends out Email w/login information for PeopleAdmin where TAGAs complete the rest of their hiring paperwork.

TAGA:

August

1

1

Finalize hiring paperwork in

PeopleAdmin

T

AGA:

December 31

Finalize

hiring paperwork in

PeopleAdmin

Payroll: August 15

Adds TAGA to Payroll 11

Student receives first check on September 13

Student receives last check for fall work on January 17

Payroll: January 1

Adds TAGA to Payroll 21

Student receives first check on January 31

Student receives final check on June 7

Fall Term:

Assistantships begin the first day of classes for the term

Assistantships end with the last day of finals for TAs and GAs and after grade submission for TRs

Spring

Term:

Assistantships begin the first day of classes for the term

Assistantships end with the last day of finals for TAs and GAs and after grade submission for TRs