Printmaking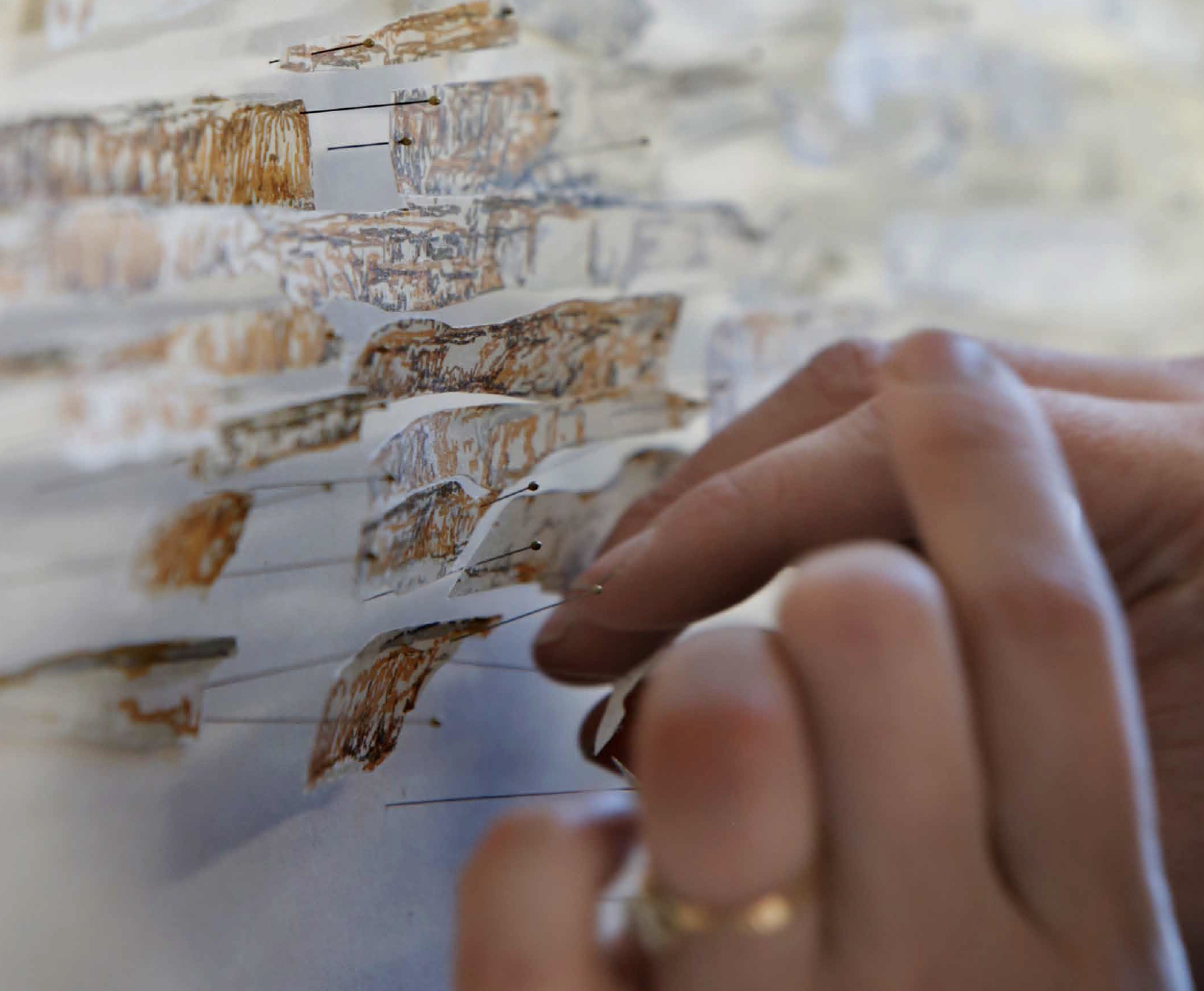 Mission
The Printmaking Program prepares students to be professional artists and to teach art at the college level. Our program offers a broad range of traditional, contemporary, and innovative techniques while encouraging students to formulate and articulate their philosophical and personal concepts and translate them into visual ideas. This intensive studio experience combines critical and theoretical dialogue. We are dedicated to acquainting students with the rich and diverse world of multicultural art and its formative impact on contemporary art. Over the past three decades digital technologies have expanded the possibilities for making print-based images and objects in ways that continue to emerge. In response to these new technologies, we continuously redefine our curriculum and introduce new courses that connect students from different areas with digital imagery and the editions of multicolor prints. Our students are engaged in the creation of diverse multimedia projects that include installations, three-dimensional objects, and digital printmaking.
Faculty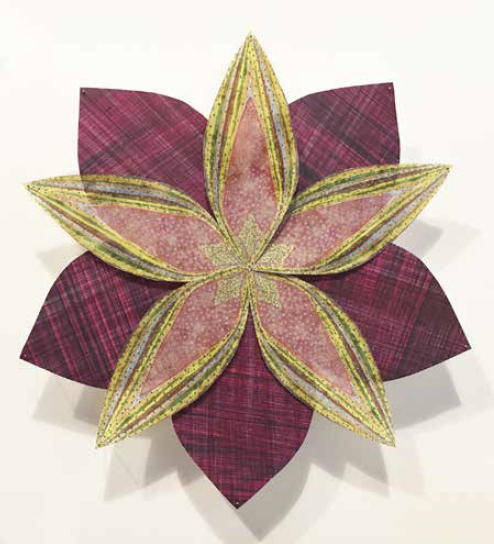 Parisi/ Shiny Star, 2017
Jill Parisi's work examines the natural world's patterns and structures in a highly detailed manner. The imaginary species populating her installations sometimes react to viewer proximity, and have been realized in various materials from small to large scale. She earned an MFA in Printmaking and a BFA in Painting from SUNY New Paltz. Her work has been exhibited internationally, and is in various private and public collections. Significant achievements and awards granted include a New York Foundation for the Arts Fellowship in Printmaking/ Drawing/Artists' Books 2005, a public art commission for New York City's Metropolitan Transportation Authority's Arts for Transit program in 2012, and the selection of her installation Kaleidoscope Garden for the Main Exhibition of the Krakow Printmaking Triennial in 2012, and the International Print Network's Graphically Extended exhibition in Oldenburg, 2013.
www.jillparisi.com
parisij@newpaltz.edu
(845) 257-7871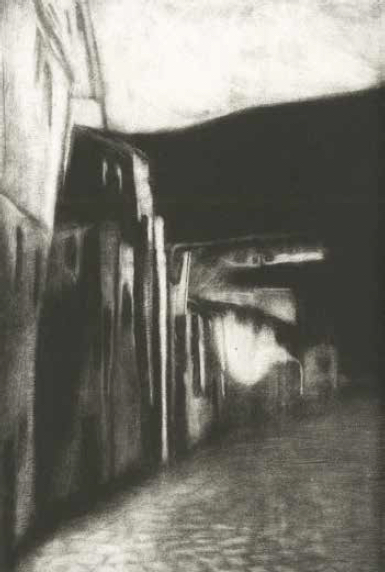 Street in Balaguer. mezzotint 2000
Maggie Oakes graduated from the Eugeniusz Geppert Academy of Art & Design in Wroclaw, Poland in 2001 with a MFA in Printmaking. Before becoming the technician for Printmaking, she was the manager of the Art Center at West Point, N.Y. She is a mentor and advocate for students, helping them solve complex studio problems to achieve their fullest potentials. Among her many responsibilities, she maintains the expansive printmaking studios including the intaglio, litho, relief, papermaking, photolitho, and silkscreen processes. Maggie Oakes' work is inspired by her many travels throughout Europe and the United States and her close contact with different cultures, traditions and people. She continues to be a part of group and solo exhibitions throughout Europe and United States, including recent shows at SUNY Orange and the Post-Digital International Printmaking Conference and Art Show at the Academy of Art & Design in Wroclaw, Poland.
oaksm@newpaltz.edu
(845) 257-2855
Printmaking: Studio Space & Facilities
The Printmaking Program's expansive studios offer nearly eight thousand square feet of total space, and are considered state of the art in both design and safety. A highly efficient central ventilation system creates continuous, safe air quality throughout the entire printmaking studio. Contemporary printmaking art processes include multi-media applications where traditional and cutting edge techniques merge. A partial list of equipment includes: five lithography presses, (including a 3' x 5' Takach press); a large inventory of stones ranging from small to very large; four relief/etching presses, (including a 4' x 8' Takach press), a photo-silkscreen studio with two exposure units and five vacuum printing tables large and medium format, a medium size hand paper making facility. The computer lab-room holds six computer stations with two wide-format and three medium size printers. A critique room is equipped with three walls for displaying work, a digital projector a large screen, and a long hallway gallery well suited to the display of work.
Learn more about our Printmaking facilities and equipment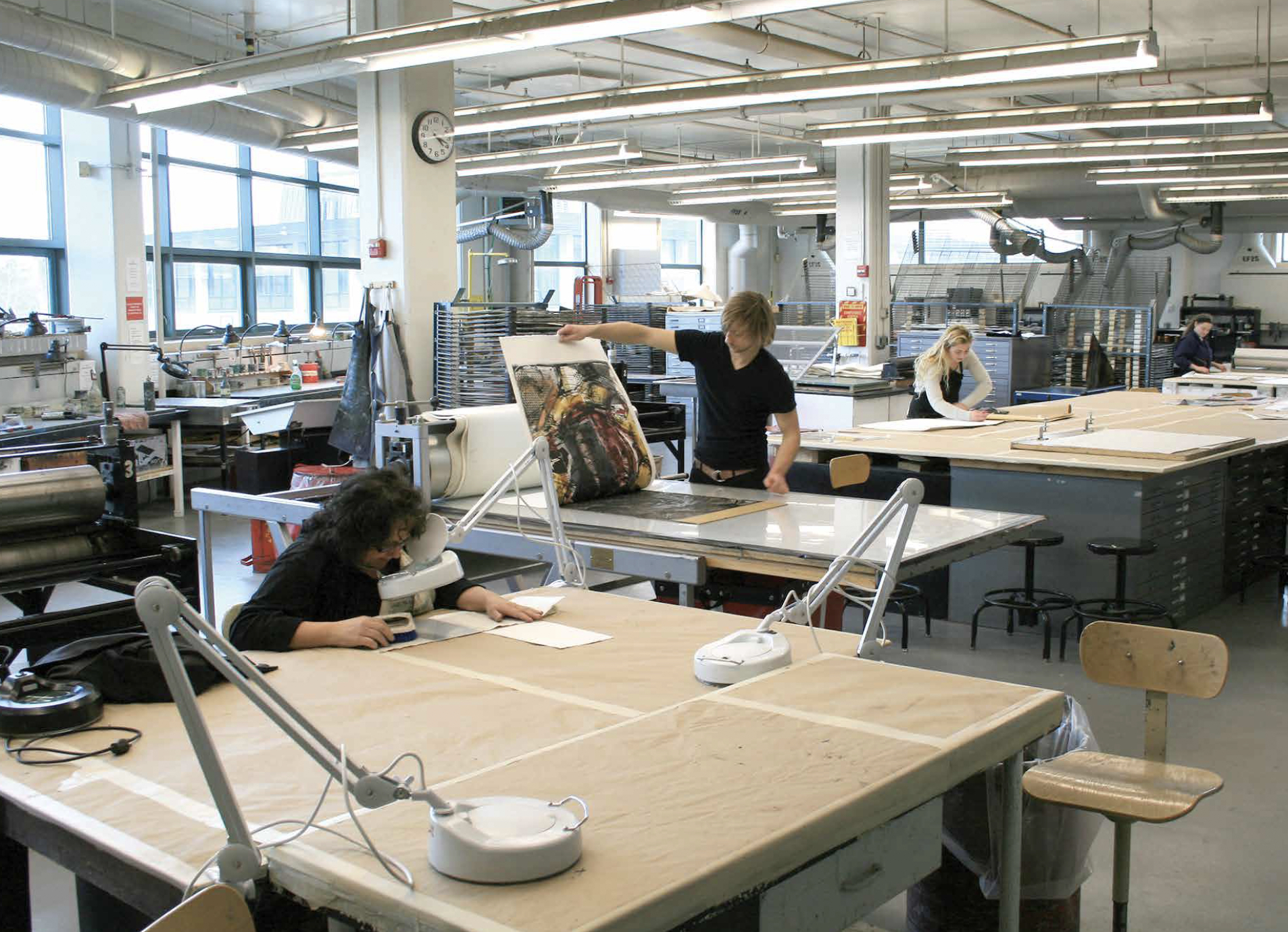 Showcase