Photography & Related Media
From Nadia Sablin's "Lodeynoye Pole"
Assistant Professor Nadia Sablin is a 2018 winner of the John Simon Guggenheim Memorial Foundation Fellowship, one of the highest honors available to scholars, scientists and creative artists in the United States.
Read more
Mission
The Photography & Related Media program at SUNYNew Paltz engages its MFA students in critical discourse to develop their artistic vision and conceptual foundation in a vibrant environment. We foster deep and inquisitive creative research as the basis of a personal and precise visual language. As a result, students are empowered to position themselves through their photographic practice as agents of innovation within a continually shifting cultural environment.
The photography faculty possess a broad range of expertise, interests, and involvement in the contemporary art world, providing students with a multifaceted group of mentors. Students also benefit from an ongoing interdisciplinary dialogue with faculty and MFA students across the Art Department's many programs. Through involvement in this community of artists, they broaden their understanding of artistic approaches and develop a rich network of professional relationships.
Faculty
Photo: Francois Deschamps
Francois Deschamps has studied at the Sorbonne, holds a Masters degree in Mathematics from the University of Illinois, and a Masters degree in Photography from the Institute of Design in Chicago. He is a photographer and book artist whose work involves travel and relationships between cultures. He has produced artists' books published by the Visual Studies Workshop, Nexus Press, the University of Auckland, and SUNY Press. His photographs and books are in the collection of the Museum of Modern Art (NYC), The Metropolitan Museum of Art, and the Museum of the Art Institute of Chicago. He has received two fellowships from the National Endowment for the Arts, as well as three individual artist fellowships from the New York Foundation for the Arts, most recently in 2013. In 2002, he was awarded a residency at the Cité Internationale des Arts in Paris and in 2010–11, he was a Fulbright scholar in Mali, Africa. His work Photo-Rapide Mali has been shown in a one person show at the Dorsky Museum in New Paltz, NY in 2012 and in 2016 at Fotofestiwal in Lodz, Poland. In 2018 he was a Fulbright scholar in Czech Republic.
deschamf@newpaltz.edu
(845) 257-2787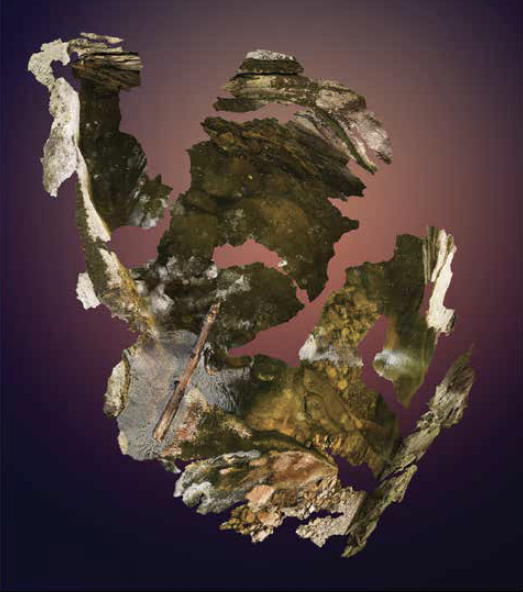 Photo: Andrew Frank
Andrea Frank's artistic work addresses complexity and change in relation to questions of collective responsibility and sustainability, and does so through a systems-thinking lens. She graduated with honors from the Academy of Fine Arts in Munich, Germany, and received her MFA from Parsons The New School in New York City, where she also participated in the Whitney Independent Study Program. Before joining the SUNY New Paltz faculty in 2012, she taught Photography and Related Media at MIT's Program in Art, Culture and Technology in Cambridge, MA. Frank is the recipient of numerous grants and fellowships including the German Academic Exchange Service (DAAD), Studienstiftung des Deutschen Volkes, the MIT Council for the Arts, and two collaborative SUNY Network of Excellence grants. Solo exhibitions include Galleria Michela Rizzo in Venice, Italy, Carroll and Sons in Boston, Edward Thorp Gallery in New York, and the Kunsthalle Göppingen in Germany.
www.andreafrank.net
franka@newpaltz.edu
(845) 257-2786
Photo: Nadia Sablin
Nadia Sablin, a native of Russia, earned a BFA from the Rochester Institute of Technology and an MFA from Arizona State University. Her work investigates the relationship between documentary and fictional storytelling and explores the larger world through close personal narratives. She has received grants and fellowships from the Guggenheim Foundation, New York Foundation for the Arts, MacDowell colony, Firecracker, the Puffin Foundation, and the Peter S. Reed Foundation. Her work has been featured in such publications as the New York Times, the Guardian, the Moscow Times, Slate, The New Yorker, American Photo, and the Financial Times. Nadia Sablin's photographs have been seen in solo and group exhibitions across the U.S., including the Philadelphia Museum of Art, the Southeast Museum of Photography, Blue Sky Gallery in Oregon, the Cleveland Museum of Art, Bellevue College in Washington, and Texas Women's University School of Art among others. As a recipient of the Center for Documentary Studies/ Honickman First Book Prize in Photography, Sablin's first monograph, Aunties, was published by Duke University Press/CDS in 2015.
www.nadiasablin.com
sablinn@newpaltz.edu
(845) 257-2787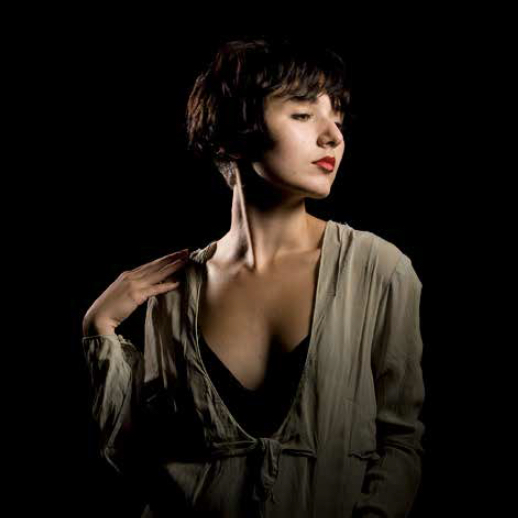 Photo: Keith Ferris
Keith Ferris received his BFA in Photography from SUNY New Paltz in 2000. After graduation he freelanced for local and national newspapers and the Associated Press. In 2006 he began working as the Staff Photographer for The Culinary Institute of America in Hyde Park NY. At the CIA, where he photographed for all departments, specifically marketing and media relations, and contributed to a number of cookbooks. Ferris returned to SUNY New Paltz in 2012 to manage the equipment and facility needs of the Photography program and to help faculty and students with any technical issue that may arise.
www.keithferrisphoto.com
ferrisk@newpaltz.edu
(845) 257-2824
Photography & Related Media: Studio Space & Facilities
MFA students are provided generous studio space and have access to a range of analog and digital SLR cameras, large-format view and field cameras, on-location lighting kits, projectors, and other related equipment. The Photography program features a variety of studios including critique rooms and digital labs with Imacon scanners and large-format printers, an 18 station black-and-white darkroom and film developing room, a lighting studio, and a mounting and mat cutting room. All equipment is regularly updated with the latest imaging software. In addition, through elective courses, students can gain access to a range of facilities in other areas in the Art Department and beyond to produce their work across media, including well equipped woodshop, sculpture, ceramics, and printmaking facilities. Department-wide resources include the MakerBot Innovation Center and Digital Fabrication Lab, which houses CAD-CAM equipment including 3D printers, scanners, laser cutters, and a large format CNC router.
Learn more about our Photography & Related Media facilities and equipment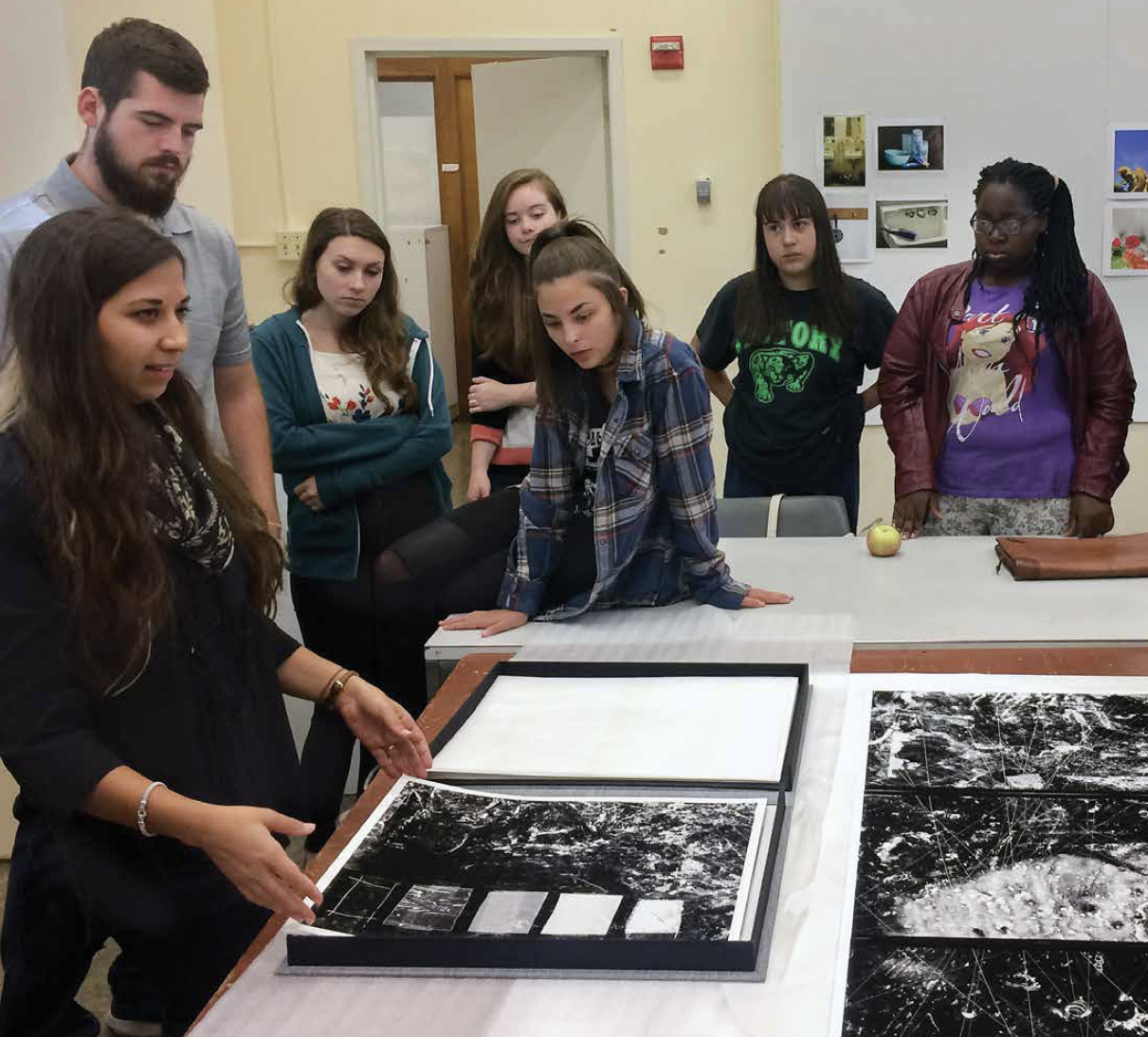 Showcase