Metal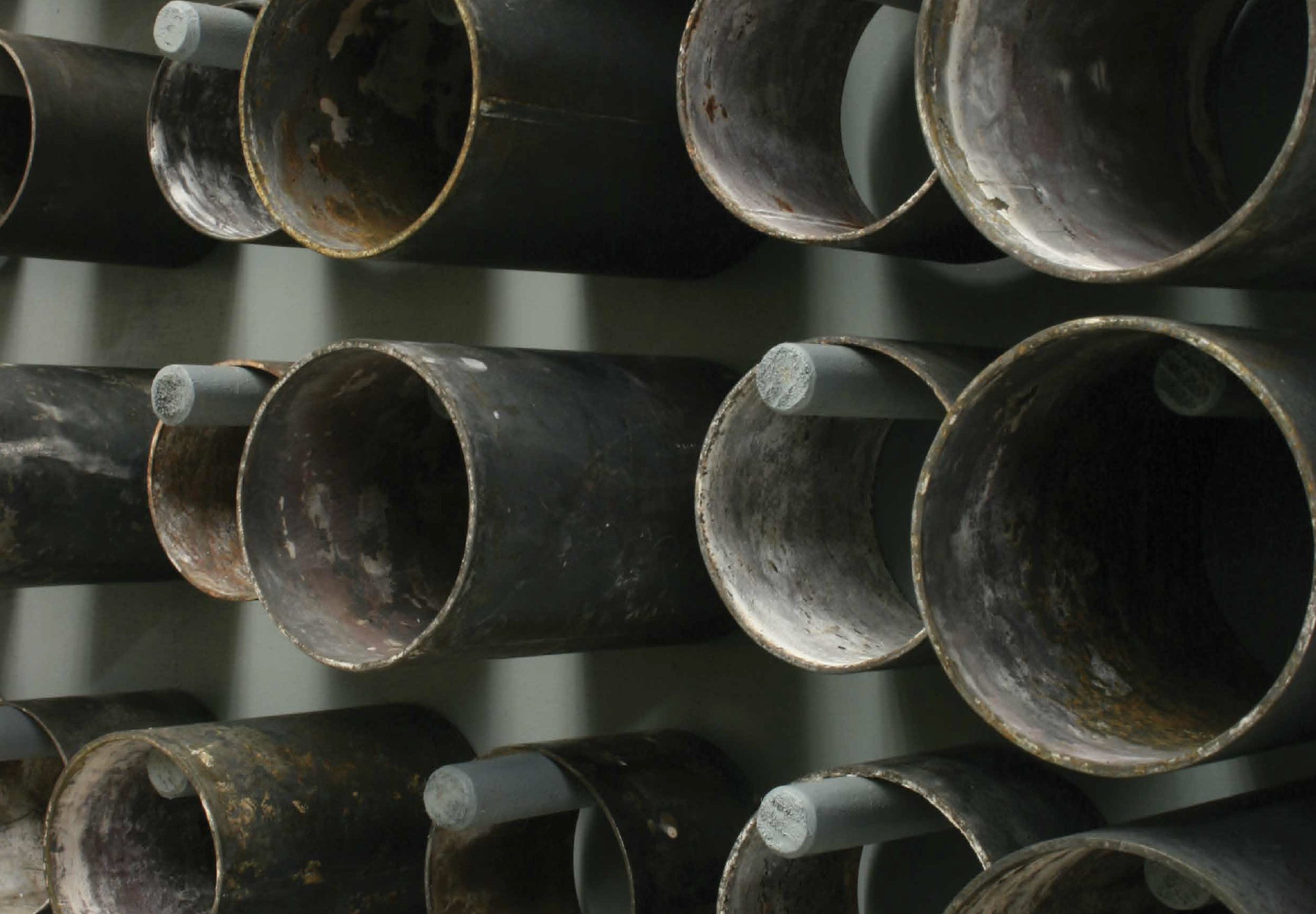 Mission
Metal is an active area of study that engages a wide variety of ideas, objects, images, and modes of making toward critical and dynamic outcomes. Students and faculty form a community of inquiry that seeks to expand the field's discourse. The rigorous curriculum provides opportunities to explore the technical, aesthetic, and conceptual aspects of contemporary jewelry and metalsmithing in a state-of-the-art facility with teachers who are actively engaged artists and who exhibit and lecture internationally. The program is directed by Professor Myra Mimlitsch- Gray, and includes Professors Lynn Batchelder and Michael Gayk as prominent academic faculty.
SUNY New Paltz is among the largest graduate metal programs in the country and has earned the distinction of the #1 ranked metal MFA program at a public university by U.S. News and World Report.
Faculty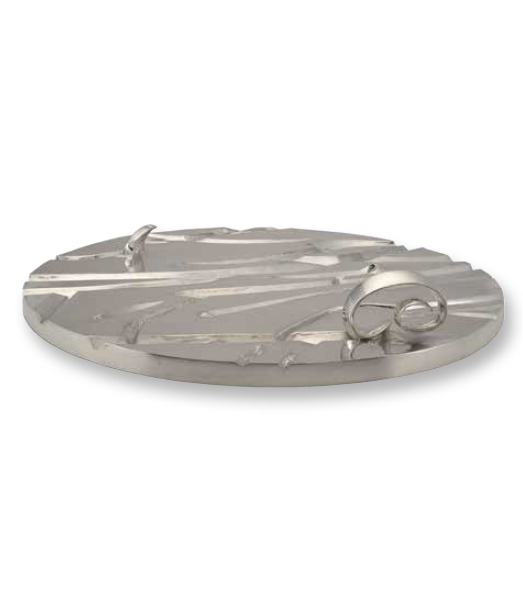 Mimlitsch-Gray/ Magnification: Engraving, 2017. Silver. 2.6" x 15.5" dia.
Myra Mimlitsch-Gray explores metalsmithing as subject and object, engaging the field's history, methods and outcomes. She constructs objects and material fictions to portray utilitarian and sculptural concerns. She received her MFA in Metalsmithing from Cranbrook Academy of Art. Mimlitsch-Gray is the recipient of the 2018 Chancellor's Award for Excellence in Scholarship and Creative Activities from the State University of New York. Awards include the United States Artists Fellowship in Craft and Traditional Arts, the American Craft Council Award, and individual artist fellowships from the Tiffany Foundation, the National Endowment for the Arts, and the New York Foundation for the Arts. Mimlitsch-Gray is the subject of an interview that is part of the Smithsonian Archives of American Art. Her work is widely exhibited and included in public collections such as the Boston Museum of Fine Arts, Cranbrook Art Museum, the Detroit Institute of Arts, the Metropolitan Museum of Art, Museum of Fine Arts-Houston, the National Museums of Scotland, the Smithsonian Institution, and the Victoria and Albert Museum.
www.mimlitschgray.com
mimlitsm@newpaltz.edu
(845) 257-3836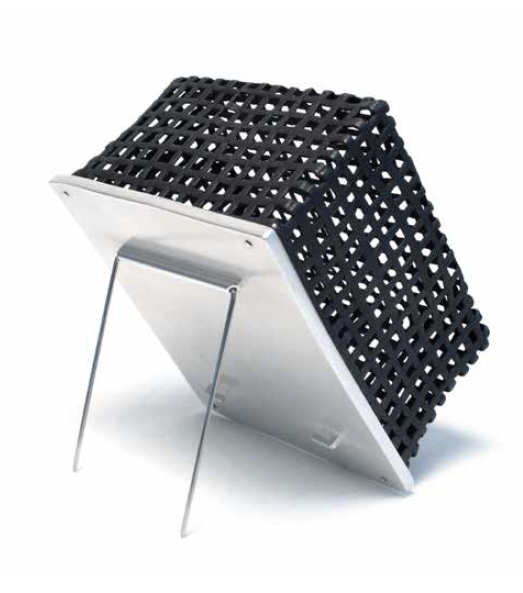 Batchelder/ A Line In Space 10, 2017. Copper, Silver.
Lynn Batchelder's work is rooted in the drawing process; she translates the quality of the drawn line into metal as she seamlessly moves between creating jewelry, objects and drawings. Batchelder received her MFA from SUNY New Paltz. In 2016 she received the internationally competitive Art Jewelry Forum Artist Award. She was awarded the 2013–14 Artist-in- Residence at the Arrowmont School of Arts and Crafts, and earned residencies at Penland School of Crafts, Haystack Mountain School of Crafts, and Women's Studio Workshop. Batchelder was a Visiting Lecturer of Art Metals at the University of Wisconsin-Stout. She presented the Emerging Artist Lecture for the Society of North American Goldsmiths at SOFA-Chicago. Batchelder's work is exhibited extensively in the United States and abroad, including the prestigious Talente exhibition at the International Trades Fair in Munich, and with Platina Gallery in Munich and Stockholm. Solo shows include Inlets and Exits at the Heidi Lowe Gallery in Rehoboth Beach, DE, and Nonlinear at the Gallery at Reinstein|Ross in New York.
www.lynnbatch.com
batchell1@newpaltz.edu
(845) 257-3886
Gayk/ Somite 1, 2014. Photopolymer.
Michael Gayk's work spans the range of metalsmithing techniques and digital design technologies and methodologies. His work is emblematic of tension within muscular structures, pivot points within the human body and the sleek surfaces of manufactured objects. Gayk received his MFA from the University of Washington. He is co-owner and design collaborator with Plural Studios for the production of jewelry, home goods and industrial design projects. Gayk's work has recently been featured in the book, CAST: Art and Objects Made Using Humanity's Most Transformational Process, the publication, The Magazine Antiques, and in the exhibition, New York Silver: Then and Now, at The Museum of the City of New York. His work is represented in the collections of GM Design and Polk Industries Corporate Collection.
www.michaelgayk.com
gaykm@newpaltz.edu
(845) 257-7886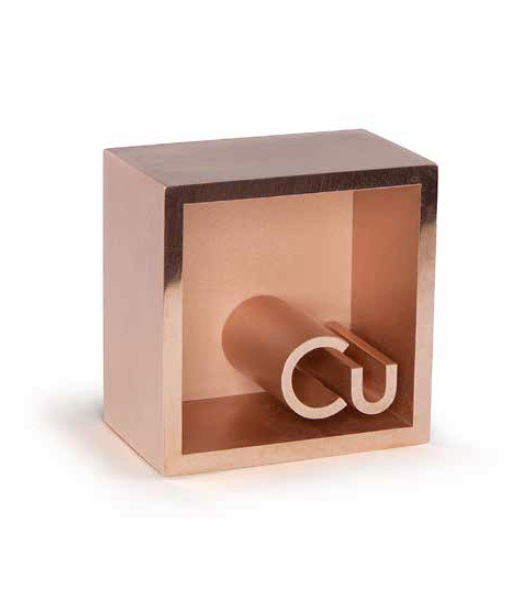 Mastropaolo/ Homage to Mendeleev, #29, 2016. Copper.
Adam Mastropaolo received his BFA from SUNY Purchase with a concentration in sculpture. His interest in metal at an atomic level stems largely from his time spent working at Steven Kretchmer, a jewelry design studio renowned for developing exotic precious metal alloys. While there, he researched, developed and produced purple and blue golds, heat treatable precious metal alloys and a magnetic platinum alloy that were awarded U.S. patents. These proprietary alloys were utilized to create jewelry with unique characteristics such as tension set diamonds, bands that would slide apart to reveal secret inscriptions, and earrings with levitating components. As an early adopter of emerging technologies who has worked with a broad range of equipment and processes, Mastropaolo is well suited to manage New Paltz's diverse and extensive Metal Studio.
mastropa@newpaltz.edu
(845) 257-7793
Metal: Studio Space & Facilities
Designed to give students a broad range of technical opportunities, the 10,000 square foot metal studio is fully equipped to accommodate most hands-on metalsmithing and jewelrymaking practices—from fine work in precious metals to large scale, formed and welded constructions. The main studio consists of a large classroom and open workspace, which includes forming and smithing tools, and general machinery such as band saws, drill presses, shears, rolling mills, grinders, sanders, metal lathes and mill. Adjoining the main space are task rooms, each designed for specific processes such as annealing, mold making, casting, enameling, electroforming, etching, patination, laser cutting, welding, and blacksmithing. The facility includes a computer lab running current design software for both 2d and 3d outputs. Separate BFA and MFA studios include individual spaces for all majors. These semi-private spaces are equipped with soldering stations (oxygen/propane, acetylene, and compressed air), fume exhaust hoods, sinks, workbenches, kilns, and storage space. A central ventilation system creates safe air quality throughout the entire metal studio. Department wide resources include the Digital Fabrication Lab and the Hudson Valley Advanced Manufacturing Center, which houses CAD-CAM equipment including 3D printers, laser scanners, laser cutters, desktop CNC milling and a large format CNC router.
Learn more about our Metal facilities and equipment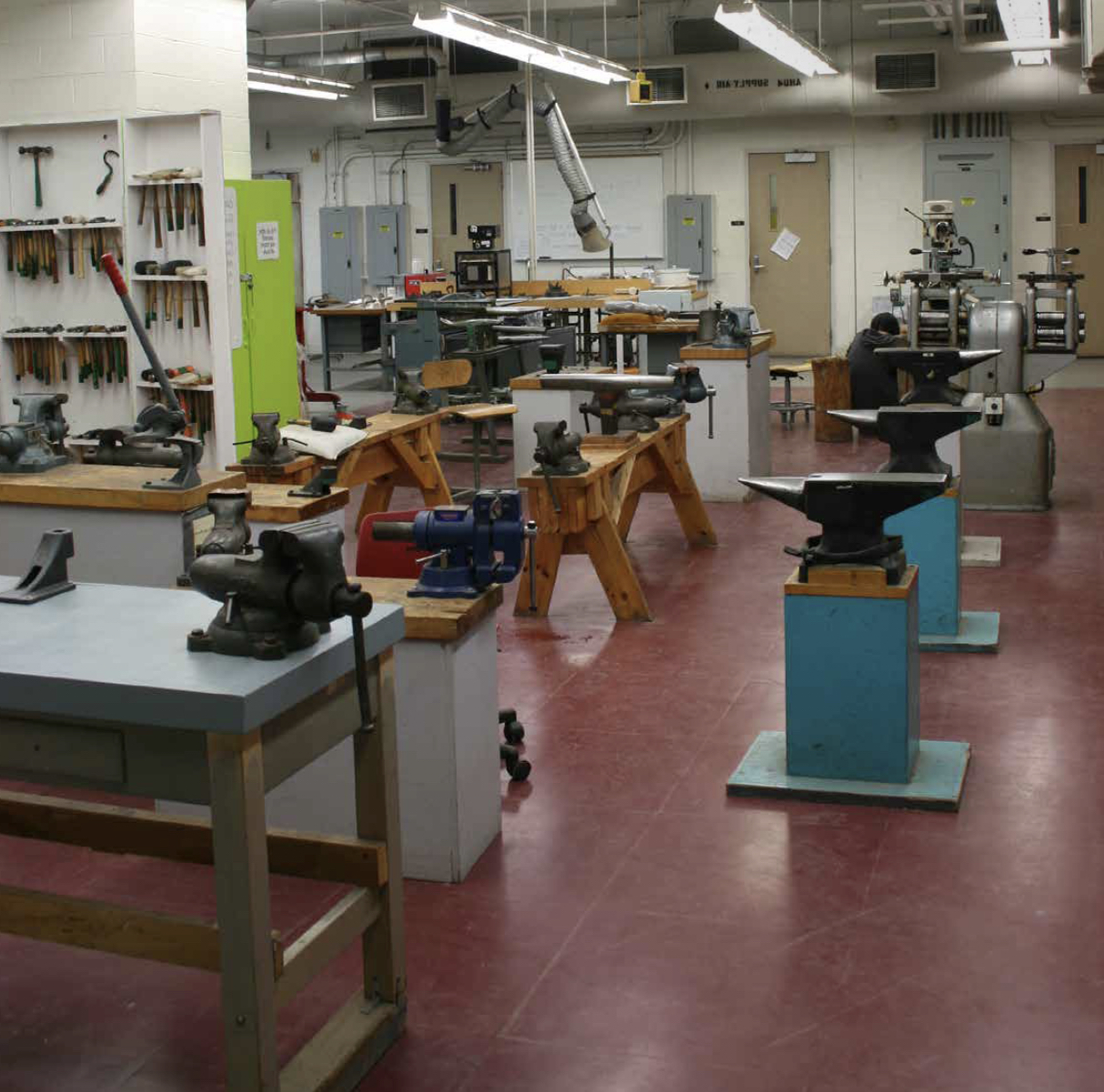 Showcase