Ceramics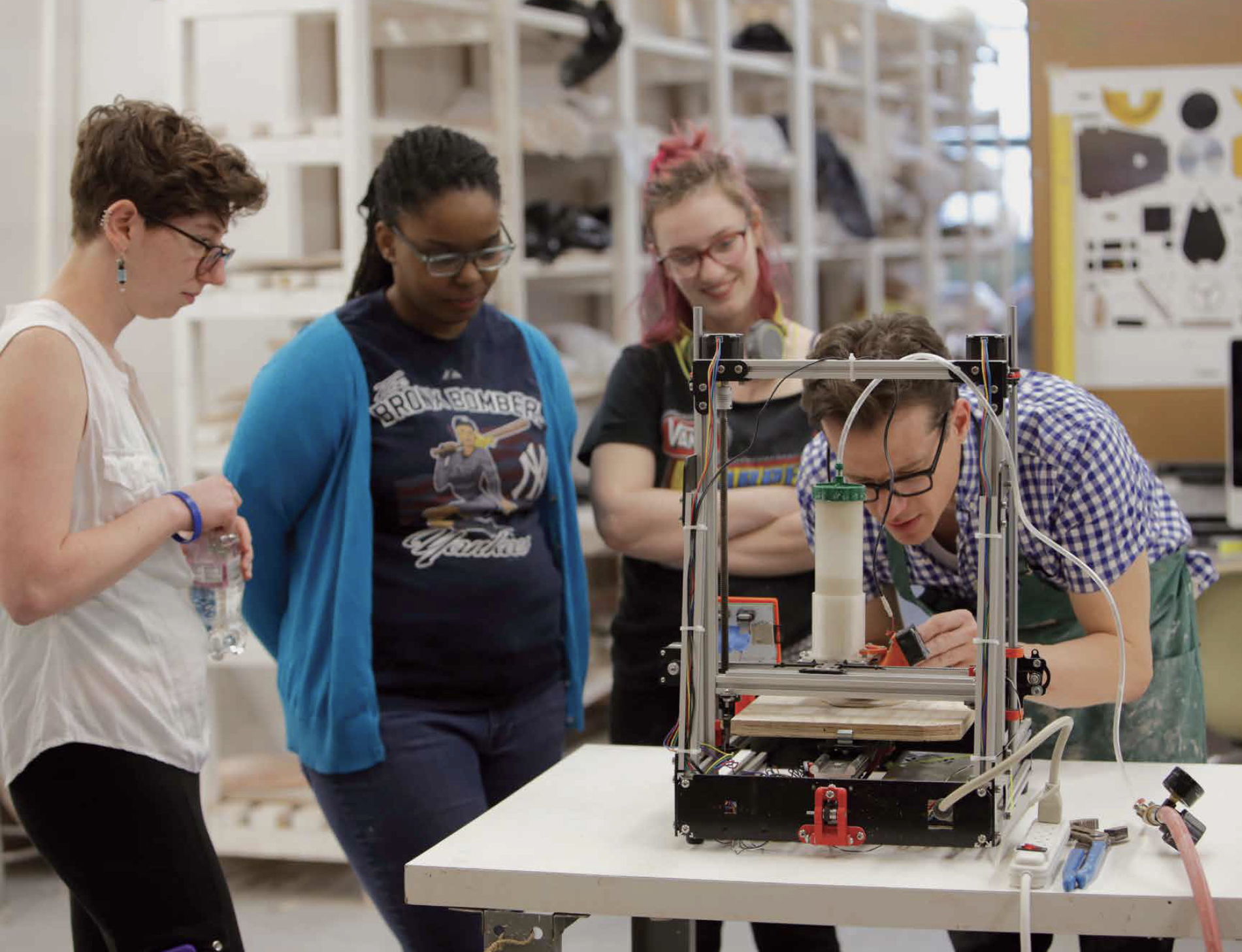 Mission
The program cultivates the conceptual, technical, and professional growth of its graduate students by providing an environment balanced among pragmatic skill development, critical and theoretical dialogue, and intensive studio research geared toward a process of making and thinking, resulting in innovative and dynamic outcomes. We encourage students to have a strong sense of responsibility, self-reliance, and confidence. Faculty guide students independent research and individual approaches to their practice. The curricular structure challenges students to critically evaluate their work within a material-specific and an interdisciplinary framework, as well as in theoretical and professional contexts. Students are encouraged to work with methodologies that explore the boundaries of the field while demonstrating an understanding of historic and contemporary ecologies.
Faculty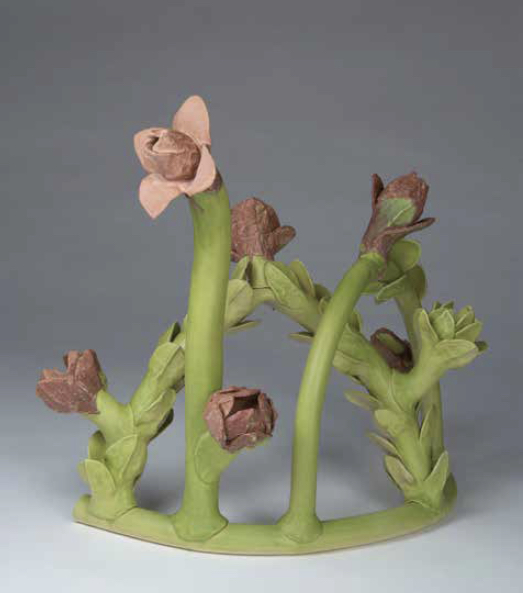 Shiftan/ Untitled, 2015
Originally from Jerusalem, Israel, Shiftan studied English Literature and Philosophy (BA '80) at the Hebrew University, Ceramics at Bezalel Academy of Art and Design, (1980–1982), Eastern Michigan University (MA '84) and at Cranbrook Academy of Art and Design, (MFA '86). Shiftan worked at Pewabic Pottery, Detroit Michigan (1986–1999) as Instructor, Production Manager—Senior Designer and Director of Education. She taught at Bezalel Academy of Art and Design (1999–2002) and is teaching ceramics at SUNY New Paltz since 2003 where she is currently head of the Ceramics Program. Shiftan received two Michigan Grant for Individual Artists and exhibited her work extensively. Shiftan has collaboratively organized: Contemporary Issues in Clay: A British Perspective, (2006) and Why Clay (2008), and organized Beyond Hand Made (2008), symposiums that examined theoretical, social and economical contexts in which creative practice in visual arts occurs today.
shiftana@newpaltz.edu
(845) 257-7834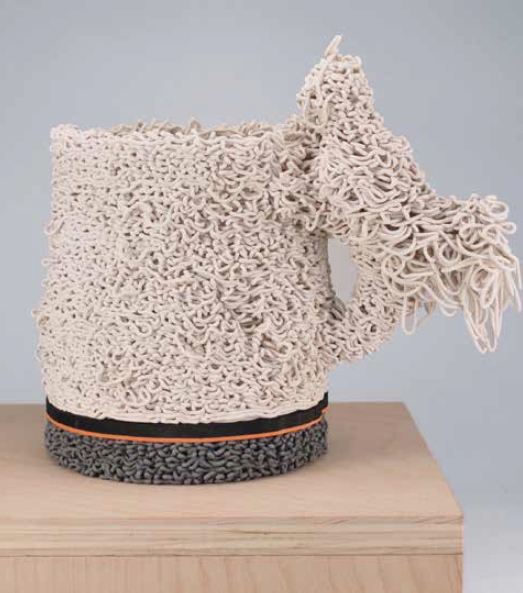 Czibesz/ Madár Bögre, Nagyi, 2015
Bryan Czibesz is an artist grounded in the tradition of object making who asks questions of authorship and authenticity through varying degrees of dislocation between the hand and material manipulation. Originally from Ohio, Bryan earned his MFA from San Diego State University and BA from Humboldt State University, and has shown his work in solo and group exhibitions throughout the United States and internationally, including the Houston Center for Contemporary Craft, The Center for Craft, Creativity & Design, the Riga Porcelain Museum in Latvia, and the Ceramics Annual at Scripps College. He has taught at Arcadia University, Rowan University, and has been Artist-in-Residence at The Clay Studio in Philadelphia, the International Ceramics Studio in Kecskemét, Hungary, c.r.e.t.a. Rome, and the University of Hawaii at Manoa.
www.bryanczibesz.com
czibeszb@newpaltz.edu
(845) 257-3834
Ceramics: Studio Space & Facilities
Each student is provided a private graduate studio space within the program's expansive 10,000 square foot facility. Our state-of-the-art facility gives students a wide range of technical opportunities and is fully equipped to accommodate most traditional and current ceramic practices. The studios are well resourced, ventilated, and brightly lit, and are designed to be flexible and responsive to the needs of the students and the curriculum. The studio is outfitted with a full range of ceramics equipment that is essential to clay fabrication and all aspects of surface development and firing. The program also introduces computeraided design and manufacture of 3D digital technologies that support students' expanding production abilities. A broad range of materials for testing and experimentation is available for students' use on an as-needed basis. Firing ranges from low to high temperatures in electric, gas, soda, and wood kilns. Large, mid-range, and small kilns are available for group and individual firings.
Learn more about our Ceramics facilities and equipment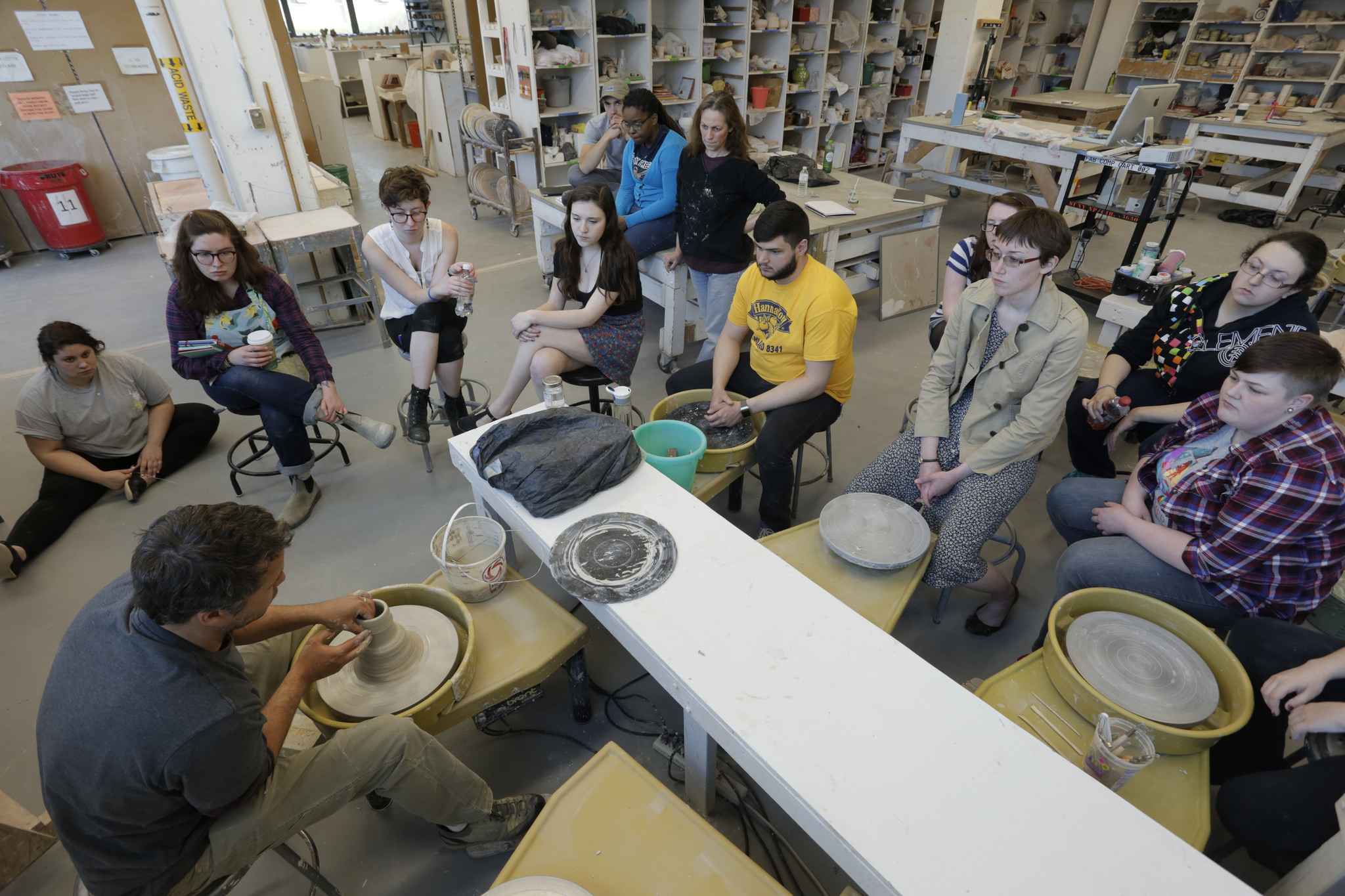 Equipment
Full-color digital ceramic decal printer
2 Mac computers, scanner, printer, etc.
Photo room and equipment for documenting work
Digital projector
2 Peter Pugger pug mills (porcelain, stoneware)
Soldner clay mixer
3 Bluebird clay mixers
2 Blunger-style slip mixers
1 Bluebird vacuum pug mill
Numerous digital and manual scales
2 spray booths, fully equipped
Plaster mold room
Jolly Jigger and plaster turner
3 slab rollers
2 extruders
Auxiliary Tools
(grinders, saw, sand blaster, etc.)
3 downdraft gas car kilns
1 downdraft gas soda kiln
2 front-load electric kilns
7 top-load electric kilns
6 top-load test electric kilns
1 Anagama wood kiln
1 catenary arch downdraft wood kiln
Various Brent (40) and Randall (6) potter's wheels
Auxiliary equipment
Access to fully equipped wood shop
Access to fully equipped Digital Lab including: laser cutter, 3D printer & CNC digital router
Showcase