Admission
Bachelor of Fine Arts in Photography degree program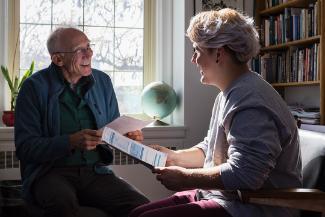 A student may apply for the Bachelor of Fine Arts (BFA) major in Photography after taking required Foundation courses and at least one basic photography course. Applications include a portfolio and a written statement, which are submitted shortly after midterm each semester. Accepted students take all courses listed on the Photography Plan of Study, and meet all departmental and college requirements.
Transfer students interested in the BFA in Photography are encouraged to reach out to photography faculty to determine how previously taken photography courses may count toward this major.
In their final two semesters, BFA students take Senior Studio I and Senior Studio II. Students are required to apply for admission to Senior Studio I by submitting a written proposal supported by related work samples. The Senior Studio projects are presented in an exhibition on campus at the Samuel Dorsky Museum of Art.
For the completion of their degree, students are required to write a related thesis paper, which includes a documentation of their thesis project.
---
Prospective graduate students are encouraged to visit the SUNY New Paltz Photography program to tour the facilities and meet faculty and students.
Please e-mail either Andrea Frank (franka@newpaltz.edu) or Nadia Sablin (sablinn@newpaltz.edu) to make an appointment.
Learn more about the Photography & Related Media MFA application process on the Master of Fine Arts website.
Funding: Situated within an Art Department with nationally and internationally known faculty, SUNY New Paltz's graduate program is considered one of the best, most affordable, high-quality programs on the East Coast. All non-resident and international students receive our MFA scholarship allowing them to pay our low in-state tuition rates of approximately $11,000 per year. Competitive graduate teaching assistantships are available that offer students approximately $5,000 a semester in combined tuition waivers and stipends. The Sojourner Truth Diversity Fellowship is open to U.S. citizens or permanent residents who meet specific diversity criteria. Numerous research and travel grants are also available. The MFA program attracts a highly diverse and international population of graduate applicants.
For financial information, please see the Office of Student Accounts Tuition and Fees page.
Learn more about the affordability of the MFA in Photography & Related Media.