About: Our Mission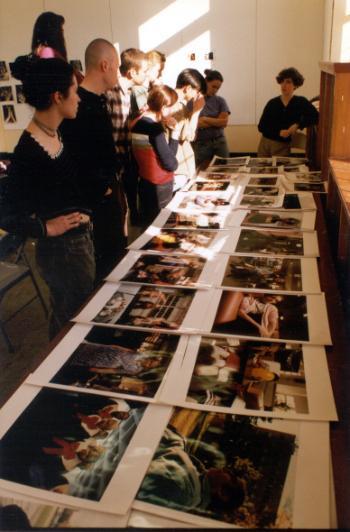 As a major educational center for the visual arts and art education, the Art Department at SUNY New Paltz embodies a community that values curiosity, scholarship, and imagination. A dynamic, responsive curriculum, productive artist/teachers, community engagement, and a highly regarded student-organized guest lecture program support these qualities and objectives. Our educational objectives balance the mastery of specific professional skills and techniques with the ability to think, talk, and write about art. This program is meant to serve students who are optimistic about the role of the arts in society and who see art as a vital, integral part of their lives.
Art majors come from all social strata and have an appreciation for the support, stimulus, and challenges this faculty provides. In addition, the Art Department extends the visual arts to the entire student body through lectures, exhibitions, and courses specifically offered to non-majors. Our proximity to the arts and culture of New York City gives students additional opportunities and exposure to current issues and ideas in the arts. We number among our graduates some of the top artists working nationally and internationally today.
The Art Department is guided by the belief that art makes a unique contribution to society by offering a visual language of expression and investigation. Art plays an important role in expanding the public imagination by engaging the viewer in visual and intellectual dialogue. Through the synergistic relationship between the visual arts and the liberal arts and sciences at SUNY New Paltz, our students and faculty participate in the larger intellectual, political and social life of the community.
Undergraduate Curriculum

Admittance into the Art Department is based on a portfolio review. Portfolios are submitted online and reviewed by a faculty committee. Please see our Admissions page for more information regarding undergraduate admissions.
Students who are accepted into the Art Department are enrolled in the Bachelor of Science in Visual Arts (BS) degree program. This degree comprises 63 credits of course work in art/art history and 57 credits in liberal arts. In addition to the Foundation core courses, students complete ten studio classes and requisite art history classes.
This degree allows great flexibility in the studio arts because the student may choose to concentrate their studies in one particular studio or pursue an interdisciplinary path. The advantage of the Bachelor of Science (BS) degree is that it provides an abundant breadth of knowledge while allowing the student to develop skills in multiple mediums. The balance of art classes to liberal art classes provides a well-rounded undergraduate education.
The Art Department also offers a Bachelor of Arts in Visual Arts (BA) degree which requires 48 credits in the major and 72 credits in liberal arts. It is less common for art students to enroll in this degree. It is more frequently used by those with a double major (e.g., Psychology and Art, or Art History and Art). In addition to the Foundations core courses, students in the BA degree complete five studio classes and requisite art history classes. The student may concentrate in an individual discipline or take a range of studio classes. The objective of this curriculum is to provide a broad-based liberal arts education with a fundamental understanding of studio art practice.
Upon completion of the art department Foundation core and basic studio classes in a particular medium, students in either the Bachelor of Science or Bachelor of Arts programs may choose to apply to one of the Bachelor of Fine Arts degree programs. Entrance into a BFA program is by portfolio and interview. The student applies directly to the specific program of interest. These include Ceramics, Graphic Design, Metal, Painting & Drawing, Photography, Printmaking, or Sculpture.
The Bachelor of Fine Arts in Studio Art (BFA) is a professional degree that requires 81 credits in the major and 39 credits in liberal arts. The BFA provides a great depth of knowledge, and the plan of study contains required courses appropriate to each discipline. Approximately 20% of art students pursue this degree.
For Bachelor of Science in Art Education (BSAE) please see the Art Education site.
Graduate Curriculum
For the Master of Fine Art (MFA) degree, please https://www.newpaltz.edu/mfa/.
For the Master of Science in Education in Visual Arts Education (MSEd),please visit the Art Education site.