On-Site: Past Programs: 2020: Italy Before Rome (Canceled due to COVID-19)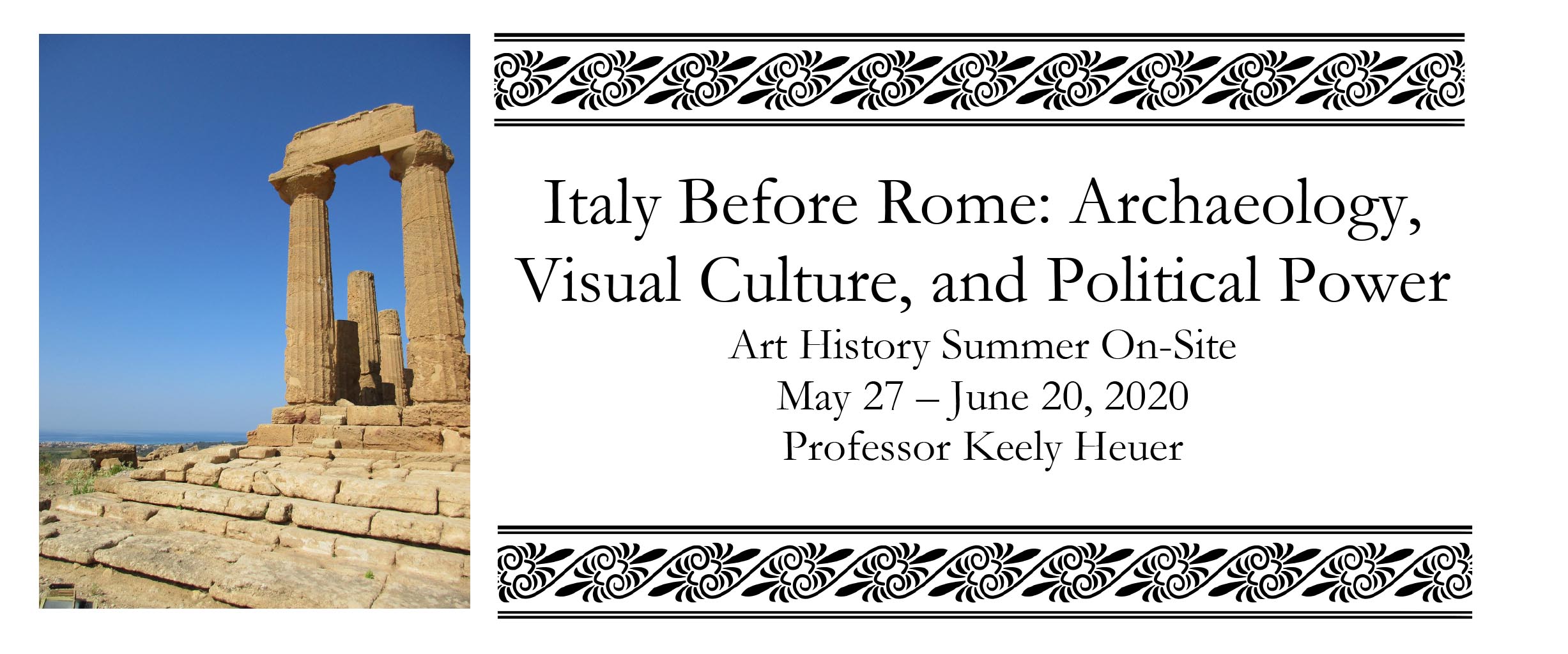 Italy Before Rome: Archaeology, Visual Culture, and Political Power
For further information, please contact Professor Keely Heuer at heuerk@newpaltz.edu
Applications are submitted online through SUNY New Paltz Center for International Programs' website at http://www.newpaltz.edu/studyabroad. Deadline for all application materials is January 15, 2020.
Generally, the term "ancient Italy" brings to most minds images of togas and gladiators, but between the 9th and the 2nd centuries B.C., this pivotal area of the Mediterranean was home to a wide variety of peoples who flourished prior to the rise of the Roman Empire. Unfortunately, these populations, ranging from the Greeks and Phoenicians, who colonized the south, to the Etruscans and Celts, who dominated the north, have left us no surviving written sources other than very brief texts, often dedicatory in nature. Thus, our knowledge of these civilizations is based on inherently biased references in the writings of outsiders, often mainland Greeks and later Romans, and what we can glean from the rich archaeological record. Through travel in Sicily and the Italian peninsula, this unique six credit-hour course explores the artistic and architectural achievements of pre-Roman Italy to reveal the splendor of the regions that inspired and fueled what would become one of the greatest superpowers in world history.
Keely Heuer is an Associate Professor of Art History at SUNY New Paltz. Her research concentrates primarily on the iconography of Greek vase painting and the interrelations between Greek settlers and indigenous populations of pre-Roman Italy. Professor Heuer's courses cover the breath of ancient Mediterranean visual culture, with a particular focus on the art of Greece and Rome.
This intensive study-abroad experience is packed with adventures and first-hand exploration of Classical antiquity. From 2,500 year old Greek temples and theaters to many of the finest collections of ancient art in the world, this trip offers an immersive investigation that few tourists experience when visiting Italy. Naturally, we will also take advantage of the wonderful modern culture of southern Italy and Sicily as well, from food to the performing arts.
Tentative Itinerary
| Date | |
| --- | --- |
| May 27th | Depart for Italy |
| May 28th | Arrival in Catania via Rome, bus to Syracuse, group dinner |
| May 29th | Syracuse: walking tour of Ortigia, visit the Parco Archeologico (Neapolis), performance at ancient Greek theater |
| May 30th | Syracuse: visit the Museo Archeologico Regionale Paolo Orsi, free afternoon, sunset harbor cruise and group dinner |
| May 31st | Visit Morgantina, Museo Archeologico in Aidone, and the Villa Romana del Casale di Piazza Armerina, group dinner at agriturismo |
| June 1st | Agrigento: visit the Museo Archeologico Regionale and Valley of the Temples, group dinner at hotel |
| June 2nd | Selinunte: visit the Area Archeologico, afternoon at the beach |
| June 3rd | Visit the ancient Phoenician site at Mozia and the Elymian settlement at Segesta |
| June 4th | Palermo: visit the Regional Archaeological Museum Antonio Salinas, Monreale cathedral and cloister, overnight ferry to Naples |
| June 5th | Naples: visit the National Archaeological Museum, group pizza lunch, Naples Underground Tour |
| June 6th | Visit Pompeii, Torre Annunziata, and Herculaneum, ancient Roman group dinner at Caupona restaurant in Pompeii |
| June 7th | Paestum: visit the archaeological site and the Museo Archeologico Nazionale |
| June 8th | Florence: visit the archaeological site and museum of Fiesole, introductory walking tour of Florence |
| June 9th | Florence: visit the Archaeological Museum of Florence, the Medici Chapels, the Duomo (cathedral), Baptistry, and Duomo Museum |
| June 10th | Florence: free morning (optional visit to see the Basilica di Santa Croce and Basilica di Santa Maria Novella), visit the Uffizi Galleries in the afternoon |
| June 11th | Florence/Orvieto: visit the Bargello Museum and Galleria dell'Accademia (Florence), followed by the Belvedere Temple and the Crocifisso del Tufo necropolis (Orvieto) |
| June 12th | Orvieto: visit the Etruscan Museum Claudio Faina, the Duomo, and the National Archaeological Museum of Orvieto |
| June 13th | Orvieto/Rome: free morning in Orvieto, walking tour of ancient Rome |
| June 14th | Rome: visit the Villa Giulia National Etruscan Museum, Palazzo Altemps Museum |
| June 15th | Rome: visit the Vatican Museums and Sistine Chapel, free afternoon |
| June 16th | Cerveteri/Tarquinia day trip: visit the Necropoli della Banditaccia (Cerveteri), the National Archaeological Museum of Tarquinia, the Ara della Regina (Tarquinia), and the Monterozzi Necropolis (Tarquinia) |
| June 17th | Rome: visit the Roman Forum and Palatine Hill, the Domus Aurea, and the Colosseum |
| June 18th | Rome: visit the Palazzo Massimo alle Terme Museum and the Capitoline Museums |
| June 19th | Rome: visit the Ara Pacis and the Pantheon, free afternoon, farewell dinner and group activity |
| June 20th | Departure for the U.S. |