Campus Messages
Daily Digest: SUNY New Paltz News
Posted on: Monday, February 8, 2021 at 10:00 AM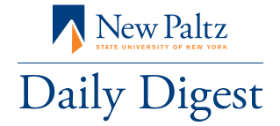 This newsletter is a daily source of campus news,
useful tips,
events
information, and updates about confirmed cases of COVID-19 in our community. Read more here.
IN THIS ISSUE
Coronavirus update: Two students and one employee have tested positive
SUNY's weekly COVID-19 testing requirement is now in effect
Testing today for Education, Fine & Performing Arts students and CSEA employees
NYS COVID-19 Vaccine Tracker: State has administered more than two million doses
Action needed from faculty: Please submit enrollment census information for all spring semester classes
February is Compliance Review Month for employees
Field Hockey Coach Shanna Szablinski named SUNYAC Coach of the Decade
Get answers about "regular & substantive interaction," today at 1 p.m.
FAQ: Do I need to get tested for COVID-19 if I've already gotten the vaccine?
Events and resources
The latest from media
From our community: Another Instagram Stories Tuesday Takeover!
February is Compliance Review Month for employees
Please complete annual Policy & Procedure Acknowledgement, Workplace Violence Prevention Review and Title IX/Sexual Harassment Review by Friday, Feb. 26
All required reviews can be completed by vising my.newpaltz.edu

Look closely: Even the snowpeople are using hand sanitizer! #WeNotMe
FAQ on Weekly COVID-19 Testing

Do I need to get tested for COVID-19 if I've already gotten the vaccine?
Yes! While the COVID-19 vaccines have been shown to reduce an individual's susceptibility to the disease caused by the coronavirus, the science is unclear on whether those who have been vaccinated can still carry the virus and/or transmit it to others.
In light of this uncertainty, and following New York State Health Department guidance, our campus policy for the spring 2021 semester will be to protect our community by requiring all students, faculty and staff, even those who have received the COVID-19 vaccine, to wear masks, maintain social distance, complete the daily health screening for every day you're on campus, and get tested for every week that you're on campus.
Events, resources and reminders

Deadline is Feb. 12 to join for solo and team competition in Overwatch, Smash, Fortnite, COD and more

A big thank-you to Ben Jimenez '21 (Psychology) for keeping our Instagram Stories Tuesday Takeover series going last week! Click here to rewatch and see Ben talk about favorite classes, being an RA, and his advice for new students.
And be sure to tune in tomorrow @sunynewpaltz to meet another New Paltz student!
Daily Digest readers: We want to hear from you!


We're always working to make sure this newsletter is providing students, faculty and staff with important and useful information. If you have news you'd like to get out to members of our community, we welcome
submissions* and ideas of all kinds:
Have important news to share with the SUNY New Paltz community?

Developed an innovative solution to improve remote teaching and learning?

Figured out a lifehack to help yourself stay positive?

Want to share a photograph with friends and colleagues?
Please just reply to this email or write to communication@newpaltz.edu and let us know what you would like to see in this space. Thank you!
*Note: Opinions expressed by our contributors
belong solely to their authors and
do not necessarily reflect the positions of SUNY New Paltz.
Message originally distributed via: SUNY New Paltz News