Campus Messages
Daily Digest: SUNY New Paltz News
Posted on: Tuesday, February 9, 2021 at 10:00 AM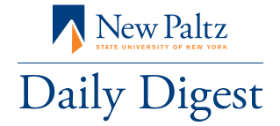 This newsletter is a daily source of campus news,
useful tips,
events
information, and updates about confirmed cases of COVID-19 in our community. Read more here.
IN THIS ISSUE
Coronavirus update: No new cases to report as of 4 p.m. yesterday
SUNY's weekly COVID-19 testing requirement is now in effect; Testing today for Business, undecided & non-matriculated students, and UUP employees
Sojourner Truth Library launching new Antiracist Campus Read
Nine facts about Title IX, ahead of next week's SUNY survey on campus climate
Today at 2 p.m.: "Knowmia Beyond Basics" workshop for faculty
Get virtual services from the Career Resource Center
SUNY enhances its system-wide COVID-19 case tracker
The campuswide effort to welcome international students to our community
FAQ: How does the weekly COVID-19 testing schedule work?
Events and resources
Community mourns Dan Guenther, local leader on sustainable agriculture
From our community: Ice on the Hudson
Nine facts about Title IX at SUNY New Paltz
The SUNY-wide survey on Campus Climate is coming next week!
Start getting ready now with useful information about the federal civil rights law that protects all members of our campus community from gender discrimination, sexual harassment, sexual assault, sexual violence, interpersonal violence and stalking

Cindy Cullen, coordinator of international student services, helps international students move into their new campus homes, Jan. 15, 2021.
It's hard enough for international students to make the journey to a new nation under normal circumstances. The pandemic presents additional challenges, but a team of campus staff led by the Center for International Programs did all they could, even making custom care packages, to make the move-in and quarantine period as comfortable as possible. Please join us in welcoming these newest members of our community!
FAQ on Weekly COVID-19 Testing

How does the weekly COVID-19 testing schedule work?
Pool testing will be provided from 9 a.m. – 6 p.m., Monday – Thursday, with the first hour (9-10 a.m.) for employees only.
No appointments are necessary for pool testing, but pre-registration through SUNY Upstate Medical University is required and must be updated with each test.
Students, faculty and staff can get a pool test anytime, but we ask members of our community to follow the testing schedule as best they can, to reduce overcrowding at the testing site.
In addition to all-day pool testing Monday – Thursday, we will offer Friday make-up testing for those who were unable to get a test earlier in the week. Friday testing will use individual PCR test kits administered by our partners at Enzo Labs.
Friday PCR testing is by appointment only.
Please use this link to sign up
(faculty and staff should enter the letter "E", then their employee ID number, where the scheduling form asks for student ID).
Events, resources and reminders

February is Compliance Review Month for employees
Please complete annual Policy & Procedure Acknowledgement, Workplace Violence Prevention Review and Title IX/Sexual Harassment Review by Friday, Feb. 26
All required reviews can be completed by vising my.newpaltz.edu

Daniel Guenther: 1943 - 2021

Community mourns a pioneer of organic farming and Community Supported Agriculture in the Hudson Valley, who worked regularly to mentor New Paltz students

Poughkeepsie Journal, 2/7/21
The icy waters of the Hudson River: Best appreciated at a distance.
Daily Digest readers: We want to hear from you!


We're always working to make sure this newsletter is providing students, faculty and staff with important and useful information. If you have news you'd like to get out to members of our community, we welcome
submissions* and ideas of all kinds:
Have important news to share with the SUNY New Paltz community?

Developed an innovative solution to improve remote teaching and learning?

Figured out a lifehack to help yourself stay positive?

Want to share a photograph with friends and colleagues?
Please just reply to this email or write to communication@newpaltz.edu and let us know what you would like to see in this space. Thank you!
*Note: Opinions expressed by our contributors
belong solely to their authors and
do not necessarily reflect the positions of SUNY New Paltz.
Message originally distributed via: SUNY New Paltz News