Campus Messages
Daily Digest: SUNY New Paltz News
Posted on: Wednesday, February 10, 2021 at 10:00 AM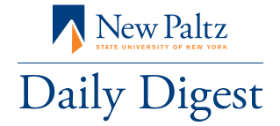 This newsletter is a daily source of campus news,
useful tips,
events
information, and updates about confirmed cases of COVID-19 in our community. Read more here.
IN THIS ISSUE
Coronavirus update: One additional student has tested positive
Weekly COVID-19 testing: Science & Engineering and Psychology majors and UUP employees are on the schedule today
New York's seven-day positivity rate drops to lowest point since Dec. 1
Seventeen undergraduates earn grants for faculty-mentored research
Ideas for practicing self-compassion
Clarification for faculty on the "Cleared to Return to Campus" column in course rosters
Today! Global Engagement Program General Interest Meeting for students
A sneak preview of the Sojourner Truth sculpture coming to campus later this year
FAQ: Who has to follow SUNY's weekly testing requirement?
Events and resources
The latest from media
From our community: Queer Gym Night this Friday
VIDEO: Spectrum News takes you inside Trina Greene's studio as she puts finishing touches on the six-foot sculpture of Sojourner Truth that will be installed at the entrance of our campus Library later this year.
FAQ on Weekly COVID-19 Testing

Who has to follow SUNY's weekly testing requirement?
Effective Feb. 8, all students, faculty and staff who are on campus for any reason must get a COVID-19 test for each week they are present this spring.
This applies to those who live, work or take classes on campus, as well as those who come to campus to use the Athletic & Wellness Center, Library or other facilities.
Individuals who have received a COVID-19 vaccine are still required to get tested every week they are on campus, per state and local health guidelines.
Students and employees who have been diagnosed with COVID-19 are exempt from testing for 90 days after their positive COVID-19 test. The College must have a record of the positive test on file in order to process your exemption.
Events, resources and reminders

February is Compliance Review Month for employees
Please complete annual Policy & Procedure Acknowledgement, Workplace Violence Prevention Review and Title IX/Sexual Harassment Review by Friday, Feb. 26
All required reviews can be completed by vising my.newpaltz.edu

Starting this Friday! The College invites students to Queer Gym Night in the East Curves Gym at the Athletic & Wellness Center, as a safe space to build strength while building community. Please register on IM Leagues; attendance is capped at 15 students due to COVID-19, and advance sign-up is required.
Daily Digest readers: We want to hear from you!


We're always working to make sure this newsletter is providing students, faculty and staff with important and useful information. If you have news you'd like to get out to members of our community, we welcome
submissions* and ideas of all kinds:
Have important news to share with the SUNY New Paltz community?

Developed an innovative solution to improve remote teaching and learning?

Figured out a lifehack to help yourself stay positive?

Want to share a photograph with friends and colleagues?
Please just reply to this email or write to communication@newpaltz.edu and let us know what you would like to see in this space. Thank you!
*Note: Opinions expressed by our contributors
belong solely to their authors and
do not necessarily reflect the positions of SUNY New Paltz.
Message originally distributed via: SUNY New Paltz News