Campus Messages
Daily Digest: SUNY New Paltz News
Posted on: Tuesday, March 30, 2021 at 10:00 AM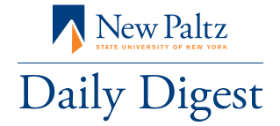 This newsletter is a daily source of campus news,
useful tips,
events
information, and updates about confirmed cases of COVID-19 in our community. Read more here.
IN THIS ISSUE
Coronavirus update: Eight students and one employee have tested positive
COVID cases rose 64% in New York last week, the most in the nation
New Yorkers 30 years of age and older are vaccine-eligible effective today
#ItsYourTurn: Resources and information for SUNY faculty & staff about vaccination
SUNY issues statement on all New Yorkers 16 and up becoming vaccine eligible on April 6
Tomorrow: A talk with Simi Linton, author, filmmaker, and arts consultant specializing in Disability Studies
Students: Complete your GE Assessment, get a chance to win a $50 gift card
Something shiny from the Metal Program
Events and resources
The latest from media
From our community: New Paltz pride in an alumnus's lesson for sixth-graders
Something shiny and joyful from the Metal Program (@newpazmetal) this weekend: A brooch by Pedro Gonzalez '22 (Visual Arts Education), created as a self-portrait.
Events, resources and reminders

Alumnus Charles Byrne '03 (Elementary Education) makes "Word of the Day" videos for his sixth graders in the Newburgh School District, and last week, our very own Atrium made a cameo, helping Mr. Byrne give an example of the word "Explain." Creative teaching is important for students of all ages, and we love to see it. Watch the full video here.
Daily Digest readers: We want to hear from you!


We're always working to make sure this newsletter is providing students, faculty and staff with important and useful information. If you have news you'd like to get out to members of our community, we welcome
submissions* and ideas of all kinds:
Have important news to share with the SUNY New Paltz community?

Developed an innovative solution to improve remote teaching and learning?

Figured out a lifehack to help yourself stay positive?

Want to share a photograph with friends and colleagues?
Please just reply to this email or write to communication@newpaltz.edu and let us know what you would like to see in this space. Thank you!
*Note: Opinions expressed by our contributors
belong solely to their authors and
do not necessarily reflect the positions of SUNY New Paltz.
Message originally distributed via: SUNY New Paltz News