Campus Messages
Daily Digest: SUNY New Paltz News
Posted on: Wednesday, March 31, 2021 at 10:00 AM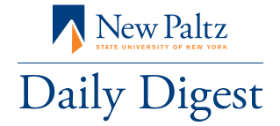 This newsletter is a daily source of campus news,
useful tips,
events
information, and updates about confirmed cases of COVID-19 in our community. Read more here.
IN THIS ISSUE
Coronavirus update: Seven students and one employee have tested positive
UPD Chief Mary Ritayik defines leadership in challenging times
GOER updates on Holiday Compensation Time and Liquidation of Compensatory Time
State will allow spectators at collegiate sporting events starting April 2
Faculty Development Center survey on research, creativity and teaching during the pandemic
Reminder from RSCA: Three deadlines approaching on Monday, April 5
Squirrels!
Events and resources
The latest from media
From our community: Men's lacrosse makes its SUNYAC debut
March is in like a lion, out like a ... squirrel? At any rate, seeing so many of these little guys on campus is a sure sign that spring is here for real.
Events, resources and reminders

At long last, the men's lacrosse team played its first-ever SUNY Athletic Conference game on Monday at Plattsburgh. The Hawks took the loss, but this is just the beginning for a team that's worked for years to get to this level. "SUNYAC is a great conference with great coaches," said Head Coach Dwayne Stewart. "The team looks forward to competing with some of the nation's best." See more @newpaltzhawks.
Daily Digest readers: We want to hear from you!


We're always working to make sure this newsletter is providing students, faculty and staff with important and useful information. If you have news you'd like to get out to members of our community, we welcome
submissions* and ideas of all kinds:
Have important news to share with the SUNY New Paltz community?

Developed an innovative solution to improve remote teaching and learning?

Figured out a lifehack to help yourself stay positive?

Want to share a photograph with friends and colleagues?
Please just reply to this email or write to communication@newpaltz.edu and let us know what you would like to see in this space. Thank you!
*Note: Opinions expressed by our contributors
belong solely to their authors and
do not necessarily reflect the positions of SUNY New Paltz.
Message originally distributed via: SUNY New Paltz News