Campus Messages
Daily Digest: SUNY New Paltz News
Posted on: Thursday, April 1, 2021 at 10:00 AM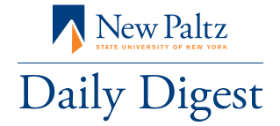 This newsletter is a daily source of campus news,
useful tips,
events
information, and updates about confirmed cases of COVID-19 in our community. Read more here.
IN THIS ISSUE
Coronavirus update: One student has tested positive
New Paltz named a Top 25 Best Value in new national rankings
New York training the next generation of Citizen Public Health Leaders
April events and programs for Sexual Assault Awareness Month
Job Search Thursdays, all April long at the Career Resource Center
EAP resources for giving yourself a financial check-up
A photo challenge for Daily Digest readers
Events and resources
The latest from media
From our community: Inspiration from the Alumni Association
Daily Digest readers: Let's play a game!
Can you identify this spot on campus?
Here's a hint: This slate exterior pays homage to Historic Huguenot homes built in New Paltz hundreds of years ago.
First person to email communication@newpaltz.edu with the right answer gets a shout-out in tomorrow's issue, and if the response is good, we can try this again next week.
Events, resources and reminders

Looking for a little inspiration to power through the last few weeks of the semester? The New Paltz Alumni Association (@newpaltzalumni) is on Instagram cheering students on with daily wisdom and motivation.
Daily Digest readers: We want to hear from you!


We're always working to make sure this newsletter is providing students, faculty and staff with important and useful information. If you have news you'd like to get out to members of our community, we welcome
submissions* and ideas of all kinds:
Have important news to share with the SUNY New Paltz community?

Developed an innovative solution to improve remote teaching and learning?

Figured out a lifehack to help yourself stay positive?

Want to share a photograph with friends and colleagues?
Please just reply to this email or write to communication@newpaltz.edu and let us know what you would like to see in this space. Thank you!
*Note: Opinions expressed by our contributors
belong solely to their authors and
do not necessarily reflect the positions of SUNY New Paltz.
Message originally distributed via: SUNY New Paltz News