Campus Messages
Daily Digest: SUNY New Paltz News
Posted on: Monday, April 5, 2021 at 10:00 AM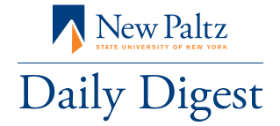 This newsletter is a daily source of campus news,
useful tips,
events
information, and updates about confirmed cases of COVID-19 in our community. Read more here.
IN THIS ISSUE
Coronavirus update: Seven students have tested positive
All New Yorkers 16 + up will be eligible for vaccine tomorrow, April 6
CDC: Vaccinated Americans are cleared to travel, must still wear masks
Share your scholarship at the Student Research Symposium
SUNY launches new Student Mental Health Peer Advocates Training Program
Engineering for the Middle of Nowhere: A Harrington STEM Lecture, tomorrow at 5 p.m.
Men's volleyball beats Nazareth with straight-set victories
A message for students from President Christian as we near the end of the academic year
Events and resources
The latest from media
From our community: A student Instagram takeover from the Library
Our community has done an outstanding job helping the College sustain in-person offerings this year, but case numbers are rising in the Hudson Valley and New York State. Everyone has a part to play in helping us finish the semester strong. We're so close! We can do this!
Events, resources and reminders

Upcoming Human Resources, Diversity & Inclusion trainings
Using ExcelPivot Tables to summarize, analyze, and explore data


Thursday, April 8, 10:30 – 11:30 a.m.




Troubleshooting and Working with IT Support


Friday, April 16, 11 a.m. – 12 p.m.




Using OneDrive to organize, store, and share files and folders


Tuesday, April 20, 2 – 3 p.m.
Our latest Instagram Stories Student Takeover took us into the hallowed halls of the Sojourner Truth Library, where Chris Galindo '21 (Psychology) is a student assistant and key member of the team that has kept the Library open and available to students, faculty and staff during the pandemic.
Daily Digest readers: We want to hear from you!


We're always working to make sure this newsletter is providing students, faculty and staff with important and useful information. If you have news you'd like to get out to members of our community, we welcome
submissions* and ideas of all kinds:
Have important news to share with the SUNY New Paltz community?

Developed an innovative solution to improve remote teaching and learning?

Figured out a lifehack to help yourself stay positive?

Want to share a photograph with friends and colleagues?
Please just reply to this email or write to communication@newpaltz.edu and let us know what you would like to see in this space. Thank you!
*Note: Opinions expressed by our contributors
belong solely to their authors and
do not necessarily reflect the positions of SUNY New Paltz.
Message originally distributed via: SUNY New Paltz News