Campus Messages
Daily Digest: SUNY New Paltz News
Posted on: Wednesday, April 7, 2021 at 10:00 AM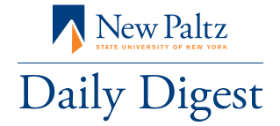 This newsletter is a daily source of campus news,
useful tips,
events
information, and updates about confirmed cases of COVID-19 in our community. Read more here.
IN THIS ISSUE
Coronavirus update: Five students and one employee have tested positive
Transportation resources for students planning vaccination
"Story-Listening for Social Change": Zaheer Ali is the spring 2021 Distinguished Speaker
Tomorrow: The Moral Obligation to Serve the Marginalized
Third Annual Art History Symposium kicks off Friday, April 9
SUNY hosting a virtual Diversity, Equity & Inclusion Forum on April 9
Men's volleyball takes regular season conference title, enters tournament as No. 1 seed
Events and resources
The latest from media
From our community: Getting to know members of our LGBTQ+ community
Events, resources and reminders

Upcoming Human Resources, Diversity & Inclusion trainings
Using ExcelPivot Tables to summarize, analyze, and explore data


Thursday, April 8, 10:30 – 11:30 a.m.




Troubleshooting and Working with IT Support


Friday, April 16, 11 a.m. – 12 p.m.




Using OneDrive to organize, store, and share files and folders


Tuesday, April 20, 2 – 3 p.m.
There's a new weekly Instagram series introducing members of the College's LGBTQ+ community, including academic and professional faculty, student support staff and, most recently, Head Cross Country Coach Ais Ryan. See more and follow @nplgbtq.
Daily Digest readers: We want to hear from you!


We're always working to make sure this newsletter is providing students, faculty and staff with important and useful information. If you have news you'd like to get out to members of our community, we welcome
submissions* and ideas of all kinds:
Have important news to share with the SUNY New Paltz community?

Developed an innovative solution to improve remote teaching and learning?

Figured out a lifehack to help yourself stay positive?

Want to share a photograph with friends and colleagues?
Please just reply to this email or write to communication@newpaltz.edu and let us know what you would like to see in this space. Thank you!
*Note: Opinions expressed by our contributors
belong solely to their authors and
do not necessarily reflect the positions of SUNY New Paltz.
Message originally distributed via: SUNY New Paltz News