Campus Messages
Daily Digest: SUNY New Paltz News
Posted on: Thursday, April 8, 2021 at 10:00 AM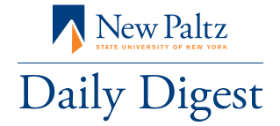 This newsletter is a daily source of campus news,
useful tips,
events
information, and updates about confirmed cases of COVID-19 in our community. Read more here.
IN THIS ISSUE
Coronavirus update: Three students have tested positive
SUNY New Paltz is a COVID-19 Vaccination POD for registered students only
College planning a series of smaller, in-person Commencement ceremonies
New York restores $600 million in general salary increases for state workers
SUNYAC Presidents reaffirm no-spectator policy at all home varsity contests
One more day! Submit your Student Research Symposium abstract by April 9
Round 2 of our Campus Photo Detail Challenge
Events and resources
The latest from media
From our community: Sculpture MFA exhibiting at Woodstock museum
Campus Photo Detail Challenge: Round 2
Our first try last week was a pretty easy one. Maybe this will be tougher. We'll keep the hint simple and just say this is from one of the oldest buildings on campus.
Events, resources and reminders

There's a really compelling student takeover happening now over on the Sculpture Program's Instagram account (@npsculpture).
MFA candidate Courtney Haeick '21g (Studio Art) is showcasing work at the intersection of metal, sculpture, performance and dance. Follow her for more @courtneyhaeick.
Haeick is featured in the Woodstock Artists Association & Museum exhibition, "The Vision of Care," open April 9 - May 23. More info @waamart.
Daily Digest readers: We want to hear from you!


We're always working to make sure this newsletter is providing students, faculty and staff with important and useful information. If you have news you'd like to get out to members of our community, we welcome
submissions* and ideas of all kinds:
Have important news to share with the SUNY New Paltz community?

Developed an innovative solution to improve remote teaching and learning?

Figured out a lifehack to help yourself stay positive?

Want to share a photograph with friends and colleagues?
Please just reply to this email or write to communication@newpaltz.edu and let us know what you would like to see in this space. Thank you!
*Note: Opinions expressed by our contributors
belong solely to their authors and
do not necessarily reflect the positions of SUNY New Paltz.
Message originally distributed via: SUNY New Paltz News