Campus Messages
Daily Digest: SUNY New Paltz News
Posted on: Friday, April 9, 2021 at 10:00 AM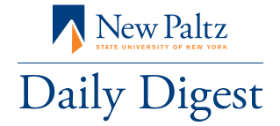 This newsletter is a daily source of campus news,
useful tips,
events
information, and updates about confirmed cases of COVID-19 in our community. Read more here.
IN THIS ISSUE
Coronavirus update: Two students have tested positive
Mask and social distance policies remain in place for our campus community, even if you've been vaccinated
Two new directors appointed in the Division of Student Affairs
Provost Lyman's April 2021 Report to the Faculty
Reminders about Incomplete Grades from Records & Registration
Two updates for UUP employees
Photo Detail Challenge Round 2 reveal!
Events and resources
The latest from media
From our community: Why one student got the vaccine as soon as she was eligible
Two updates for UUP employees
A new agreement extending your window to use Voluntary Reduction in Work Schedule credits, and open election for Holiday Compensation in Lieu of Compensation Time

Campus Photo Detail Challenge #2: Old Library
We stumped a few of you with this one! Old Library may seem tucked away on the edge of the Quad, but it's a cornerstone of our campus, built in 1954 as the College's first library. It now serves as home to the photography and graphic design programs, with a renovated interior offering Mac labs, a darkroom, developing and printing labs and a book bindery.
Kudos to Brandon Latargia '21 (Adolescence Education) for being first to write in with the correct answer, and thanks to everyone else who got involved and gave it a shot. More next week!
Events, resources and reminders

Women's soccer player Kristin Lasker '21 (Communication Studies) contributed a quick video to SUNY for their campaign to expand vaccine access for students. Click here to hear from Kristin about why she got her vaccine as soon as she was eligible.
Daily Digest readers: We want to hear from you!


We're always working to make sure this newsletter is providing students, faculty and staff with important and useful information. If you have news you'd like to get out to members of our community, we welcome
submissions* and ideas of all kinds:
Have important news to share with the SUNY New Paltz community?

Developed an innovative solution to improve remote teaching and learning?

Figured out a lifehack to help yourself stay positive?

Want to share a photograph with friends and colleagues?
Please just reply to this email or write to communication@newpaltz.edu and let us know what you would like to see in this space. Thank you!
*Note: Opinions expressed by our contributors
belong solely to their authors and
do not necessarily reflect the positions of SUNY New Paltz.
Message originally distributed via: SUNY New Paltz News