Campus Messages
Daily Digest: SUNY New Paltz News
Posted on: Monday, April 12, 2021 at 10:00 AM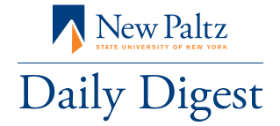 IN THIS ISSUE
Coronavirus update: Two students have tested positive
National J&J vaccine shortage means no on-campus supply this week
Seniors: Order your cap & gown today for delivery in time for Commencement
SUNY and UUP further extend Tenure Clock for academic employees
Student Association elections are now open! Vote by April 15
Questionable Authorities, live from the Wooster balcony on April 15
Annual information security awareness training begins today
A look at our vaccine POD
Events and resources
The latest from media
From our community: Snakes in the sky
We were very happy to be able to administer roughly 200 doses of the Johnson & Johnson COVID-19 vaccine to students on campus on Thursday and Friday of last week.
While a national shortage of the J&J vaccine means we will not get additional supply this week, we continue to hope that we'll be able to put more "shots in arms" on campus before the end of the spring semester.
All New Yorkers 16+ up remain eligible for vaccination, and appointments may be available at other sites throughout the state, including here in Ulster County. Please consult New York State's Am I Eligible page and the Ulster County Vaccination Resource Center (or your local county's equivalent) for more information about available appointments.
Events, resources and reminders

How do you feel about snakes? In the latest episode of our Virtual Planetarium Show series, David Meer '21 (Physics & Astronomy) looks to the early spring sky for examples of slithering serpents formed by the stars.
Daily Digest readers: We want to hear from you!


We're always working to make sure this newsletter is providing students, faculty and staff with important and useful information. If you have news you'd like to get out to members of our community, we welcome
submissions* and ideas of all kinds:
Have important news to share with the SUNY New Paltz community?

Developed an innovative solution to improve remote teaching and learning?

Figured out a lifehack to help yourself stay positive?

Want to share a photograph with friends and colleagues?
Please just reply to this email or write to communication@newpaltz.edu and let us know what you would like to see in this space. Thank you!
*Note: Opinions expressed by our contributors
belong solely to their authors and
do not necessarily reflect the positions of SUNY New Paltz.
Message originally distributed via: SUNY New Paltz News