Campus Messages
Daily Digest: SUNY New Paltz News
Posted on: Tuesday, April 13, 2021 at 10:00 AM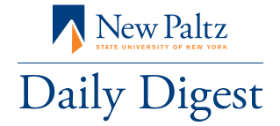 This newsletter is a daily source of campus news,
useful tips,
events
information, and updates about confirmed cases of COVID-19 in our community. Read more here.
IN THIS ISSUE
Coronavirus update: Two students have tested positive
SUNY campuses will pause use of the Johnson & Johnson single-dose coronavirus vaccine until further review by FDA, CDC and DOH
April 15: A Mind, Body, Spirit Day dedicated to movement and celebration
State Dept. of Health updates guidance for end-of-academic-year celebrations
Ramadan observances have begun for many members of our community
Brief update on the approved state budget
From the Oneonta Daily Star: A New Paltz student's essay on gratitude in spring
IDMH Deputy Director Karla Vermeulen addresses trauma of mass shootings for Health Magazine
Catch up and get ahead - Summer Session registration is now open
Events and resources
The latest from media
From our community: Ceramics sale!
No significant safety concerns with Pfizer and Moderna vaccines, which will continue to be used

Summer Session registration is now open!
There are more than 200 classes scheduled this summer, mostly online with some hybrid and in-person options. Summer classes can help you make progress on your major, catch up on GE requirements or go outside your comfort zone and try something totally new.
Events, resources and reminders

This is one of those "I'll take one of everything, please" situations: The New Paltz Clay Club has moved its annual Ceramics Sale online, and there are some truly lovely, student-crafted objects available (but going fast!).
Daily Digest readers: We want to hear from you!


We're always working to make sure this newsletter is providing students, faculty and staff with important and useful information. If you have news you'd like to get out to members of our community, we welcome
submissions* and ideas of all kinds:
Have important news to share with the SUNY New Paltz community?

Developed an innovative solution to improve remote teaching and learning?

Figured out a lifehack to help yourself stay positive?

Want to share a photograph with friends and colleagues?
Please just reply to this email or write to communication@newpaltz.edu and let us know what you would like to see in this space. Thank you!
*Note: Opinions expressed by our contributors
belong solely to their authors and
do not necessarily reflect the positions of SUNY New Paltz.
Message originally distributed via: SUNY New Paltz News