Campus Messages
Daily Digest: SUNY New Paltz News
Posted on: Wednesday, April 14, 2021 at 10:00 AM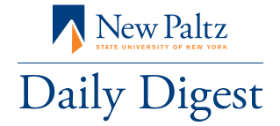 This newsletter is a daily source of campus news,
useful tips,
events
information, and updates about confirmed cases of COVID-19 in our community. Read more here.
IN THIS ISSUE
Coronavirus update: One student has tested positive
Update from Chancellor Malatras on vaccines for SUNY students
Join the GE Board today to discuss the future of SUNY General Education
The 25th Annual New Paltz Clean Sweep is coming April 24
From the Oracle: Q&A with Take Back the Night President Kaitlyn Gonzalez '21
History professor Lou Roper gives virtual talk at historical society led by an alumna
If you tested positive tomorrow, who would that impact?
Events and resources
The latest from media
From our community: Sheep!
What would you do to protect friends and loved ones if you tested positive tomorrow?
One easy answer to this question: Be honest with contact tracers! With just a few weeks to go until the end of the semester, our contact tracing team is working tirelessly to reach out to those who test positive for COVID-19 and those who may have been exposed, and they need help from every member of our community to do their work effectively.
Events, resources and reminders

In lighter news: Sheep! Campus Sustainability Coordinator Lisa Mitten (right) and Sustainability Faculty Fellow in Theatre Arts Andrea Varga made a new friend at Seed Song Farm & Center in Kingston, New York.
Daily Digest readers: We want to hear from you!


We're always working to make sure this newsletter is providing students, faculty and staff with important and useful information. If you have news you'd like to get out to members of our community, we welcome
submissions* and ideas of all kinds:
Have important news to share with the SUNY New Paltz community?

Developed an innovative solution to improve remote teaching and learning?

Figured out a lifehack to help yourself stay positive?

Want to share a photograph with friends and colleagues?
Please just reply to this email or write to communication@newpaltz.edu and let us know what you would like to see in this space. Thank you!
*Note: Opinions expressed by our contributors
belong solely to their authors and
do not necessarily reflect the positions of SUNY New Paltz.
Message originally distributed via: SUNY New Paltz News